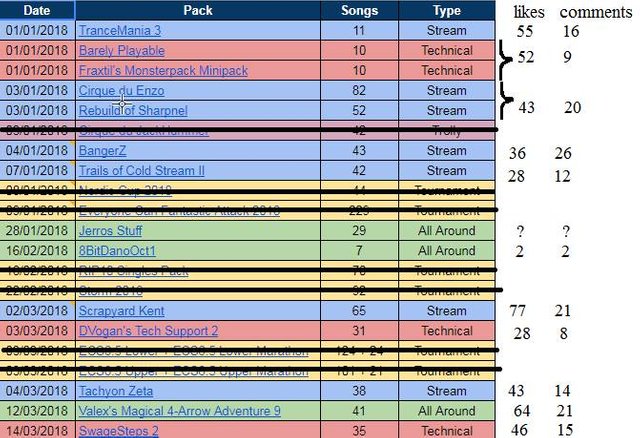 ---
Stamina content vs Technical content exposure in the ITG community


There was an interesting thread posted on a Facebook group about the belief that ITG consisted only of stamina simfiles. Most of this arose from a misrepresentation of content from ITG simfiles that seemed biased towards showing only stamina-related content in the wider community.
I put together some stats from Simfile Showcase that might be a bit interesting (see attached image):
All Around is included in both
No data on Jerros Stuff so I won't use it
Jackhummer is not included, nor are tournament packs
[Stamina]
9 packs overall, 381 songs (wtf)
(8 packs) 348 total Likes (counting Enzo and Rebuild together)
43.5 likes average
(9 packs) 391 total (counting Enzo and Rebuild separately)
43.44 average
(8 packs) 130 comments (counting Enzo and Rebuild together)
16.5 comments average (Bangerz is skewed by shitpost comments and "bumps", welome)
49 unique commenters
[Technical]
6 packs, 134 songs
(5 packs) 192 total (counting Fraxtil's packs together)
38.4 average
(6 packs) 244 total (counting Fraxtil's packs separately)
40.67 average
(5 packs) 55 comments (counting Fraxtil's packs together)
11 comments average
37 unique commenters
Going by the feedback in Simfile Showcase alone, it is definitely skewed in the favor of hard stuff. 9 vs 6 packs, 381 vs 134 songs (including number of difficulties would blow the stamina statistic up enormously - Enzo alone is over 300 charts). In terms of raw numbers, pack releases this year are inundated with stamina, buuuuut, if you go back to the last 3 months of 2017, you will see a slew of all-around packs (8) with a peak difficulty of 14, 5 stamina releases and 1 lone technical release.
---

My personal thoughts


What I take away from this is that there's a somewhat even distribution amongst hard songs and not-hard songs amongst the 'engaged' community - that is: regular ITG players, content creators and simply regular community members. Amongst the non-engaged, there is definitely a stigma about ITG being all about 16ths. Echoing what was said above, I agree that this is due to an oversaturation on social media about streamy simfiles (indeed, there is just a sheer overwhelming number of them, enabling more posts and comments about streamy simfiles purely because so many exist). Engaged members definitely show engagement on both sides, and the fact that the statistics show this (there were plenty of common names commenting on both stamina and technical pack threads), demonstrate where the frustration, and the source of this post, is coming from.
For non-engaged members reading this, maybe more casual players, these statistics show that there is still a considerable amount of non-stream content out there, and the extrinsic quality of each individual one is arguably higher on a simfile-to-simfile basis (Megaburn (Technical Showcase 1) generated more verbal discussion than say, Secret Girl (Scrapyard Kent), even though I've seen more screenshots of Secret Girl than I have of Megaburn). I've personally seen plenty of discussion about technical content (look at the comment threads for Technical Showcase 3; they've been consistently very active). Take from this what you will, but it's worth seeing objectively that there is alot of not-stream content out there that deserves your attention, and even if you don't see it as much as you see screenshots of hard songs (which we don't seem to in this group anymore since many of them post in Stamina Nation), there's no valid reason to believe ITG is just some uncreative world of streams.
(Explaining why I have this data to begin with, I keep records of it to collect and analyze feedback about different kinds of packs by different stepartists and apply it when evaluating and reviewing my own content).