"YinYang Sunrise Sunset Lanscape"
(36 x 36 inch oil on canvas with embossed flower of life)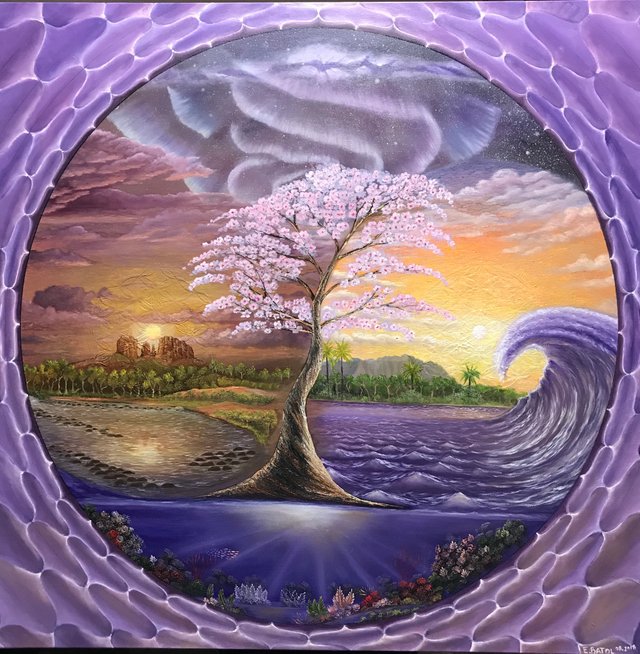 Finally got enough time to finish this masterpiece, its actually a request of my sister, and i used some of her photographs for this painting and it was also a challenge well compensated, when she saw my other yin and yang painting that i sold she was so eager to have one for her too and she was bidding to get the other painting
And good thing she asked when i was done with the painting and she just gave me a list of what she want in her painting,
only landscapes and no animals
purple orange hue - aurora Borealis
Maui waves
Sedona with sunset
cherry blossom
mandala
Here is a timeplapse video of my post
I pretty much covered all her request and had so much joy making this painting on time and as planned. Everything is original, i go by visuals on my mind and some few photographs that i have taken and some of hers, she is a photographer by the way. It gives that dreamy feeling, a very relaxing site to see, loved every part of it and i just can't stop starring at both of the painting whild sipping a cup of coffee.
Im making mostly large original paintings, as after i have sold these im investing on making my own website gallery and would be selling originals, prints on paper, metal, wood, and canvas for a very affordable price so everyone interested could enjoy.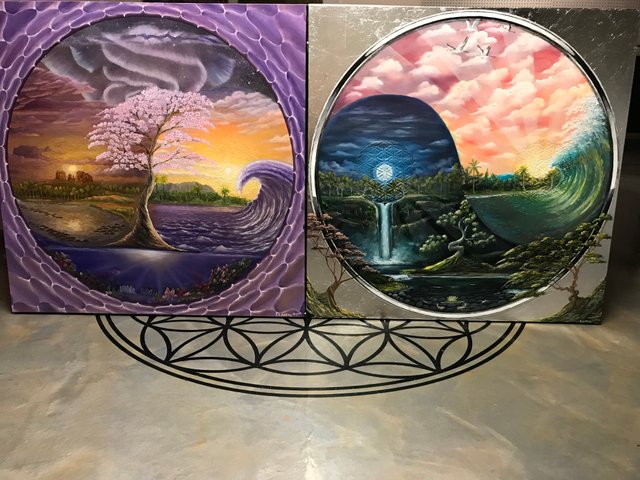 This is also my entry for @ivan.atman's i-talent round 8 here is a link to his post https://steemit.com/art/@ivan.atman/italent-or-see-who-entered-round-8-or-still-have-time-to-join-or-collection-and-showcase-of-all-the-round-8-entries