Nel film The Secret Life of Walter Mitty, un fotografo professionista racconta al protagonista come sia solito restare ore ed ore fermo con il suo cavalletto e l'obiettivo puntato, in attesa dello scatto perfetto. Nel caso specifico, il fotografo attende che faccia la sua comparsa un leopardo delle nevi ma, quando questo si palesa alla vista, decide comunque di non scattare la fotografia.
Di fronte alla perplessità di Walter Mitty, allora, spiega che alcuni momenti sono così unici e speciali che vale la pena osservarli in silenzio senza scattare alcuna foto.
A volte, però, capita anche il contrario. Ci si ritrova immersi in altre attività, quando all'improvviso spunta qualcosa che si ha il desiderio di immortalare con i mezzi di fortuna di cui si dispone in quel momento. Questo è quello che è capitato al protagonista delle nostre foto di oggi, che in un caldo pomeriggio in un parco di Milano ha deciso di fare un giro tra i nostri zaini, finendo, suo malgrado, oggetto di un intero servizio fotografico.
Le foto non sono di grande qualità, e sono realizzate con la fotocamera di un iPhone 6S, senza l'aggiunta di filtri o effetti particolari; ma era comunque nostro desiderio condividerle, proprio per il modo in cui sono stare realizzate.
---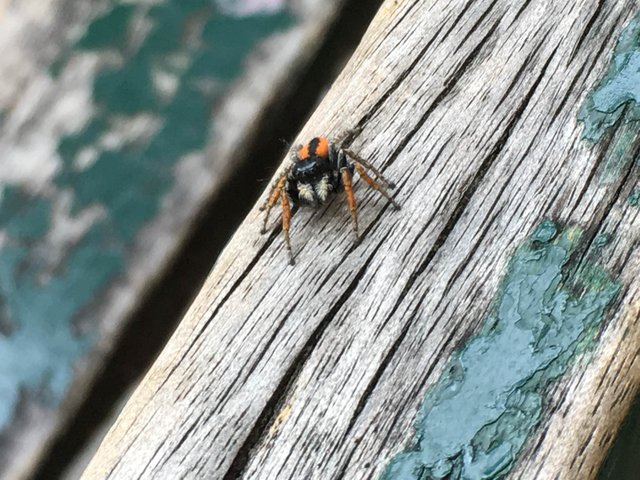 ORIGINAL SHOT BY SPAGHETTISCIENCE
La foto ritrae un esemplare maschio di Philaeus chrysops, un piccolo aracnide presente in tutta la zona paleartica, che è possibile incontrare anche nelle nostre città.
Si tratta di un ragno il cui morso non ha alcuna rilevanza dal punto di vista medico e, per quanto possa essere usato come difesa, non è in grado di trasmettere veleno o di creare infezioni.
È attivo soprattutto nelle ore diurne, ed in modo particolare nei momenti della giornata non troppo caldi; presenta un ciclo vitale della durata di un anno e, anche per questo motivo, è caratterizzato da un metabolismo molto veloce.
Viene considerato un ragno saltatore, ed è in grado di utilizzare questa tecnica in modo molto efficace per la caccia, riuscendo talvolta a catturare anche prede volanti.
---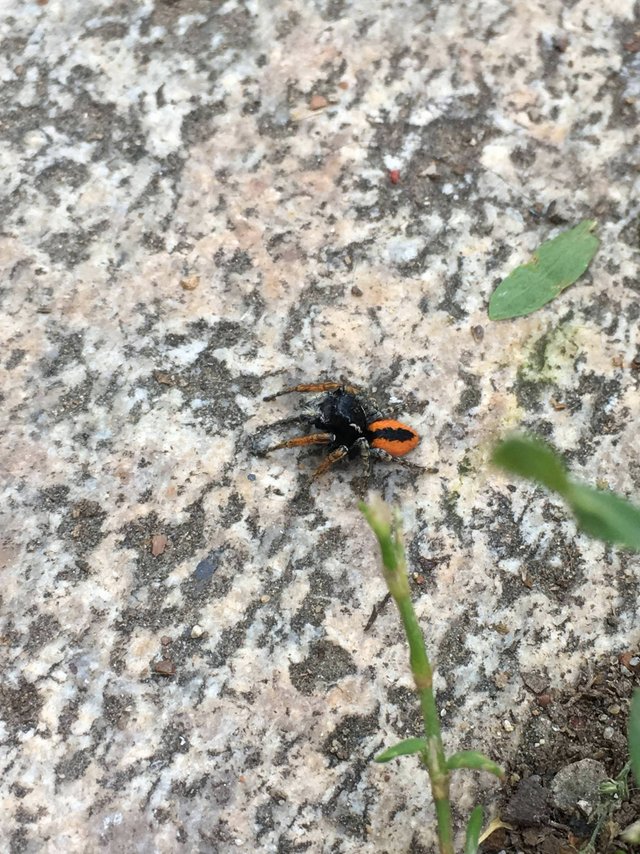 ORIGINAL SHOT BY SPAGHETTISCIENCE
---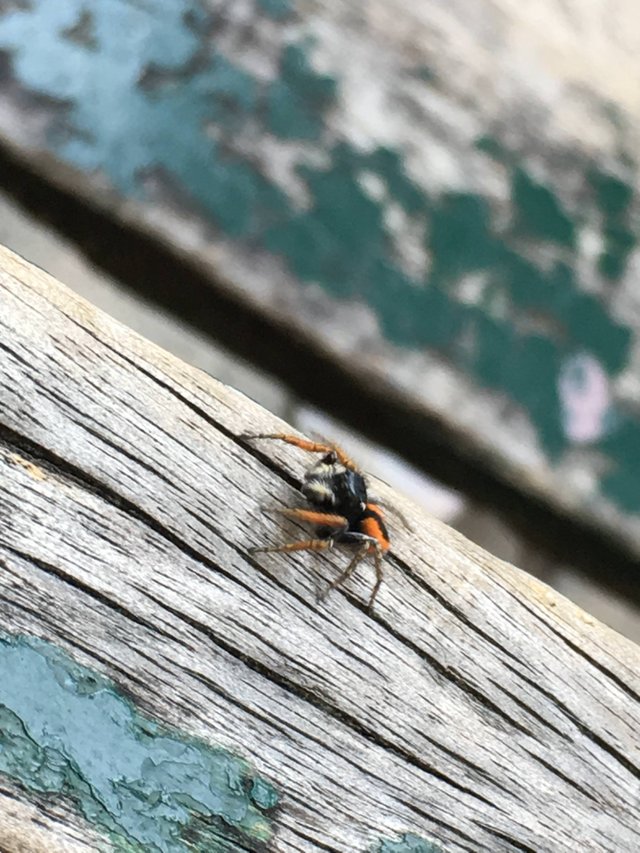 ORIGINAL SHOT BY SPAGHETTISCIENCE
---
Curiosità
Si tratta di ragni molto amichevoli nei confronti dei conspecifici: le femmine, a differenza di quelle di altre specie, non sono solite attaccare i maschi che provano ad avvicinarle mentre queste vigilano sulle uova, ma si limitano a minacciarli tramite pedipalpi e cheliceri. Anche i maschi, nonostante non siano infrequenti le contese, non mostrano mai comportamenti aggressivi veri e propri, ma si tratta quasi sempre di lotte solo rituali durante le quali i contendenti non si feriscono mai.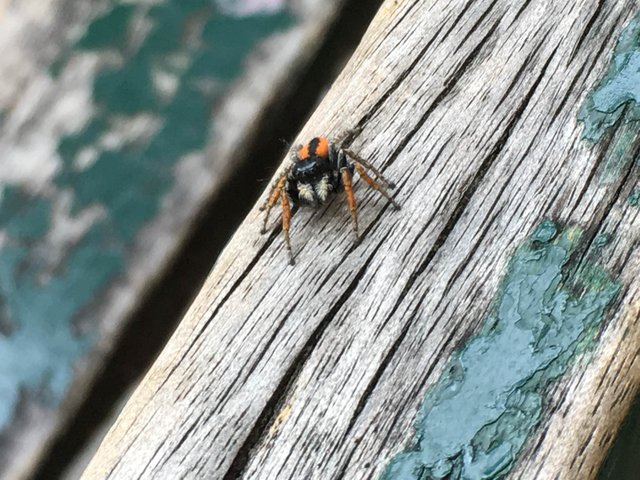 ORIGINAL SHOT BY SPAGHETTISCIENCE
---
Pro Tips
Il maschio e la femmina sono facilmente distinguibili. Il primo mostra infatti una intensa colorazione arancione sul dorso, impossibile da confondere con quella bianca e gialla, molto più tenute, osservabile nella femmina. Anche le dimensioni, come accade spesso negli aracnidi, sono molto differenti nei due sessi, e il maschio si presenta decisamente più piccolo.
---

Immagine CC0 Creative Commons, si ringrazia @mrazura per il logo ITASTEM.
CLICK HERE AND VOTE FOR DAVINCI.WITNESS
---
Fonti
---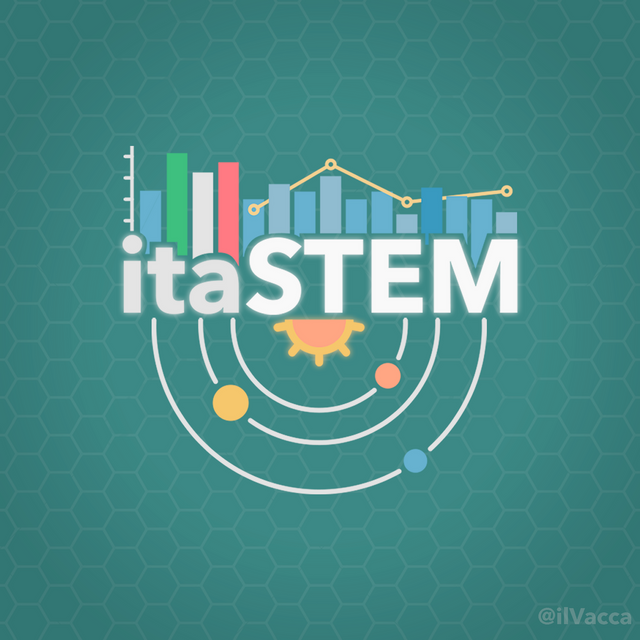 Logo creato da @ilvacca