THE BEST POWER UP OF THE WEEK N°41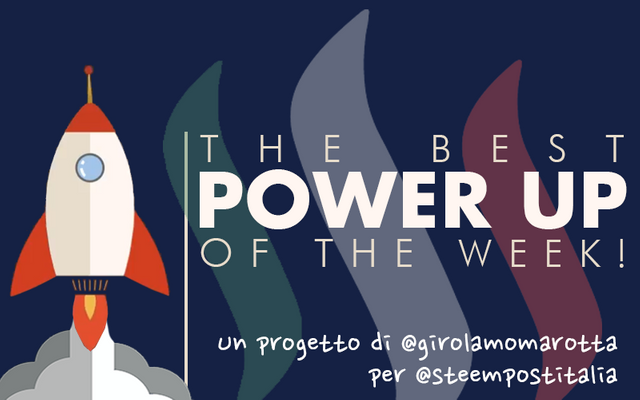 Logo realizzato da @edo.quellola
Ciao a tutti e bentornati nel progetto THE BEST POWER UP OF THE WEEK!
Che per caso il nostro amico Justin vi ha messo paura? I power up sono calati un pochetto, ma state tranquilli...Bisogna essere ottimisti, non bisogna preoccuparsi!
Mentre vi faccio riflettere sui vostri errori ecco la tabella riassuntiva:

A sinistra abbiamo la lista di tutti i partecipanti, e in ogni riga abbiamo tutti i power up effettuati nei vari round. (le caselle vuote indicano che il partecipante non era ancora registrato alla competizione) Alla fine di ogni riga abbiamo il totale dei power up effettuati dal singolo, e in basso c'è il totale di ogni round.
Passiamo adesso ai risultati del round corrente!
Colgo l'occasione di ringraziare @bhuz per avermi aiutato a raccogliere i dati.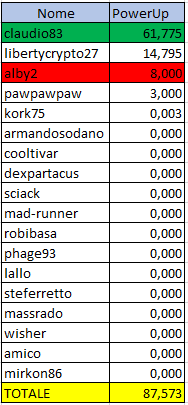 In prima posizione @claudio83 con 61 steem, seguito da @libertycrypto27 con un power up di circa 15 steem. In terza posizione abbiamo @alby2 con un piccolo power up di 8 steem.
Bravi! Ringrazio anche @pawpawpaw che sfortunatamente ha il record di arrivare sempre al quarto posto.
Complimenti a tutti!!
CLAUDIO83 50% dei ricavati del post

LIBERTYCRYPTO27 30% dei ricavati del post

ALBY2 20% dei ricavati del post
ROUND 42!
Iniziamo subito col round 42, verranno presi in considerazione tutti i Power Up effettuati dal 25 febbraio al 3 marzo!
Se non siete ancora iscritti potete farlo scrivendo un commento qui o su discord, ci vediamo e buon Power Up a tutti!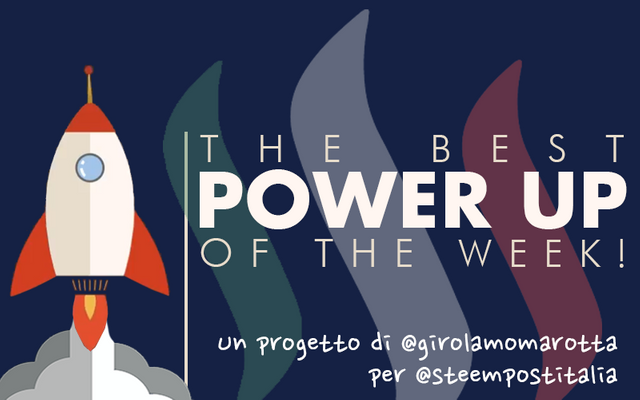 Logo realizzato da @edo.quellola