THE BEST POWER UP OF THE WEEK N°39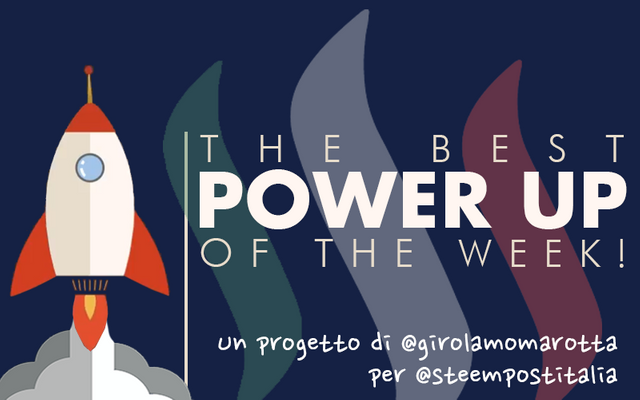 Logo realizzato da @edo.quellola
Ciao a tutti e bentornati nel progetto THE BEST POWER UP OF THE WEEK!
Questa settimana, siamo tornati ai grandi livelli del passato! Molte persone hanno fatto power up, e la lotta per i podio è molto combattuta! Come promesso oggi vi faccio un piccolo regalo, ho creato una tabella riassuntiva, con tutti i round che abbiamo fatto insieme. Vediamo!

A sinistra abbiamo la lista di tutti i partecipanti, e in ogni riga abbiamo tutti i power up effettuati nei vari round. (le caselle vuote indicano che il partecipante non era ancora registrato alla competizione) Alla fine di ogni riga abbiamo il totale dei power up effettuati dal singolo, e in basso c'è il totale di ogni round.
Infine abbiamo il totale complessivo che ammonta a 10 260.536 STEEM, una bella somma!
Passiamo adesso ai risultati del round corrente!
Colgo l'occasione di ringraziare @bhuz per avermi aiutato a raccogliere i dati.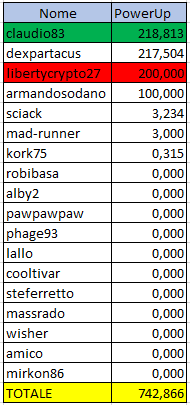 Oggi un super podio! Tutti con un power up superiore a 200 steem!!! Al primo posto abbiamo @claudio83, ad un pelo di distanza @dexpartacus, e infine con 200 steem precisi abbiamo @libertycrypto27!!!
Complimenti a tutti!!
CLAUDIO83 50% dei ricavati del post

DEXPARTACUS 30% dei ricavati del post

LIBERTYCRYPTO27 20% dei ricavati del post
ROUND 40!
Iniziamo subito col round 40, verranno presi in considerazione tutti i Power Up effettuati dal 9 al 16 febbraio!
Se non siete ancora iscritti potete farlo scrivendo un commento qui o su discord, ci vediamo e buon Power Up a tutti!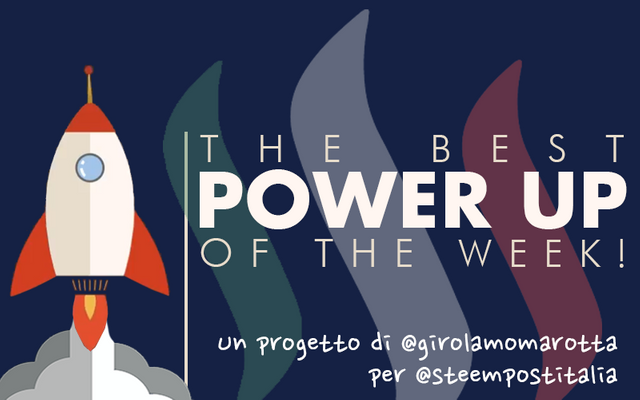 Logo realizzato da @edo.quellola