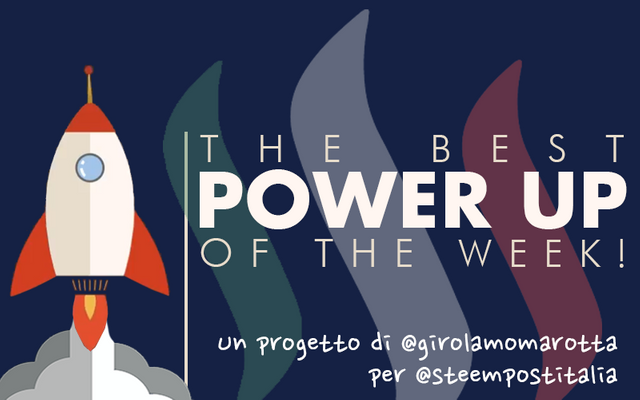 Logo realizzato da @edo.quellola
Ciao a tutti e bentornati nel progetto THE BEST POWER UP OF THE WEEK!
La settimana scorsa abbiamo avuto una grandissima partecipazione, oggi invece abbiamo solo tre persone...Devo riconoscere però che i loro powerup sono stati più che onesti, e per questo devo farvi i complimenti!
Non mollate mai! E speriamo che la prossima settimana vada ancora meglio!
Pensandoci bene, il prezzo dello steem ora è molto basso...dico solo che una volta toccato il fondo si può solo salire in alto :)
Ma non perdiamoci in chiacchiere e passiamo subito ai risultati!!


Colgo l'occasione di ringraziare @bhuz per avermi aiutato a raccogliere i dati.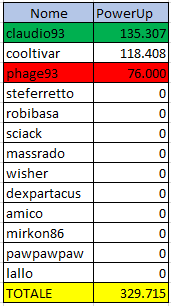 Al primo posto abbiamo @claudio83 con un powerup di 135 steem, al secondo gradino del podio abbiamo cooltivar che arriva sul podio per la terza volta! E infine abbiamo @phage93 con un powerup di 76 steem!
Complimenti a tutti!!
CLAUDIO83 50% dei ricavati del post

COOLTIVAR 30% dei ricavati del post

PHAGE93 20% dei ricavati del post
ROUND 29!
Iniziamo subito col round 29, verranno presi in considerazione tutti i Power Up effettuati dal 28 ottobre al 4 novembre!
Se non siete ancora iscritti potete farlo scrivendo un commento qui o su discord, ci vediamo e buon Power Up a tutti!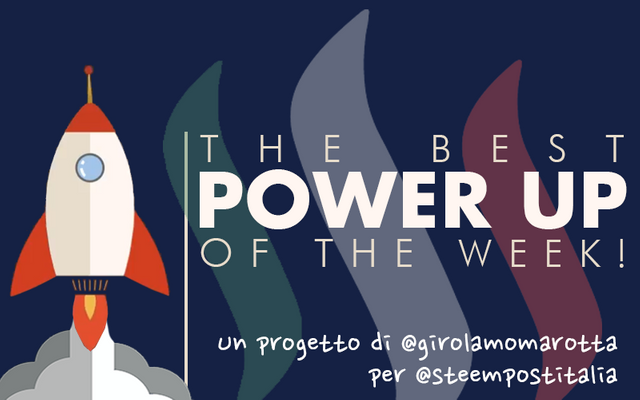 Logo realizzato da @edo.quellola