Cavalletta Verde / Greater Angle-wing Katydid [ITA/ENG]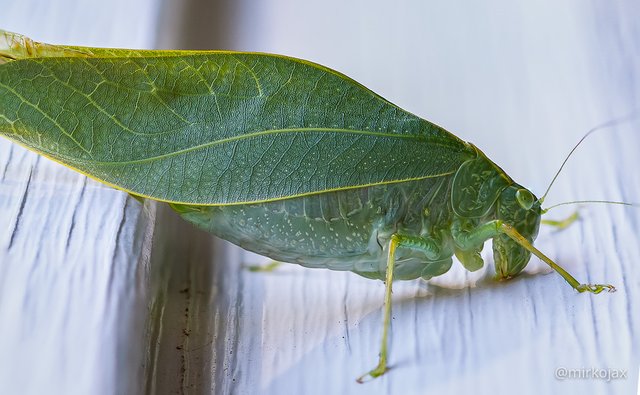 ©2018 Mirkojax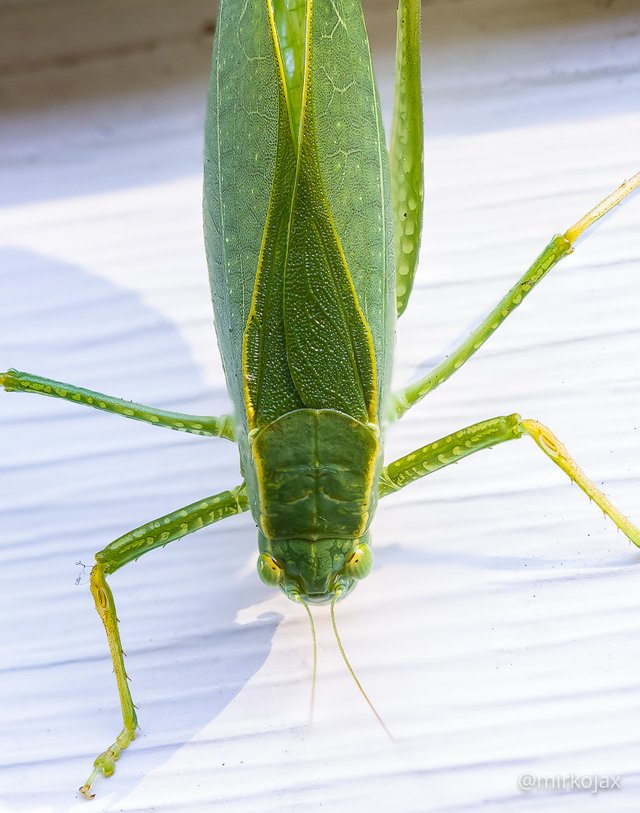 ©2018 Mirkojax
ITALIANO
La cavalletta verde (Microcentrum rhombifolium) è un insetto della famiglia delle Tettigoniidae. Questi insetti mostrano grande capacità di mimetismo e camuffamento spesso richiamando sembianze di foglie.
La cavalletta verde vive nella parte sud est ed ovest degli Stati Uniti. Il corpo e le ali mimano in modo incredibile una foglia. I maschi emettono un richiamo con un acuto e staccato "dzt" a 9khz o una serie di ticchettii.
Tutte le foto sono state scattate da me utilizzando una Canon 7D con la lente macro 100mm 2.8 e utilizzando la tecnica delle stacked images per aumentare la profondita di campo come descritto in questo tutorial.
ENGLISH
Greater Angle-wing Katydids (Microcentrum rhombifolium) is a species in the Tettigoniidae family. Tettigoniidae are often called bush crickets in the British Isles or katydids in the USA. Many katydids show mimicry and camouflage resembling the appearance of leaves.
The Greater Angle-wing Katydids live in the southern east and west of the United States. The body and the wings mimics the appearance of a leaf. The males can emit a high pitch sound at 9khz with as a staccato dzt or a rapid series of ticks.
The photos were taken by me with a Canon macro lens 100mm 2.8 and using the stacked images technique for maximum depth of field.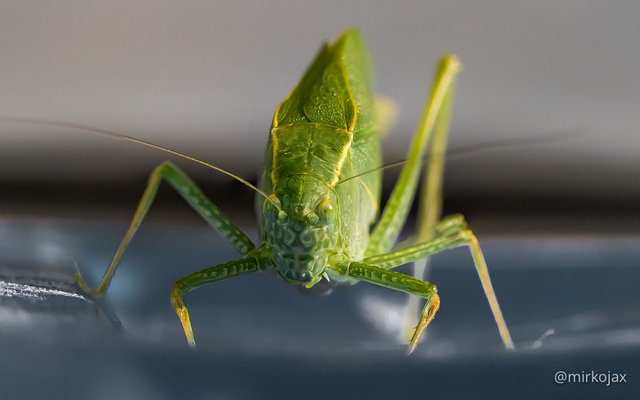 ©2018 Mirkojax
Fonti / Sources
http://eol.org/pages/400587/overview
http://songsofinsects.com/katydids/greater-anglewing
https://en.wikipedia.org/wiki/Tettigoniidae
©2018 Mirkojax

Questo è tutto / Thanks for looking my article
Se avete domande lasciatemi un commento e potete seguirmi su @mirkojax o sul mio blog mirkojax.com o su Youtube o su Instagram. / Let me know if you have any questions in the comments and you can follow me at @mirkojax.