Giornata alternativa ai kart - Alternative kart day [ITA-ENG]
Ciao a tutti,
è un periodo parecchio pesante per me, per diversi motivi.
Sarà il lavoro, sarà i vari impegni che ho preso, sarà il cambio di stagione, sarà quello che è....
Stamattina, quando mi sono svegliato, mi sono accorto che avevo bisogno di staccare la spina, anche solo per due ore.
Svagarmi un pò per togliere tutta questa pesantezza di dosso.
Da li a 5 minuti chiamo il mio amico e sbam..... Dopo mezz'ora mi trovo sulla pista di go-kart vicino alle mie zone.
Per chi ha provato a girare con i kart, sa quanto può essere adrenalinico ed è proprio quello che mi serviva.
Entrare in pista con altri 10 piloti che fanno sul serio e sfrecciare tra cordoli e gomme di protezione è stata una sensazione pazzesca, rimedio ottimo contro lo stress e per farti scivolare tutto il nervoso accumulato.
Mi sono trovato talmente bene, che ora stò seriamente pensando di comprarmene uno anche io.
Certo è un hobby abbastanza costoso ma fidatevi che ne vale veramente la pena.
Penso che le passioni vanno coltivate e portate avanti con il tempo, perchè la vita è una sola e bisogna viverla al meglio con tutta la felicità possibile.
Vi posto la foto del kart del mio amico che abbiamo utilizzato oggi, spero vi piaccia.
Hi everyone,
is a very heavy period for me, for several reasons.
It will be the work, it will be the various commitments that I have taken, it will be the change of season, it will be what is.....
This morning, when I woke up, I noticed that I needed to unplug for just two hours.
Let me take a little leap to remove all this heavy hump.
From them to 5 minutes I call my friend and bang......... After half an hour I am on the go-kart track near my areas.
For those who have tried to shoot with karts, they know how adrenalinic it can be and that's what I needed.
Entering the track with 10 other drivers who take it seriously and whizzing through kerbs and protective tires was a crazy sensation, an excellent remedy against stress and to make you slip all the accumulated nervousness.
I found myself so well, that I am now seriously thinking about buying one myself.
Sure it's quite an expensive hobby, but trust that it's really worth it.
I think that passions should be cultivated and carried on with time, because life is one and you have to live it in the best possible way with all the happiness.
I give you the photo of my friend's kart that we used today, I hope you like it.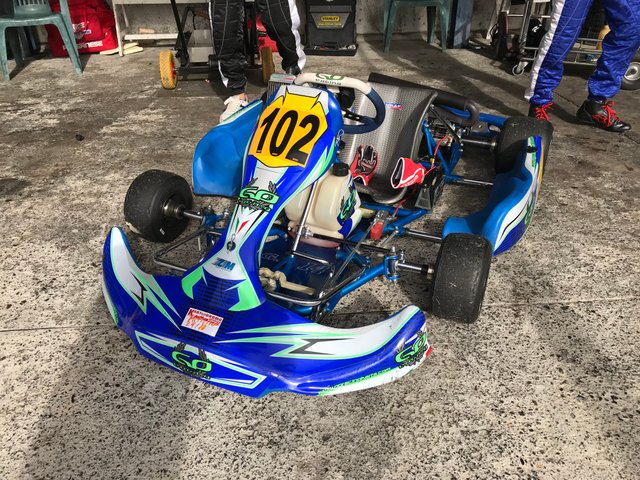 A presto, ciao a tutti
Early, hello to everyone