What should be the price of a beer in SNAX?
The question posed by @dragosroua is frivolous because it leads to making some considerations even far from the common thought of the majority of people. In fact, the first mental process that "normally" would be done, is to convert the price of an express beer into the currency used in your country and establish the price in SNAX by applying the exchange rate between your-country-currency and SNAX.
I prefer to follow a different process, also because SNAX still does not have a "market" quotation, which I call "beer all year round".
As indicated by SNAX, 100 billion SNAX will be issued in the first phase. Considering that on the planet we are almost 8 billion human beings, on average, they would be 12.5 SNAX per person.
Now, still roughly, do we want to drink at least a beer a week? In one year, would be 52 beers. So, wanting to cover the cost of the beers consumed on average in a year, each beer will be worth 0,24038 SNAX.
Did you like the reasoning?
I am open to any criticism, jokes and anything else you will want to comment below.
A warm hug!
---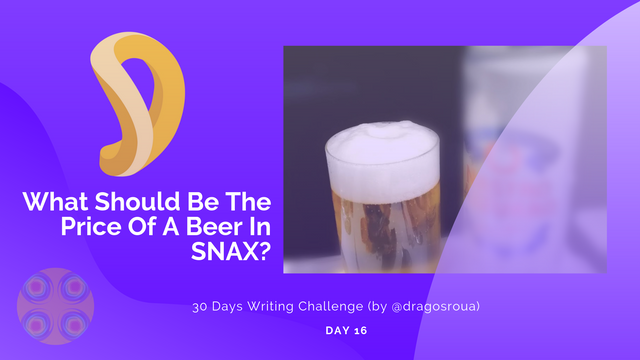 Ita 🇮🇹
Quale dovrebbe essere il prezzo di una birra in SNAX?
La domanda posta da @dragosroua è abbstanza frizzante, perchè porta a fare alcune considerazioni anche lontane dal pensiero comune della maggioranza della gente. Infatti, il primo processo mentale che "normalmente" verrebbe da fare, è di convertire il prezzo di una birra espresso nella valuta utilizzata nel tuo paese e stabilire il prezzo in SNAX applicando un tasso di cambio valuta-del-tuo-paese / SNAX.
Io preferisco seguire un processo differente, anche perchè SNAX ancora non ha una quotazione "di mercato", che battezzo "birra tutto l'anno".
Secondo quanto indicato da SNAX, nella prima fase verranno emessi 100 miliardi di SNAX. Considerato che sul pianeta siamo quasi 8 miliardi di esseri umani, mediamente sarebbero 12,5 SNAX a testa.
Ora, sempre approssimativamente, una birra a settimana ce la vorremo bere? In un anno, sono 52 birre. Quindi, volendo coprire il costo delle birre consumate mediamente in un anno, ogni birra varrà 0,24038 SNAX.
Ti è piaciuto il ragionamento?
Sono aperto a qualsiasi critica, battuta scherzosa e quant'altro vorrai commentare più sotto.
Un caro abbraccio!

---
(All images in this post were created by me and are licensed CC0 by @amico)

This work is licensed under a Creative Commons Attribution-NonCommercial-NoDerivatives 4.0 International License.
I discovered share2steem (affiliate link), which allows you to integrate publications from various social networks and automatically publish them on Steem.
Create Your Actifit / Steem Account (affiliate link): for as low as US$ 5, you get some awesome treats!
---
This is my contribution to the #snax #challenge30days hosted by @dragosroua
---
I accept SNAX rewards for my Steem posts to my SNAX account amico > https://snax.one/steem/amico

Posted using Partiko Android