Remember what Lord RayEl said... "Do not divide my land!!!"

On September 3rd, 2011, Lord RayEl issued a stern warning to the United Nations and Israel.

"Do NOT divide my land!!! There is a Palestinian solution, it does not involve the reduction of Israel. Israel is to remain intact! If its borders are reduced, you shall know my anger!"
1 Thessalonians 5:3
"For when they shall say, Peace and safety; then sudden destruction cometh upon them, as travail upon a woman with child; and they shall not escape."
Foreign Minister Riyad al-Malki said that this plan tilts in favor of Israel and is not acceptable for Palestinians. This reveal came just two days after the EU foreign policy chief Federica Mogherini warned the US against taking "false-steps" on the peace process, but when does the US ever listen to others? An article from the Jerusalem post states:
Under the plan, according to the report, the United States would recognize a Palestinian state and its capital in east Jerusalem, on condition that the Old City would come under international protection. The plan calls for the Jordan Valley and major settlement blocs to remain under Israeli sovereignty, and for small, isolated settlements to be relocated.
Source
If this plan is approved then what could it mean? Not only is Palestine extremely annoyed with this plan, but they will be dividing the land that Christ demanded not be divided. How much destruction would those involved be incurring? Please post your comments in the replies section below.
Have a very nice day!
---
Article written by @cifer44 with help from the Imperial Regent








The ICO has returned with a 25% Token bonus by popular demand!!
https://godcoin.gold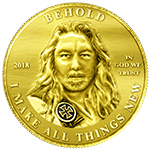 Check us out at:
https://armageddonbroadcastnetwork.tv/
https://www.youtube.com/c/Armageddonbroadcastnetwork
https://www.facebook.com/groups/ICoLR/
https://vk.com/congregation_of_lord_rayel
Donate at:
https://armageddonbroadcastnetwork.tv/donate/