MercuriEX : IOTA 100 Gi Giveaway and Updates!
First, a special thanks to Paul Douglas, Senior Software Engineer with the IOTA Foundation, for his tweet recognizing MercuriEX as a legitimate exchange project. We've put a tremendous amount of time and effort into building MercuriEX and we very much appreciate Paul taking the time to mention us.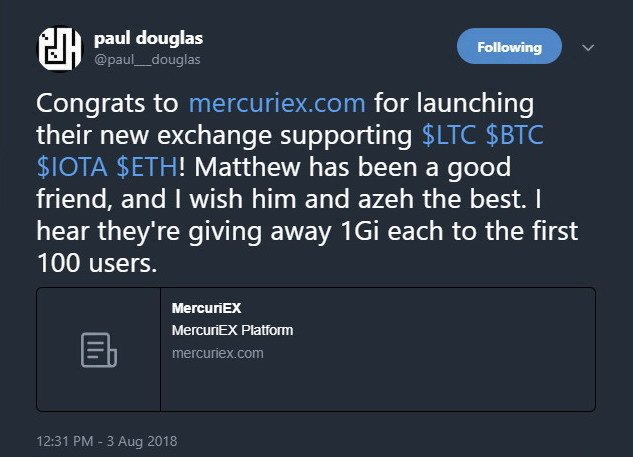 Huge IOTA 100Gi Giveaway to Celebrate our Launch and Listing of IOTA
100 users will be eligible for a chance to win 1Gi just for simply creating an account at MercuriEX.com. Login to MercuriEX, enter the contest, and then additional tasks will be unlocked. If completed, users can receive additional entries, increasing chances to win.
IOTA deposits and withdrawals are both enabled and operating flawlessly, and right now, during our special promotional period, we have zero trading fees.
Come for the contest, but stay for the exchange! We think you'll like it. Any feedback is much appreciated.
Technical Updates
Any iOS users are urged to update to Apple's latest 11.4.1. and if using Safari browser, make sure to enable Javascript.
Users in some regions were experiencing difficulties completing their profile, however those issues should now be resolved.
Follow on Twitter: @MercuriEX for the latest updates!