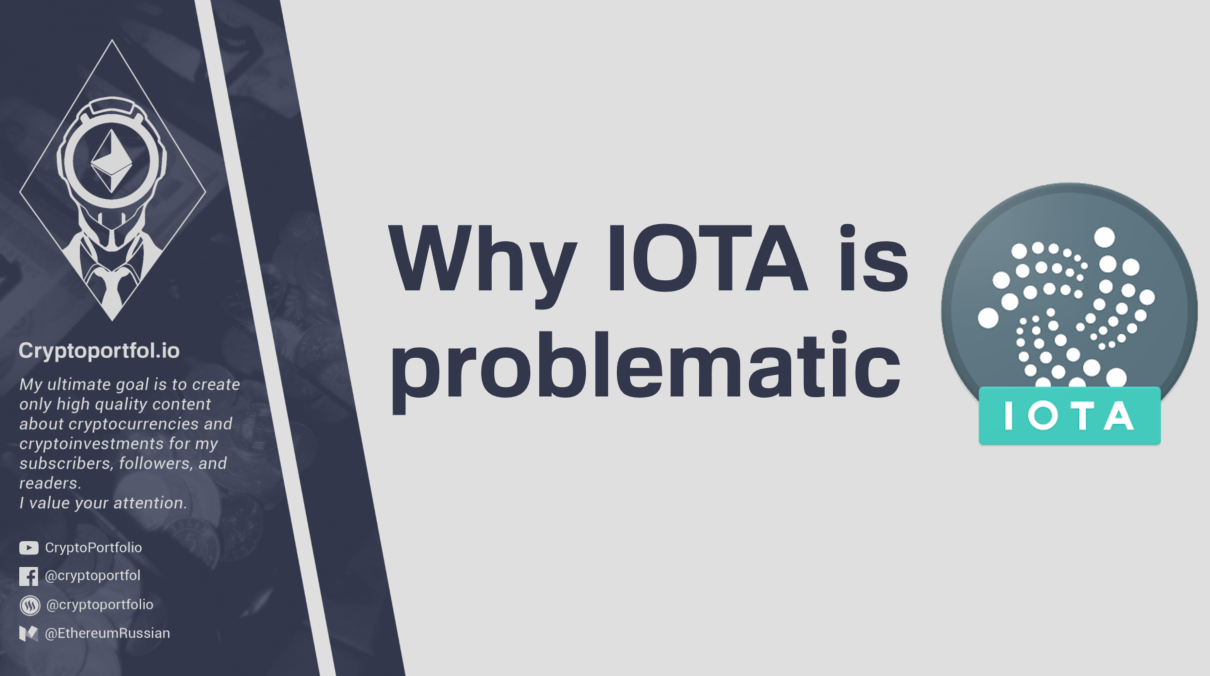 In current market conditions, it is especially important for investors to understand the main pros and cons of their investments. That's why now I want to talk with you about the main cons of the IOTA cryptocurrency. I need to start by saying that I always stand for the innovation, but without the sacrifice of security. And IOTA seems to be very interesting crypto with unique "tangle" technology for IOT devices, but this project doesn't seem to cater to blockchain investors who are more interested on benefitting from holding the cryptocurrencies. It is also vital to mention that IOTA is not blockchain, so it already has a big minus in my mind.
As far as I can see, this "tangle" technology brings more harm than benefit for the consumers, investors, and developers. And now I will explain to you why I think IOTA is a problematic investment and that you should think twice before putting your money into this cryptocurrency. Let's start with the overall description of IOTA.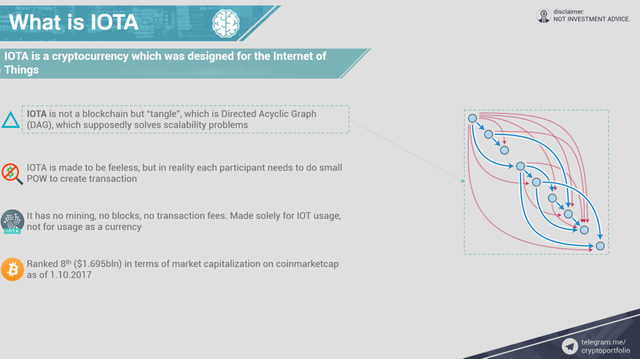 IOTA is a cryptocurrency which was designed for the Internet of Things. Like freezers, toasters, cars, well, anything that is connected to the internet. For example, your washing machine can order needed supplies from the internet when they are needed.
First of all, IOTA is not a blockchain but "tangle", which is Directed Acyclic Graph (DAG), which supposedly solves scalability problems of blockchains. And scalability problems can be seen now in Bitcoin and Ethereum. The image on the right shows how DAGs look.
IOTA is made to be feeless, but in reality each participant needs to do small POW to create transaction.
It has no mining, no blocks, no transaction fees. IOTA is made solely for IOT usage, not for usage as a currency.
Currently it is ranked 8th ($1.695bln) in terms of market capitalization on coinmarketcap as of 1.10.2017.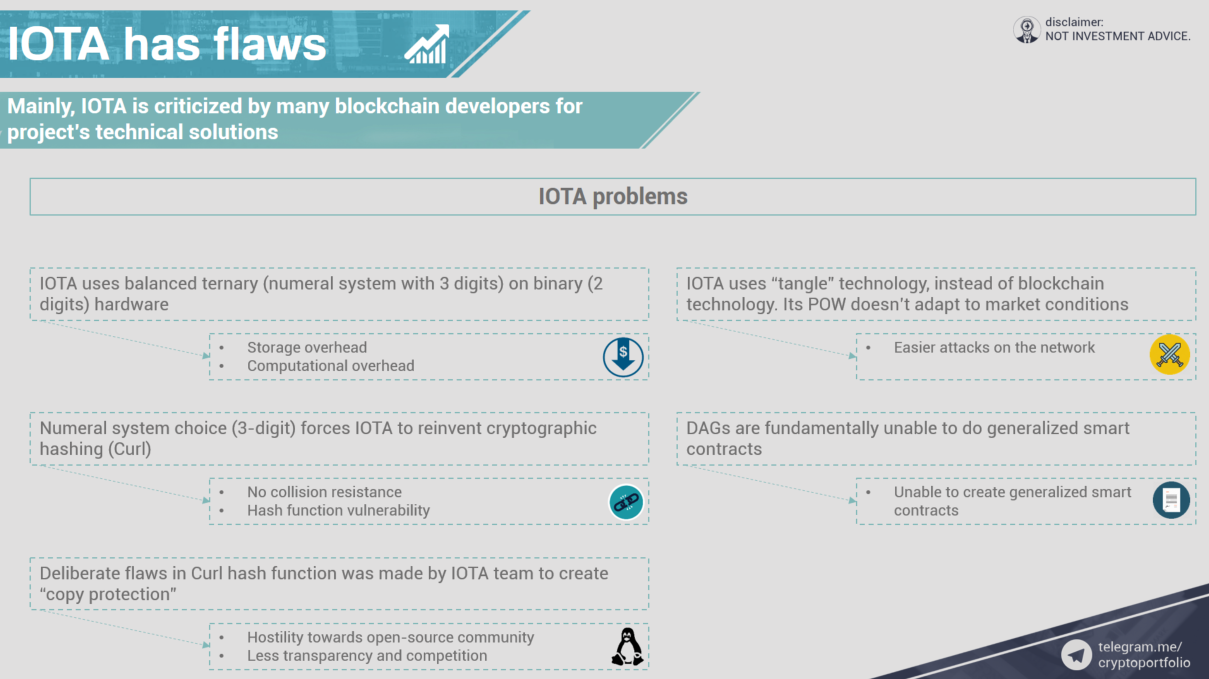 First of all, thanks for the material to Nick Johnson from Ethereum foundation ( https://medium.com/@weka ) and the guys from reddit.
IOTA uses balanced ternary (numerical system with 3 digits) on binary (2 digits) hardware. By doing that, they needlessly overcomplicate the system design. Even though, theoretically, ternary processors are more efficient and certain mathematical constructs are more cleanly represented, the real consequences of this numeral system lead to inefficiencies. One of the consequences of such a system is storage overhead. The other consequence is computational overhead.
Numeral system choice (3-digit) forces IOTA to reinvent cryptographic hashing (Curl). This violates the first rule of cryptography: don't roll your own crypto. This leadы to the significant number of vulnerabilities in IOTA hash function. Some vulnerabilities were discovered by Neha Narula. Thanks to IOTA team, the found vulnerabilities were fixed but the danger of new critical vulnerabilities remains.
Deliberate flaws in Curl hash function was made by IOTA team to create "copy protection". It is portrayed by many blockchain experts as the hostile behavior by IOTA team towards open-source community. It all leads to less transparency and less competition in the sphere where IOTA operates.
IOTA uses "tangle" technology, instead of blockchain technology. It creates a new range of problems. Mainly, it concerns the security of IOTA tangle. Be sure to check the whole post of Nick Johnson for more information.
Finally, DAGs are fundamentally unable to do generalized smart contracts. It all happens due to the fact that IOTA doesn't recognize the transaction order.