On 001-IOTUSD trade idea, I was looking to go long but kept my eyes off the ball after it broke to the downside on July 24th. Then I posted again about IOTUSD when I missed the massive spike on my trade journal. The classic and most basic setup I was looking for is to enter at the retracement (shown in the orange zone)

To say the least, if you are not decisive, then you miss it. I won't record this in my next journal post as I am moving on to the next IOT USD trade opportunity:
Anticipating the Break Out of the Daily Resistance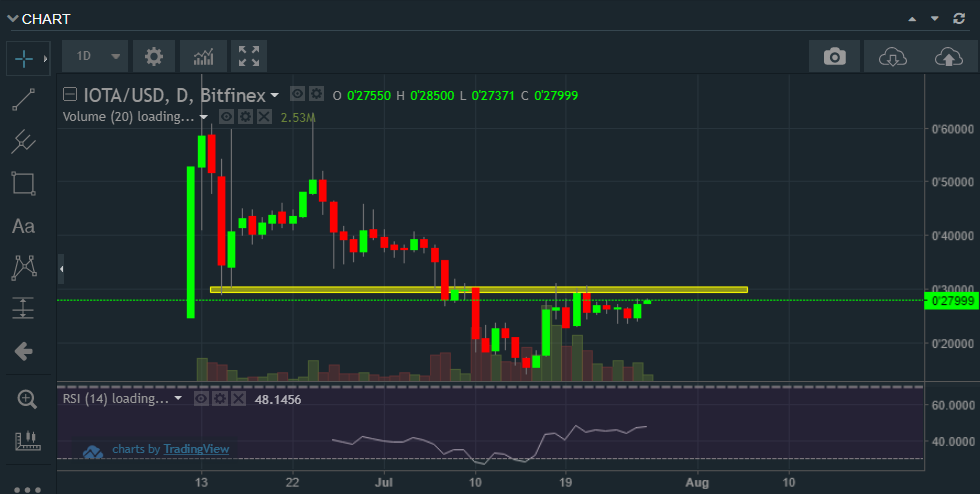 Unfortunately Tradingview does not chart Volume Profile on IOTUSD going as far as the Bitfinex trading platform does. So I am missing some info, but by looking at the daily, I can pretty much tell there's thin air above 0.31. This time, I will setup an alert on the chart when it touches this level. I do too have a 9-5 job, can't always be trading :). I tend to update each trade idea on this same post; if you'd like me to keep you updated on this idea as it develops, please let me know (say keep me updated in the comments) and when I post, I will mention you in the post so you can follow the trade.
. . .
Hypo #1:

This scenario looks for the rejection lower, at the top of the spike. If it happens, it won't linger around there for long, so I need to be decisive in that moment. Enter at the base of the green arrow, if missed can try to enter at the next green arrow.
. . .
Hypo #2:



Break of the top of the wedge, wait until it retest broken resistance and enter at the bounce.
My Own Mental Notes:
Look at Volume. If entering for long at this areas, it needs to be convincing. Beware of fake-outs.
Before entering (preferably scaling in if possible), look at BTCUSD chart. Assess trading environment
Always use Stop Loss.
. . .
Thanks for reading this post, if you have any questions or comments send them my way. Until my next post & Happy Thursday.