INV token is more general than other existing methods of Steem account creation.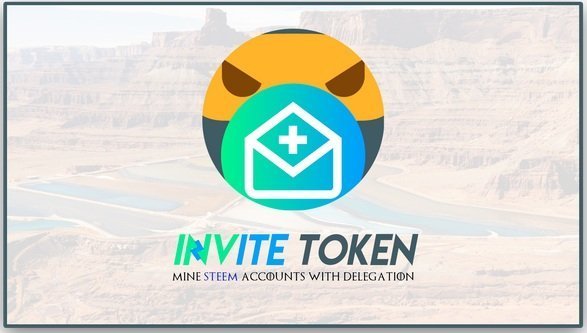 The various popular methods to create a steem blockchain account are as under:-
Steemit- Free account- Waiting period (15 days approx.)

Blocktrades- Paid account – 4 STEEM (No SP delegation to get strarted)

Steem.ninja – Paid account – 2 USD – Payment method (Credit Card)- 15 SP delegation for 90 days. It has a referral program too.
There are others who also offer creation of Steem account like Blocktrades. But if we categorize the ways the accounts are created, then it can be categorized as the above three. The first option is free but has a waiting period which people may not like. Second option comes with a fee of 4 STEEM but one has to buy some crypto to get an account in Steem blockchain, so for a non-crypto user it may not be a smooth task. The third option is really easy & user-friendly for non-crypto users as they can pay fiat via credit card to create a steem account. But it has its drawback as well. Not everyone used to have a credit card and apart from that there are restrictions in some countries to use it.
So it is apparent that a better solution is needed to facilitate the steem account creation and the solution should be such that everyone can get an opportunity to perform the role of Steem.ninja in the context of Steem blockchain account creation.

Steem.ninja powered by @oracle-d has recently come up with a solution to this problem interface and has introduced a new token called INVITE token. The symbol of this token in Steem-engine is INV token and it is available to trade in Steem-engine market. But a Steem user can also get INV tokens every week by utilizing their resources such as Steem Power or PAL Power. The users can earn INV tokens every week by delegating SP or PAL power to @steem.ninja. The roll out of INV tokens has been set as 300 tokens per week.
How it works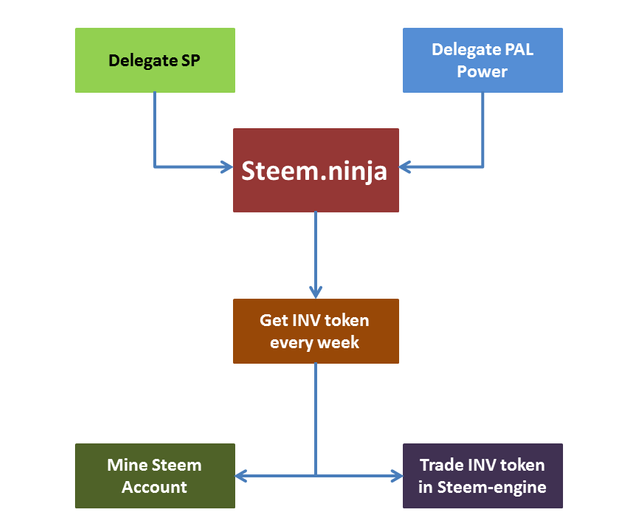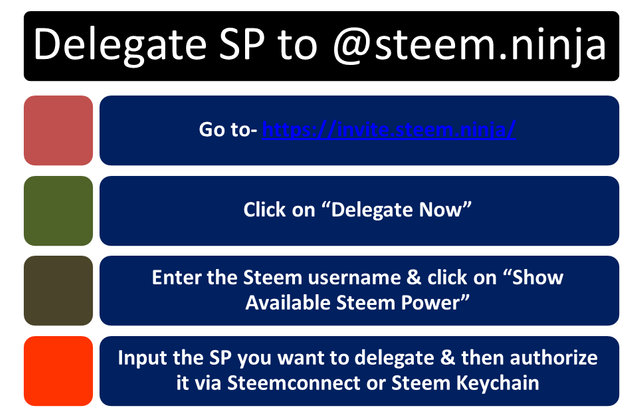 How to delegate PAL power to @steem.ninja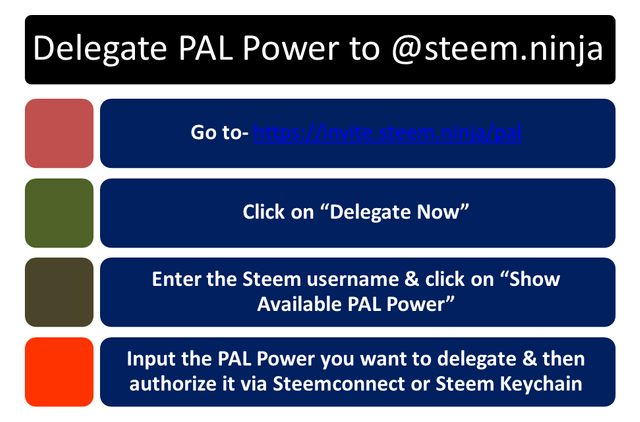 Utilities of INV tokens
INV tokens can be redeemed to create Steem account. The redemption rule is 1 INV token for 1 Stem account.
INV token can also be traded freely in Steem-engine market.
How to redeem INV token to create Steem account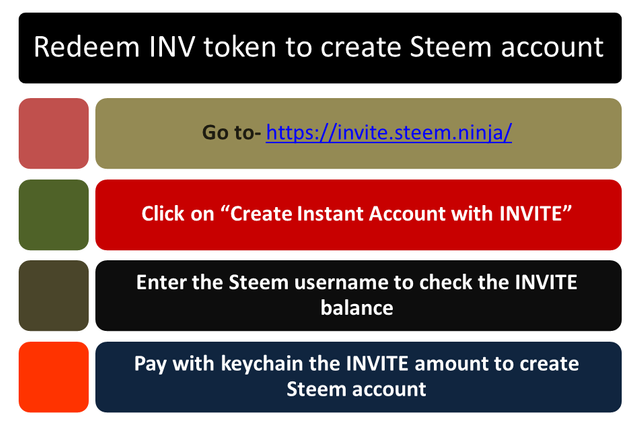 Key Notes
Your INV token will be delivered to you every week. You can check your INV token in your wallet section of Steem-engine. Steem-engine can be accessed with the same Steem account credentials.

The amount of INV tokens is proportionately distributed to the respective SP & PAL delegators for the week under consideration. So the exact amount of INV tokens received by an individual may vary every week.

After delegating SP or PAL , you can check your name in the delegators list in the official website of Steem.ninja. It generally takes upto 30 mins for the username to appear in the list. It also shows the estimated INV token for the SP or PAL delegated by the user.

A user can only use Steem keychain to send INV token to Steem.ninja for creation of Steem account.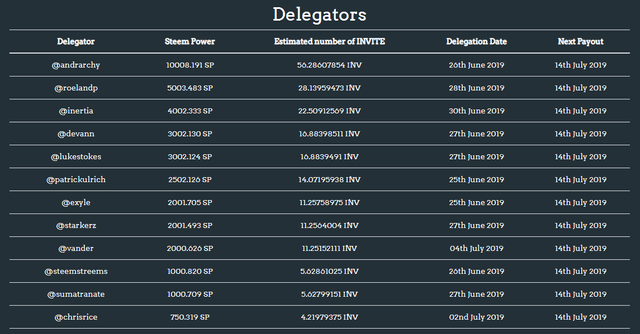 Pros
INV token is more general than other methods of Steem account creation.
The existing users in Steem can utilize their SP or PAL Power resources to earn INV tokens.
It has the potential to achieve the objective of mass adoption of Steem blockchain.
Gifting a Steem account to family members looks more easy now with INV token.
Cons
Steem.ninja should specify a lower and upper limit of INV tokens to be rolled out every week. It must stay within a range so that delegators stay in the comfort zone.
Conclusion
As the Steem account creation in reality consumes resource credits, conceptualizing a new token in the form of INV token in the ecosystem which is on the basis of SP delegation, brings more clarity for the people in the ecosystem. It also gives an opportunity to all to earn INV tokens. So in that sense, it is more general than the other existing methods of Steem account creation.
Disclaimer
This is not financial advice, nor a guarantee or promise in regards to any result that may be obtained from using the above content. The information provided here is for informational and entertainment purposes only. It should not be considered as financial and/or investment advice. No person should make any kind of financial decision without first consulting their own financial adviser and/or conducting their own research and due diligence.
References