Top 100 #Cryptocurrency by High Volume Activity - 24 hours

High Volume Activity - 24 hours
As the #Cryptocurrency Market continues to grow at an unprecedented pace and rapidly approaches $250 billion, above is a list of the High Volume Activity from the last 24 hours showing where the money is flowing in/out of.
#Bitcoin punches through $8,000
As #Bitcoin punches through $8,000 per coin, currently at $8,323.67 and with a Market Capital of approx. $138.9 billion, it continues to dominate the Top 10 coins that now has a combined Market Capital Valuation in excess of $220 billion, or approx. 88% of the overall Market.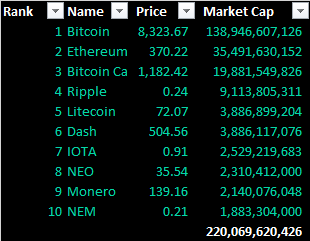 As #Blockchain and the Digital Distributed Ledger Technology continues on the path that will see a migration from the archaic and antiquated systems of the 1970's/1980's, it will witness first hand the collapse of the current Fiat Currency Systems that are already fast ending up in the gutter.
Within the next decade the #Cryptocurrency Market will grow to an unthinkable +$20 trillion market and one that will see the complete Capital Market migrate to the #Blockchain.
The term "exciting times ahead" doesn't even come close to what we are about to witness over the next decade.
+$1,000,000 price target for #Bitcoin
As this migration continues, I am sticking firmly to my +$1,000,000 price target for #Bitcoin and at the same time the firm prediction for the end of Fiat Currencies as we know them.
Thanks again for reading.
Stephen
Please feel free to use the #Investors-Group tag for: Stocks, Cryptocurrencies, Commodities and Investment related Blogs.