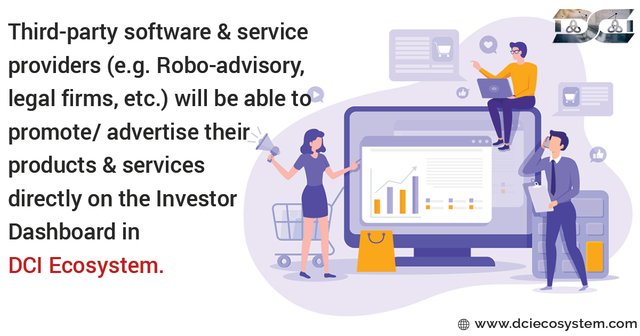 In the present-day investment sphere, both investors and investment seeker businesses are looking for reliable & trustworthy third-party service/software providers (e.g. Robo-advisory, legal firms, accountants, etc.) who can assist them in managing their portfolio and achieving the investment targets respectively.However, the intensified market competition and reduced profit margins from the client end have made life difficult for such third-party vendors.
Some of the common problems faced by their-party vendors in investment sector today include:
Intense market competition
The challenge to improve their product visibility
Declining in profit margins from the client end
Absence of innovative, tech-driven global investment platforms with advanced digital capabilities to support third-party services via API integration
The existing traditional investment platform with low to zero digital capabilities also does not offer high-profit earning opportunities to third-party vendors in the investment market.
DCI Ecosystem- A Turkey Investment Solution for Third-party Vendors to Grow their Business and Find New Clients
Looking at the third-party vendor problems in the investment landscape, DCI is working to create a fully-compliant, secure and futuristic cross-asset investment ecosystem that will enable third-party vendors to promote their products or services directly to the clients' user Interface.The third-party vendors will be able to provide services like robo-advisory, risk rating, accountancy, legal advice, etc.DCI Ecosystem will integrate API functionality so that these vendors can offer their services directly to the DCI clients in the most secure, transparent, and reliable way.
The AI capabilities of the DCI Ecosystem will allow third-party vendors to promote their products or services directly on the client dashboard based on their personalized needs and past search history.The investors in the DCI Ecosystem will be able to add/activate these third-party services to their portfolio using a simple drag and drop facility by going through a list of third-party vendors present in the DCI Ecosystem.
Investors will be able to find suitable investment opportunities and personalize their portfolio with the help of such third-party vendor services.
Third-party vendors (e.g. accountants, legal firms, etc.) in DCI Ecosystem will also be able to assist the investment seeker businesses in tokenizing their traditional securities (e.g. shares or equity ownership, real estate, projects, etc.) to raise funds directly from investors via a compliant & legal security token offering (STO) method.Third-party vendors will also offer expert legal advice, accountancy, and other financial services to the investment seekers.
DCI will be a decentralized and democratic ecosystem with a self-governance framework embedded into it. 
This will provide a more secure and transparent trading environment for everyone, including third-parties, investors, and seekers of investment.
Benefits of Joining the DCI Ecosystem for Third-party Service/Software Providers
An Innovative and Profitable New Sales Channel 
The third-party vendors, joining can easily find new clients on the DCI Ecosystem using the system AI capabilities. It will work as a new innovative sales channel for their business.
Promote Product/Services Easily on Client Dashboard 
Third-party businesses can promote their products or services directly on the client/user dashboard based on their personalized needs and past search data.
Free or Zero cost Registration 
Third-party service or software vendors (e.g. AI/Robo-advisory firms, legal experts, accountancy and notary service providers can freely register on DCI anytime and offer their services to clients.
To unlock more secrets about DCI, please visit the DCI Ecosystem and register on the website: Register Here