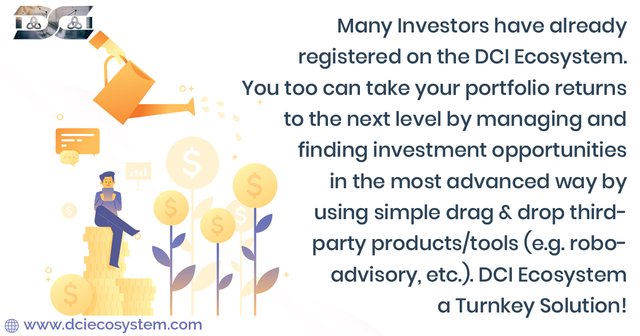 Today, the rapid proliferation of technology and digitization in the investment market has opened multiple doors for investors to find suitable, profitable investment opportunities and achieve their investment targets.
Although, with the rapid emergence of new fintech players, alternative investment vehicles, and advanced technology services (e.g. robo-advisory, risk analytics, etc.) in the investment sector, traditional wealth advisory businesses or wealth managers are finding it extremely difficult to justify their value proposition to clients. 
The digitized investment environment is also putting downward pressure on the profit margins and advisory fees of traditional businesses.
The existing financial service model is becoming redundant and non-effective for investors as they do not provide advanced investment tools & services (e.g., risk analytics robo-advisory, etc.) to investors for managing their portfolio and executing their investment ideas.
Both private and institutional investors today are looking for a turnkey investment solution or ecosystem where they can access such advanced fintech services and software in one ecosystem so that they can execute their investment ideas and achieve their investment targets (Return-On-Investment).
DCI- A Problem-Solving, Futuristic and Tech-Driven Investment Ecosystem Solution for the Investors
Seeing the existing investor problems, DCI is working on the idea of creating a futuristic, tech-driven, and forward-looking cross-asset investment ecosystem for investors with a decentralized and democratic framework embedded inside it.
DCI ecosystem will offer unlimited investment and profit earning opportunities to everyone, including investors, seekers of investment, and third-party businesses.
Investors in DCI ecosystem would be allowed to create a hybrid portfolio of 'traditional & tokenized investment asset classes' by using the most advanced investment tools and services like robo-advisory, risk rating, etc.
Investors can create, manage their portfolio and find suitable investment opportunities by taking the help of such advanced tools and services available on the DCI Ecosystem.
Investors can use simple drag & drop facility on DCI Ecosystem to add third-party products/tools (e.g. robo-advisory, etc.) to execute Investment Ideas   All such advanced tools and services will be offered by a wide range of third-party service providers (e.g. robo-advisory/AI service providers, accountancy firms, legal firms, etc.) to investors within the DCI Ecosystem. 
Investors can add/activate these third-party services to their portfolio using a simple drag and drop facility by navigating through a list of third-party services/products listed on the DCI Ecosystem.
All the legal and commercial agreement will be made between the DCI and the respective third-party vendors. Hence, the DCI community members or investors need not worry anything. They can simply add/activate such services to their portfolio for achieving their investment targets.
DCI will charge no additional fees from investors for "subscribing or activating" such advanced investment tools or services for executing their investment ideas and finding suitable investment opportunities.
Investors can Rate Numerous Third-party Product/Services (e.g. Robo-advisory, portfolio analytics, etc.) through a fair and Transparent Scoring Mechanism on DCI easily..!!!
The aspect that will make DCI unique form existing investment platforms is it will provide a fair and transparent trading environment to both investors and seekers of investment along with a democracy governance framework embedded inside it.
The investors or community members of the DCI Ecosystem will have full control over the ecosystem functionalities in terms of improving the system capabilities, risk capabilities, etc.
For instance, the investors in the DCI ecosystem would be served with a fair and reliable scoring mechanism so that they can rate multiple third-party products/services listed on the DCI Ecosystem based on their experience.
Dedicated forums will also be provided to users where they can talk and share about their third-party product/service experiences.
In this way, investors in DCI ecosystem to choose among the best investment tools or services and eliminate bad players from the DCI Ecosystem.
Here are some of the benefits that will be offered by DCI Ecosystem to Investors
Complete 360-degree view of the private and institutional portfolio
Analytics (A.I), Robo-advisory (A.I), Re-balancing (A.I) and Risk Assessment Rating Services for complete portfolio management.
Cross-Chain Transaction facility – Investors will seamlessly buy/sell anything from anywhere, albeit in compliance with local regulatory requirements.
Smart Contract Facility for contract creation and management
Custodian/Escrow Account Services
Legal and Compliance Support Services
Ability to invest globally and be exposed to the foreign market (e.g. buy real-estates tokens in foreign countries!)
Fractional ownership of Assets
Opportunity to investment regulated STO
Trade digital securities on the secondary market
Access to Global Investment market 24X7
To unlock more secrets about DCI, please visit the DCI Ecosystem and register on the website: Register Here     
Originally published on: DCI Ecosystem Blog