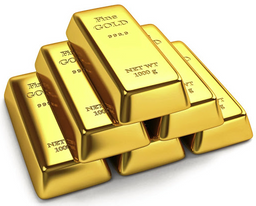 It's been a while since I looked at the Gold chart. So the other day when I looked at the chart I notice something.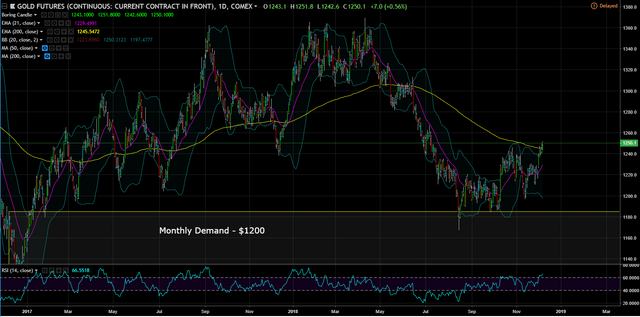 OK, can you see it now?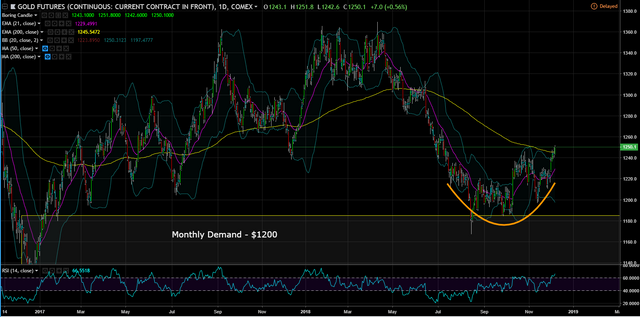 What about now?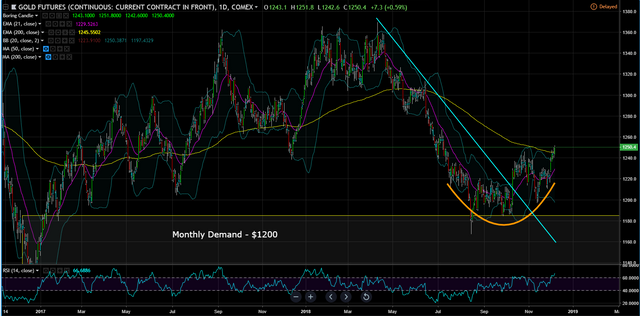 YES, YES, the chart is suggesting price is forming a bottom and also broke the daily down trendline last month.
>Gold-backed ETFs benefited in November from ongoing global stock market volatility, the underperformance of other commodities, such as oil, and geopolitical developments, the World Gold Council said in a release Thursday morning.
>U.S. dollar flows into gold-backed ETFs, including the popular SPDR Gold Shares GLD, +0.03% are now positive for the year, having raised $354 million in November, a second straight month for inflows, the WGC reported. U.K. inflows to gold ETFs were also strong as Brexit concerns have ramped up alongside a softening in sterling, said Juan Carlos Artigas, the WGC's director of investment research. The SPDR Gold Shares was up 0.1% Thursday after closing up 0.6% Wednesday.
Fed Chair Jerome Powell said in a speech a couple of weeks ago was that U.S. interest rates were now "just below" the level that could be considered neutral. This signaled to the Markets that the Fed would stop raising rates sooner than later. Before the Feds think interest rates are at neutral, the US dollar should sell-off as investors will look for alternative assets with a higher yield. Because the US dollar and Gold are inverse correlated, I anticipate Gold moving higher. In addition, when the Markets fill the Equity Markets are finally ready to sell-off definitely, Gold should benefit because it's see as a safe haven.
Thus, it nice to see inflows into gold-backed ETFs because that validates what I'm seeing on the charts. Price also formed the pattern I look for in reversals and just missed a daily supply at $1190.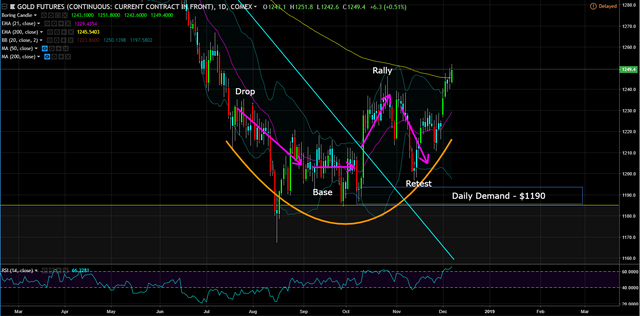 Thus, the next test for Gold will be the Sellers waiting at $1270.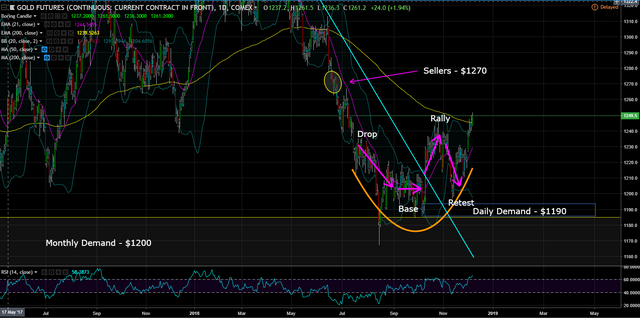 NOTE: my long term price target remains $1700.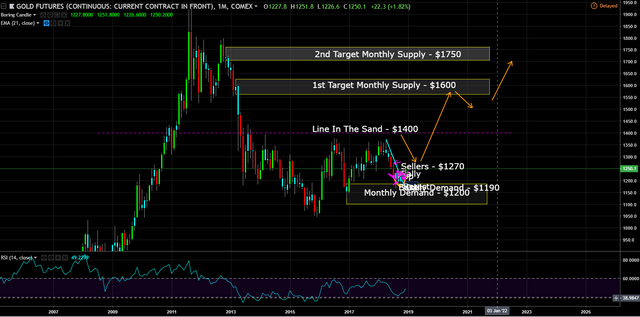 This post is my personal opinion. I'm not a financial advisor, this isn't financial advise. Do your own research before making investment decisions.  
---
Published by Rolland Thomas
on

with SteemPress
https://mentormarket.io/rolland/metal-analysis-report-12-7-18-do-you-see-what-i-see/
---