US jobs report is a little softer than expected but good enough to buoy markets. China takes action to stimulate. A little more work on cannabis and soybeans and Bitcoin.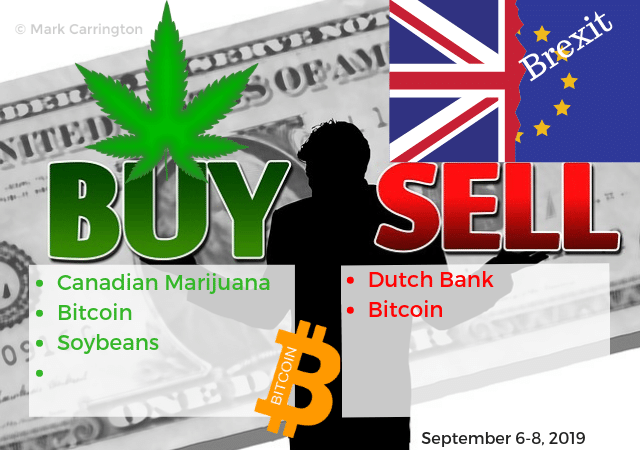 Portfolio News
Market Flip Flop
US and European markets edged ahead in Friday trade without any really good news.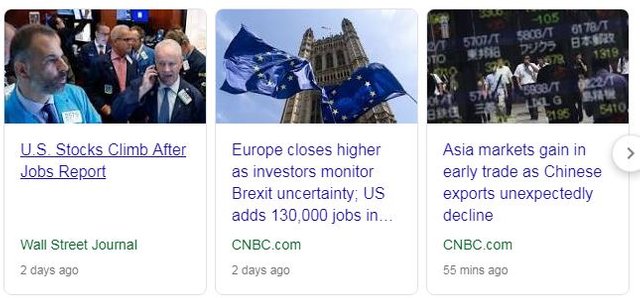 The US jobs report was below expectations but still improving. No change in news on China trade discussions. Well not until Monday with a lower than expected China export number. China did increase lending liquidity over the weekend.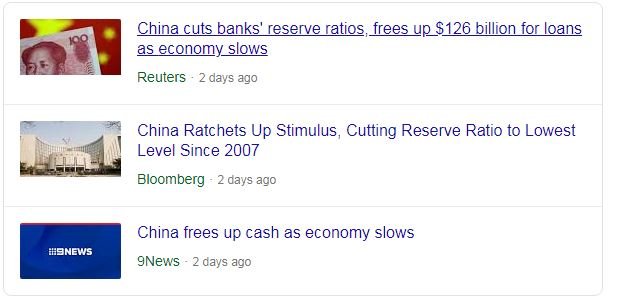 Asian markets rise is surprising given bad data - maybe investors are reading that the bad number will push China to a deal.
Britain Bumbles
The battle lines are now drawn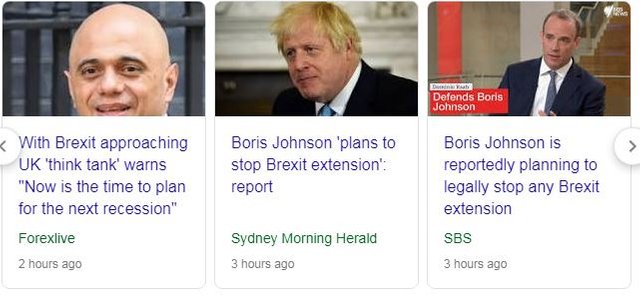 The Remainers (my friend calls them the Remoaners) look like they have aligned more fully with the Europe bureaucrats. The Brexiteers are still a bit split as to whether they are going to push hard to exit by October 31 or play the extension game. This is a key week in Parliament with the Government no longer in control.
The British Pound thinks that No Deal is less likely at the moment
Bought
Canopy Growth Corporation (WEED.TO): Canadian Marijuana. Opened a new position in one portfolio on the back of the chart presented in TIB466 - repeated here with Canopy Growth the black bars.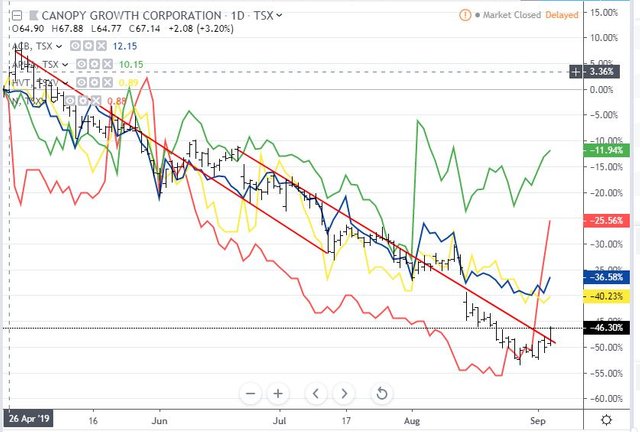 Cronos Group Inc (CRON): Canadian Marijuana. Averaged down entry price in one portfolio on the US listing. There are a few cannabis stocks listed in US - market is a bit more challenged as many investors are not permitted to invest in cannabis stocks BUT there is a market. I have put together a chart of 4 US listed stocks using Canopy Growth (CGC - black bars) as the base. I have scaled the time dimension the same as the Canadian stocks chart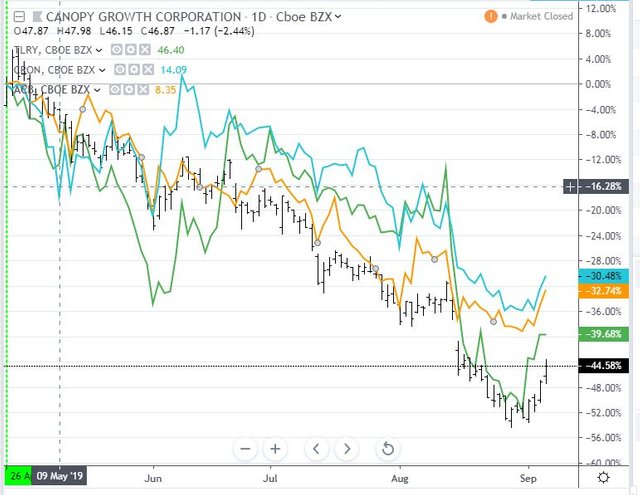 Canopy is the laggard. Tilray (TLRY - green line) was leading in mid August and got pummeled through earnings but has bounced harder. Leaders are Cronos (CRON - blue line) and Aurora Cannabis (ACB - orange line) but both down around 30% from May 2019 highs. That feels like a solid discount to me for a growth industry.
Soybean Futures (SOYB) Replaced the contract closed last week on a 4 hour reversal.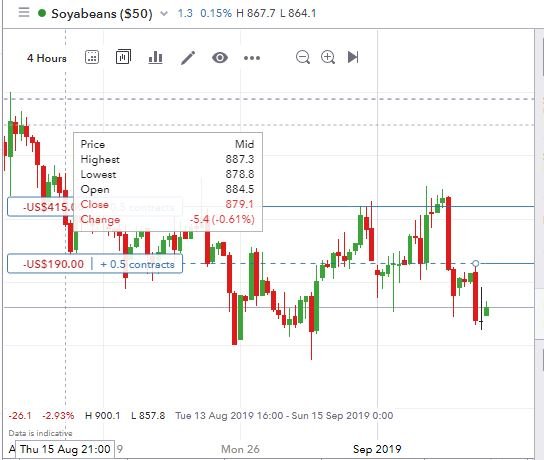 Ouch - wait two bars would have been a more comfortable entry. Does not look too bad on a daily chart (provided price does reverse)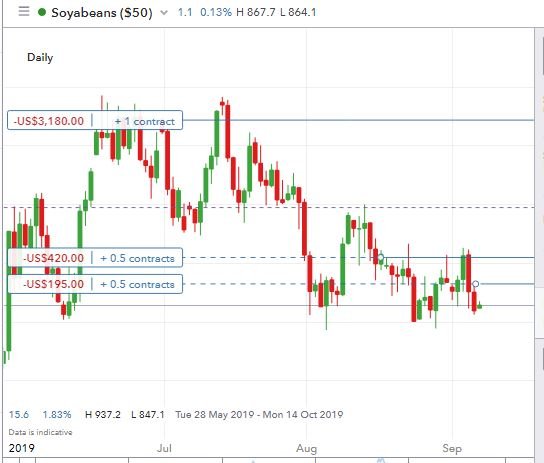 Income Trades
One covered call written with only two weeks to go to expiry
ING Groep N.V (INGA.AS): Dutch Bank. Sold September 2019 strike 9.5 calls for 0.89% premium (0.68% to purchase price). Closing price €9.03 (new trade). Price needs to move another 5.2% to reach the sold strike (new trade). Should price pass the sold strike I book a 19% capital loss.
Cryptocurency
Bitcoin (BTCUSD): Price range for the weekend was $745 (7% of the open). Price movement for weekend fully contained by Friday high and low with buyers lurking around the $10,200 level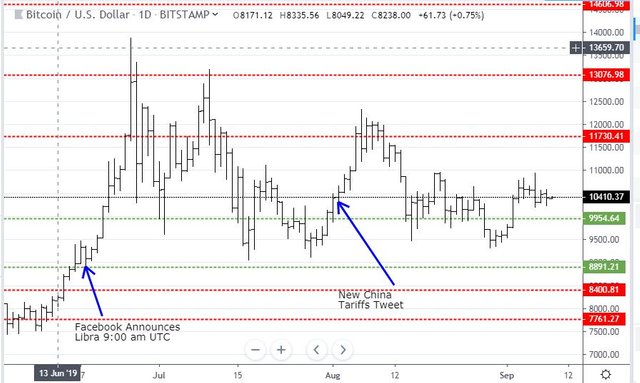 One contract closed on a trailed stop loss for $100 (0.94%) per contract profit. Contract replaced in two tranches on 4 hour reversals a bit lower down. Chart shows two trades each on their own reversal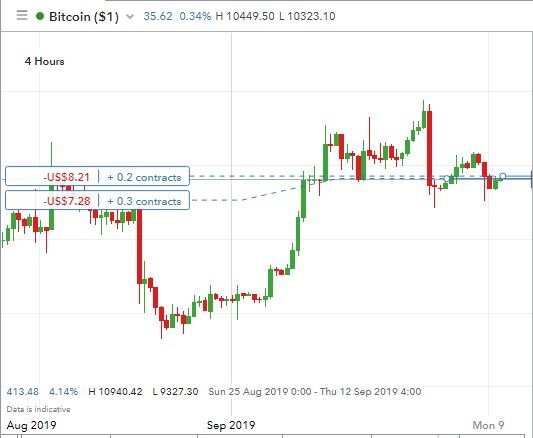 Ethereum (ETHUSD): Price range for the weekend was $19 (11% of the open). Price reverses in Friday trade making a higher low and pushes through the $177 resistance level and makes a higher high. This could well be a bottoming formation for a solid move updwards - if price can hold that $177 level as support.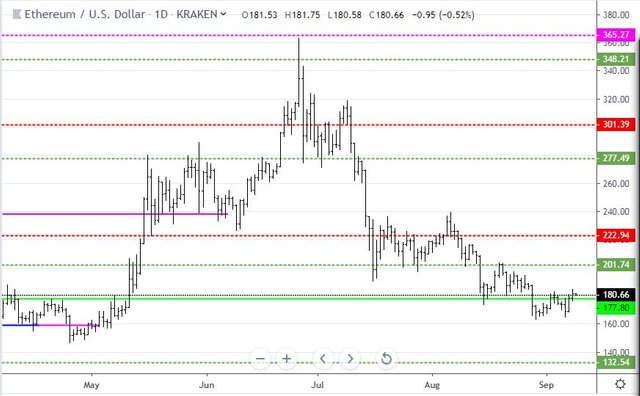 Ripple (XRPUSD): Price range for the weekend was $0.01934 (7.5% of the open). Price reverses in Friday trade making a higher low and pushes forward for two consecutive days through $0.26. Price needs to clear the prior high (0.26730) before we can say it has fully reversed direction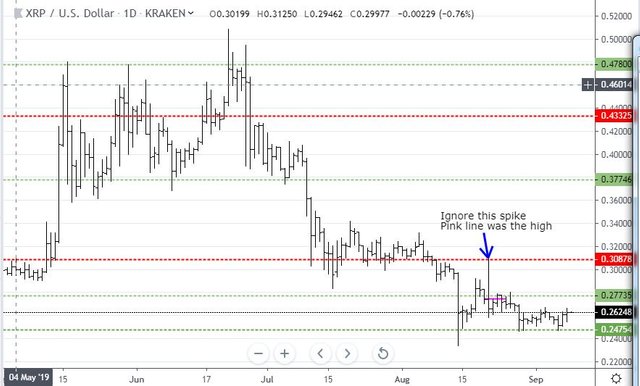 CryptoBots
Profit Trailer Bot No closed trades
New Trading Bot Trading out using Crypto Prophecy. No closed trades
Currency Trades
Outsourced MAM account Actions to Wealth closed out 2 trades on AUDNZD for 0.41% profits for the day. Trades open on USDJPY short and AUDNZD (0.91% negative)
Cautions: This is not financial advice. You need to consider your own financial position and take your own advice before you follow any of my ideas
Images: I own the rights to use and edit the Buy Sell image. News headlines come from Google Search. All other images are created using my various trading and charting platforms. They are all my own work
Tickers: I monitor my portfolios using Yahoo Finance. The ticker symbols used are Yahoo Finance tickers
Charts: http://mymark.mx/TradingView - this is a free charting package. I have a Pro subscription to get access to real time forex prices
Bitcoin: Get started with mining Bitcoin for as little as $25 http://mymark.mx/Galaxy
September 6-8, 2019