Markets relax a bit and push pretty well everywhere more than 1% up. More work on gold mining hedges and tidying up in Europe. Biggest winner in Europe has been the way Australian Dollar has dropped.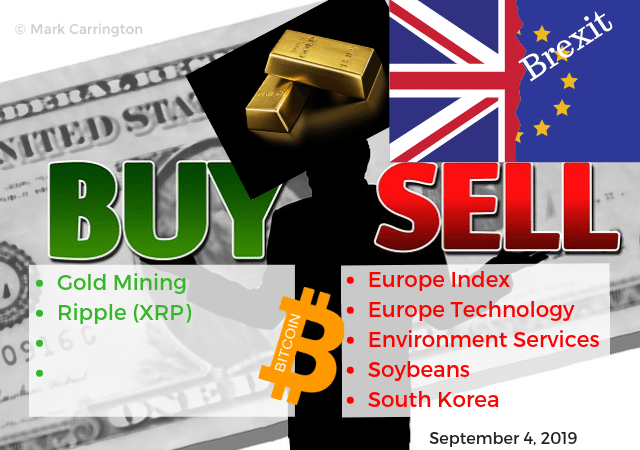 Portfolio News
Market Rally
The market flip flop continues with a strong up day right from the start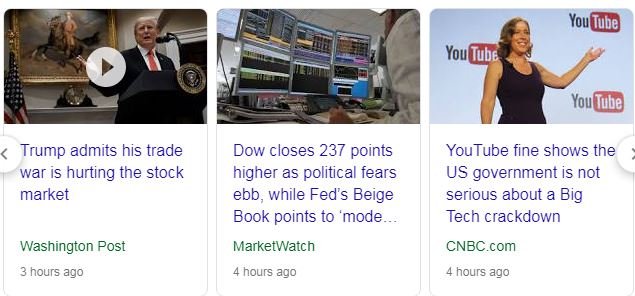 The talking heads wanted to pin the good news onto Hong Kong in the Europe session. After all HSBC is a big part of the UK index as well. Hong Kong stocks jump 5%. Maybe the political pressure easing does help across the globe. That said, of note is markets hardly noticed Argentina putting on capital controls the day before.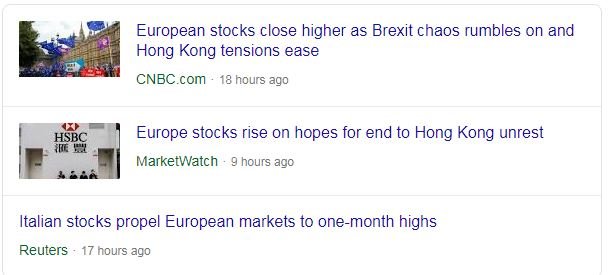 European markets did seem to take positive strokes from Hong Kong developments with Carrie Lam announcing she would withdraw the extradition bill.
Cannabis Carnival
CNBC launches Cannabis Inc show each evening at 6 pm Eastern.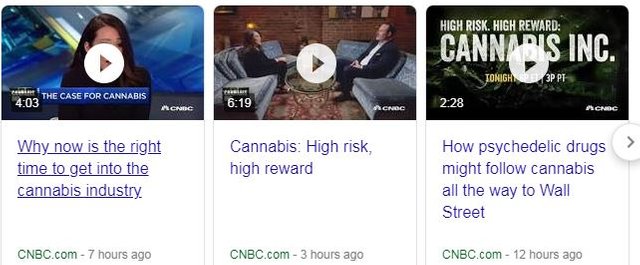 Market is at a critical nexus or turning point was the message. Good timing with New York State announcing the decriminalisation of cannabis. Time to top up Canadian marijuana stocks in one portfolio - I noticed it was a bit light. Will load up towards 5%
Britain Bumbles
Boris Johnson gambles and loses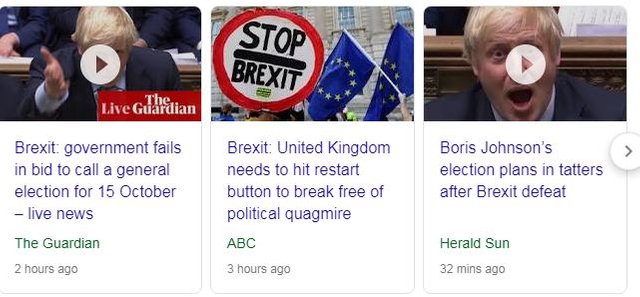 UK Parliament tables and passes the no deal blocking legislation in the lower house. They also reject Boris Johnoson's call for a General Election. Labour Party choose not to vote (mostly) on that call. So the table is set - if Boris Johnson cannot get a deal approved by Parliament by October 19, Brexit gets postponed to January 2020.
Bought
Yamana Gold Inc (AUY): Gold Mining. Price has been holding steadily above $3 for some weeks (since August 1) closing at $3.72. Sold an October 2019 strike 3 put option to reduce the net premium to $0.23 on my January 2021 4.5/5.5 bull call spread. This changes the profit profile on the trade from 300% to 426%. Trade now has 3 elements
Bought January 2021 4.5/5.5 bull call spread - $0.29 net premium
Sold September 2019 4.5 call - $0.04 premium
Sold October 2019 3 put - $0.06 premium.
Price needs to stay below $4.50 for September 2019 expiry and above $3 for October 2019 expiry and above $4.50 for January 2021. Quick update of the chart which shows the new trade as the fluoro green ray with expiry the vertical green flouro line and a revised profit number at the top in purple text.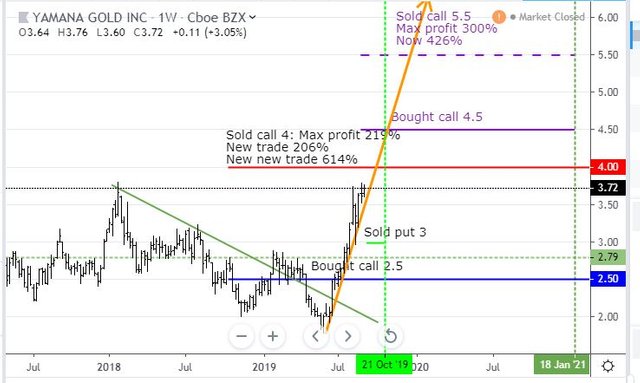 Price is tracking the orange price scenario strongly. The sold put (3) is just around the level of the last pullback from the week of August 17 which matches the top of the consolidation zone in early 2019.
Sold
Need to raise cash to fund annual life insurance premiums. Time to tidy up a bit more in Europe
iShares STOXX Europe 600 Technology ETF (0MOL.IL): Europe Technology. Closed partial holding for 7% profit since December 2017. Investment thesis which is working was to add technology as Eurostoxx 50 is light compared with US
Eurostoxx 50 Index (ESTX50): Europe Index. Sold December 2020 strike 3700 call options for 97% loss. Preserving capital with 3 months to go to options expiry. Quite frankly, I cannot see Europe getting better in 3 months. Trade made in March 2015 - it was hard to see European Central Bank staying with negative interest rates for so long (from June 2014). Australian Dollar did fall 16% against Euro in that time = cushions the blow a little. €426 might do better invested in a hedging trade in silver mining.
Veolia Environnement S.A. (VIE.PA): Europe Environmental Services. Closed December 2020 strike 20 call warrants for 94% profit since September 2014. Add in another 17% profit in the appreciation of the Euro versus Australian Dollar since trade time.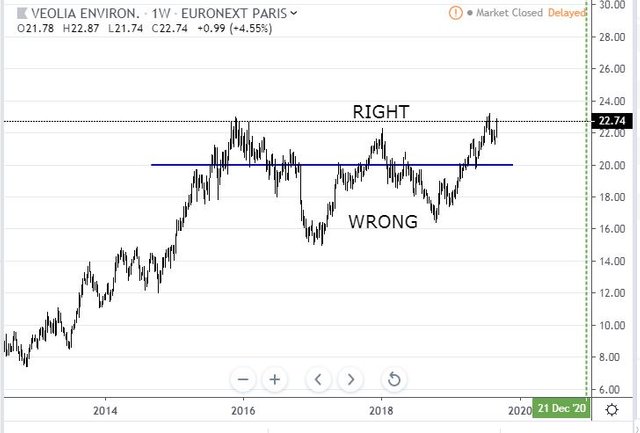 The chart shows the journey since trade start with price pushing to current levels a few times but never really doing much more. Warrant investing is predicated on getting big price moves with lots of time to wait.
Soybean Futures (SOYB): One contract hits take profits for $6.40 (0.73%) per contract profit - nice work for just under 2 days of trade action.
Income Trades
One covered call written
iShares MSCI South Korea Capped ETF (EWY): Sold September 2019 strike 57.5 calls for 0.09% premium (0.11% to purchase price). Closing price $53.07 (lower than last trade). Price needs to move another 8.4% to reach the sold strike (easier than last trade). Should price pass the sold strike I book a 11% capital loss. Income to date amounts to 0.84% of purchase cost. Note: only two weeks to go to expiry.
Cryptocurency
Bitcoin (BTCUSD): Price range for the day was $456 (4.3% of the open). Price pushes a little higher with a 4th consecutive higher day.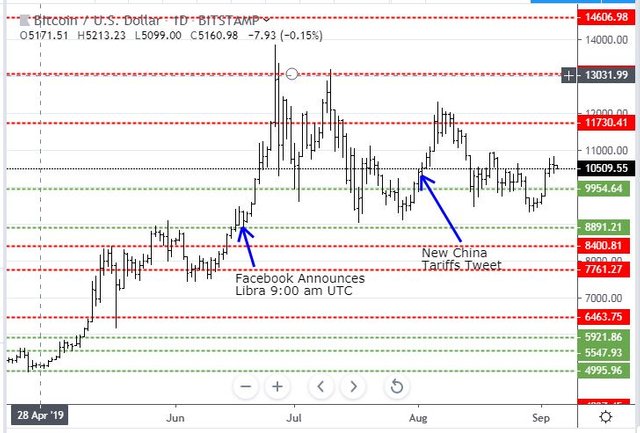 Three white soldiers is a common bullish signal for candlestick chartists - this is 4. Note: price did much the same in the last two runs - big green bars day after day. Feels like a reversal will be needed before upward momentum can continue.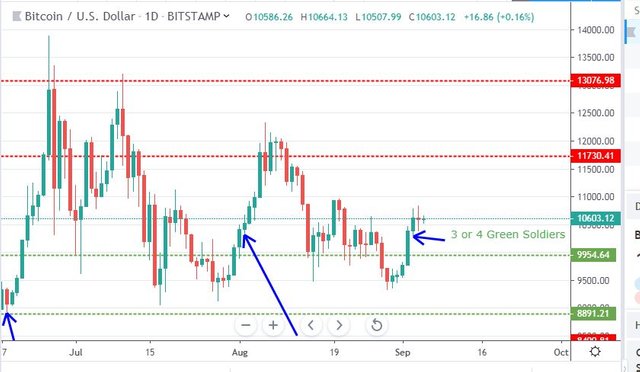 https://www.ig.com/au/trading-strategies/16-candlestick-patterns-every-trader-should-know-180615
Ethereum (ETHUSD): Price range for the day was $7 (3.9% of the high). Price pushes back below the support level at $177 continuing the pattern of trading either side of that level.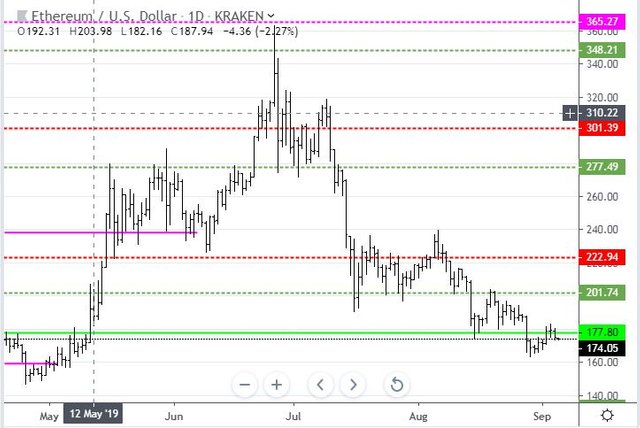 Ripple (XRPUSD): Price range for the day was $0.00650 (2.5% of the high). Price continues to work around the $0.26 level and drops below prior day low.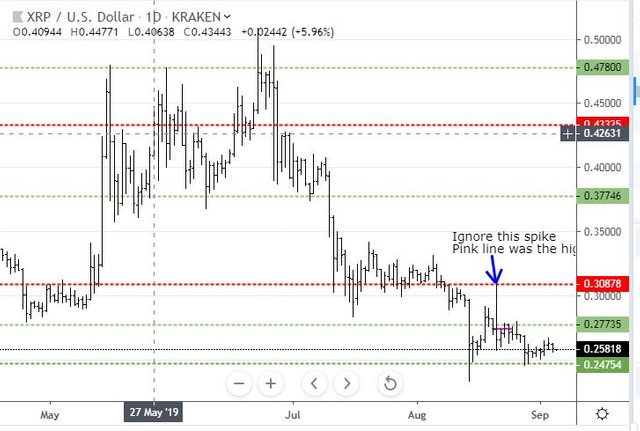 I added in one trade on a 4 hour revresal. I really felt it would hold above the $0.26 level. Another day with some way to go to stay above the previous higher low just above $0.25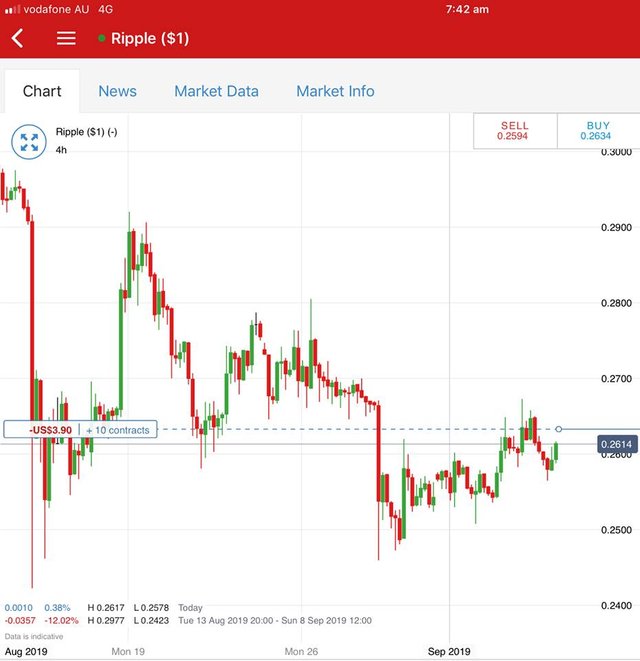 CryptoBots
Profit Trailer Bot No closed trades
New Trading Bot Trading out using Crypto Prophecy. No closed trades
Currency Trades
Outsourced MAM account Actions to Wealth closed out one trade on AUDNZD for 0.28% profits for the day. Trades open on USDJPY and USDCHF short (0.16% negative). Helped by a risk off day and now spread cost is higher than trading loss.
Cautions: This is not financial advice. You need to consider your own financial position and take your own advice before you follow any of my ideas
Images: I own the rights to use and edit the Buy Sell image. News headlines come from Google Search. All other images are created using my various trading and charting platforms. They are all my own work
Tickers: I monitor my portfolios using Yahoo Finance. The ticker symbols used are Yahoo Finance tickers
Charts: http://mymark.mx/TradingView - this is a free charting package. I have a Pro subscription to get access to real time forex prices
September 4, 2019