Markets slide on weak US manufacturing data and lack of news on China. Trade action is all hedging with implied volatility spikes pointing to a different way to hedge.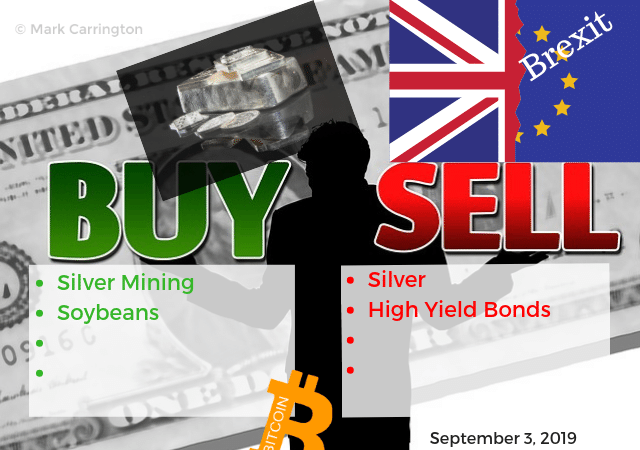 Portfolio News
Market Flip Flop
US markets traded lower especially after release of softer August US manufacturing data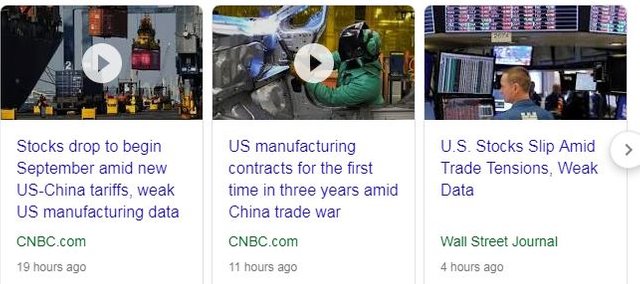 It also becomes clear that China trade discussions are only a loose possibility - no agenda is forthcoming it seems. The analysts spent the Labor Day weekend working though all the data from across the globe - things are slowing more strongly than they imagined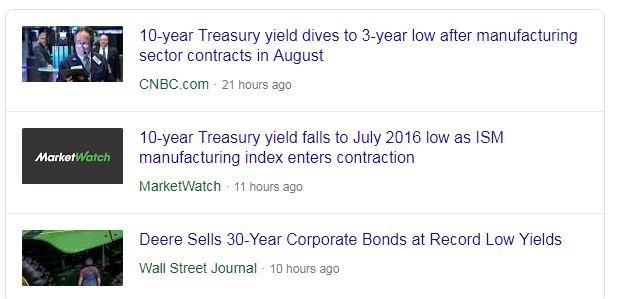 10 year US Treasury yield falls to lowest since July 2016 - take note of that date as it appears on a chart a little further down.
Britain Bumbles
Boris Johnson thought he had the support to block a No deal blocking vote in UK Parliament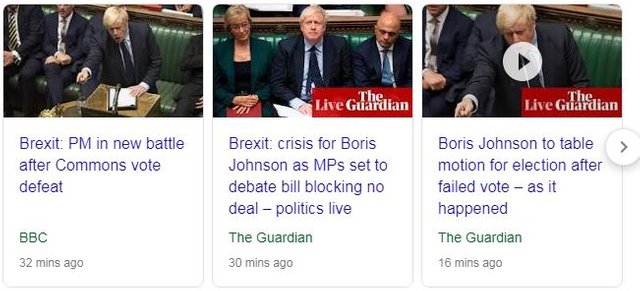 He lost. He could not get the full support of 21 Conservative Party MP's who voted with the other side. The next gamble will be to call a general election BUT he needs a two thirds majority to swing that. The next few days are critical. The British Pound recovers as the probability of a no deal exit eased off.
Bought
Coeur Mining, Inc (CDE): Silver prices went on the move in early trade. I added this trade to a portfolio I had only bought stock in last week. Bought March 2020 6/8 bull call spread for net premium of $0.50 offering maximum profit potential of 300% if price moves 46% from $5.47 opening price. Also averaged down entry price in two other portfolios - only marginally by $0.03 net per contract. See TIB461 for the discussion
Soybean Futures (SOYB): Added one new contract on a 4 hour reversal. Price does seem to have formed a bottom without any real change in the China trade situation.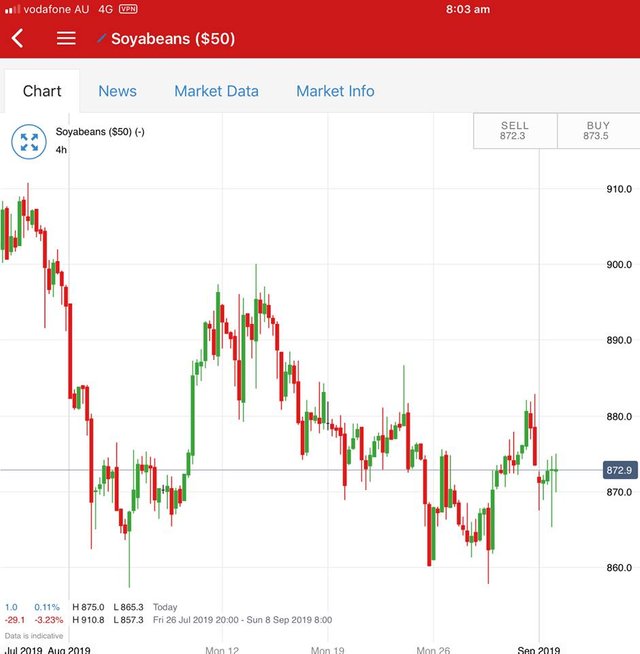 Sold
iShares Silver Trust (SLV): Silver. Price moved up 4.31% to $17.89 and another 1.1% in after hours market. Pending order to close out January 2021 14/17 bull call spread hit in early trade for 89% profit since June 2019. Profits deployed into silver mining.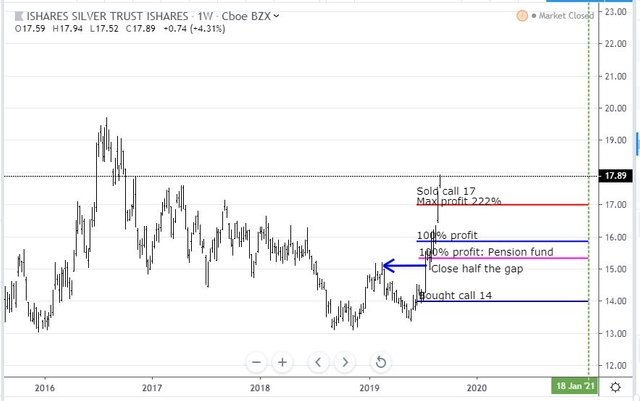 Updated chart shows the trajectory that silver is on. Profit achieved did not match the projected profit percentage because of higher implied volatility and a long time to expiry affecting the price of sold leg more than the bought leg.
Shorts
iShares iBoxx $ High Yield Corporate Bond ETF (HYG): High Yield Bonds. CNBC Options Action idea as a hedging trade. Bought November 2019 86/80 bear put spread for net premium of $0.897 offering maximum profit potential of 642% if price drops 8.5% from $86.79 opening price.
I am already holding short trades on high yield and junk bonds. I revisited those and opted to place a new trade rather than average down on the other trades. I note that I did not write up the other HYG trade in July - bought January 2020 88/84 bear put spread on July 31, 2019. I have placed both trades on the chart. The new trade uses pink rays working to first expiry line (dotted red line). The older trade has red and blue rays and works to green vertical line.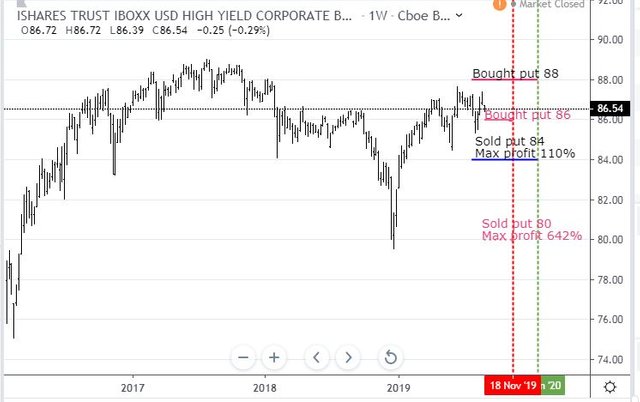 The basis of the trade is the chart is looking a little toppy and could be forming a second head and shoulders just like it did in 2017 (blue peaks and arrow). We see the same formation forming since the December 2018 lows (red peaks). When this falls it falls sharply. Risk in the trade is that as yields on long term government bonds fall investors start to buy corporate bonds (at higher risk). This will push this chart up. What the trade is really doing is offering a hedge trade at lower implied volatility than can be obtained on Gold or Treasury bonds. The next 3 charts show 3 month implied volatility for 3 ETF's covering those sectors - High Yield Bonds, Gold and Long Dated Treasuries. Implied volatility is around one third.
Gold (GLD)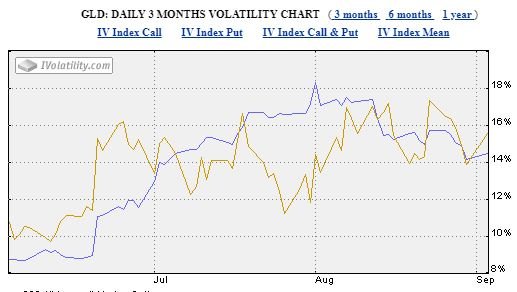 Long Dated Treasuries (TLT)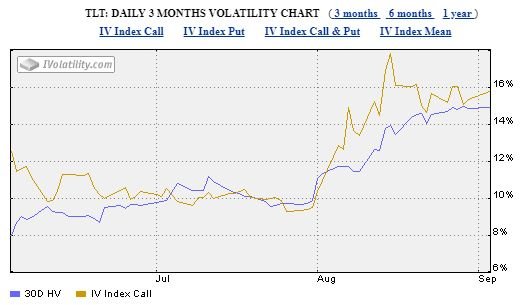 High Yield Bonds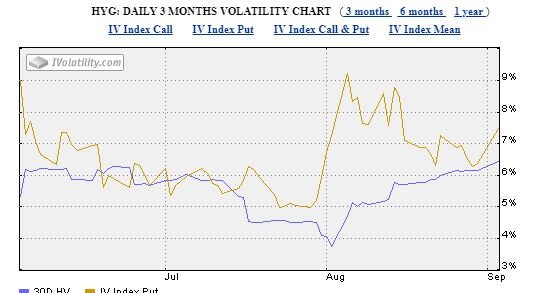 All charts from CBOE and are 3 month implied volatility calls for GLD and TLT (as hedges would use calls) and puts for HYG.
http://www.cboe.com/framed/IVolframed.aspx?content=https%3a%2f%2fcboe.ivolatility.com%2foptions.j%3fcontract%3dC61FA416-8394-43D2-8644-91222ABD58D0&sectionName=SEC_TRADING_TOOLS&title=CBOE%20-%20IVolatility%20Services
Cryptocurency
Bitcoin (BTCUSD): Price range for the day was $497 (4.8% of the low). Price pushed higher and confirmed a higher high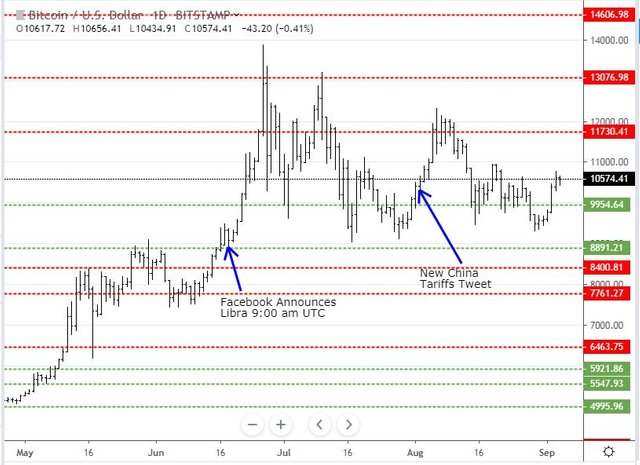 Here's what I wrote yesterday - we got that.
Need to see the previous high taken out at $10,650 to feel any confidence about a new run higher.
Ethereum (ETHUSD): Price range for the day was $9 (5% of the low). Price traded around the $177 level all day but did enough to take out the prior day high.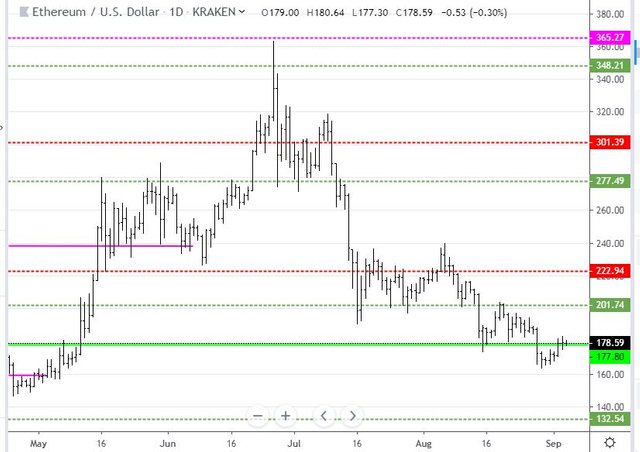 Ripple (XRPUSD): Price range for the day was $0.00881 (3.4% of the low). Price pushes ahead to trade over the $0.26 level and pass prior day high - some way to go before we see a higher high.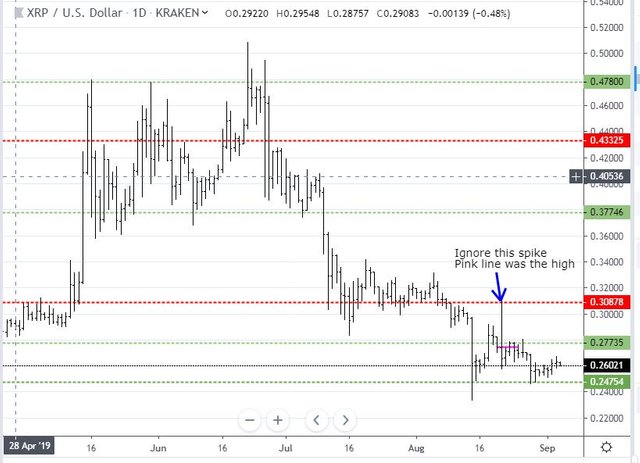 CryptoBots
Profit Trailer Bot No closed trades
New Trading Bot Trading out using Crypto Prophecy. No closed trades
Currency Trades
Outsourced MAM account No closed trades. Trades still open short on USDJPY and USDCHF on (0.61% negative) - a big improvement on a risk off day.
Cautions: This is not financial advice. You need to consider your own financial position and take your own advice before you follow any of my ideas
Images: I own the rights to use and edit the Buy Sell image. News headlines come from Google Search. All other images are created using my various trading and charting platforms. They are all my own work
Tickers: I monitor my portfolios using Yahoo Finance. The ticker symbols used are Yahoo Finance tickers
Charts: http://mymark.mx/TradingView - this is a free charting package. I have a Pro subscription to get access to real time forex prices
September 3, 2019