Markets respond positively to delay in next round tariffs. Hong Kong continues to build in ugliness. Trade action is about raising cash - got some margin calls to cover following a fall in Bitcoin price to add to agriculture prices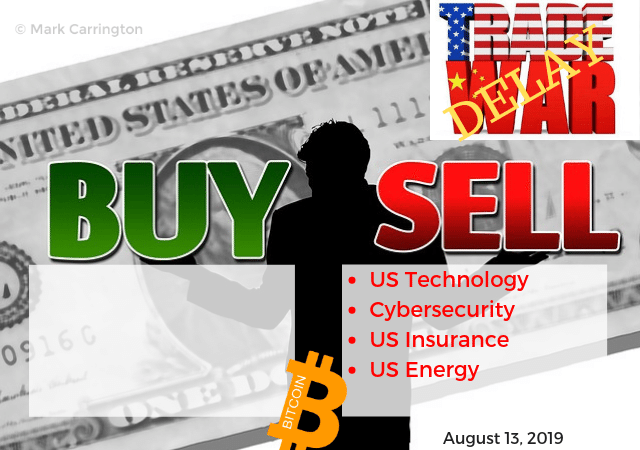 Portfolio News
Market Selloff
Common sense prevails and Donald Trump announces a delay to some of the upcoming tariffs.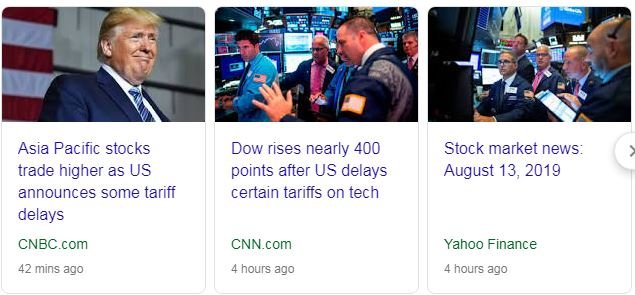 With holiday spending season coming up, this is a key time for markets. Markets cheered and recovered some of last week's losses.

The mood followed through to Treasury yields with a big rise in the short end = a little less fear of curve inversion.
Hong Kong
Hong Kong news shifts from being a Hong Kong matter following a Donald Trump tweet running the risk of raising the profile from local to global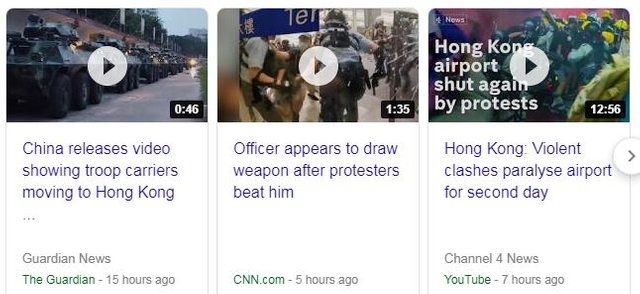 White House officials are quick to make a follow up announcement saying the official view is it is a local matter. The tanks amassing on the border in Shenzen bother me. I remember Tianamen Square.
Merger News
Biggest move in my portfolios is 15% jump in Genworth Financial (GNW) as it announces sales of its Canadian private-sector residential mortgage insurer to Brookfield Business Partners.

This sale improves the chances that Genworth's takeover by China Oceanwide Holdings clears regulatory hurdles as there is no longer a need for Canadian regulatory approval - China has still to decide. This will remain a pawn in the trade war story.
Oceanwide and Genworth, which signed the deal in October 2016, also entered into the 12th waiver and agreed to extend their merger deadline to not later than Dec. 31.
https://www.reuters.com/article/us-genworthcanada-m-a-bbp/genworth-to-sell-canada-unit-stake-to-brookfield-in-1-81-billion-deal-idUSKCN1V30Y3
Sold
Portfolio action is to raise cash in a few places
Symantec Corporation (SYMC): US Cybersecurity. Symantec announced deal last week to sell Enterprise Security Division to Broadcom (AVGO). I normally look to exit when there is a corporate action of this nature as enterprise values change. I closed out January 2020 20/30 bull call spread for 22% profit since August 2018. The profit came from buying back the sold call with the bought call mildly negative. With price moving up 6.69% during the day to close at $23.12, this looks a bit like a hasty exit - that is the nature of trading rules. See TIB282 for the initial rationale
In another portfolio, closed out January 2021 20/25 bull call spread for 47% profit since June 2019. Both legs were sold at a profit. In TIB435, I showed a chart with both trades on - here is the updated chart.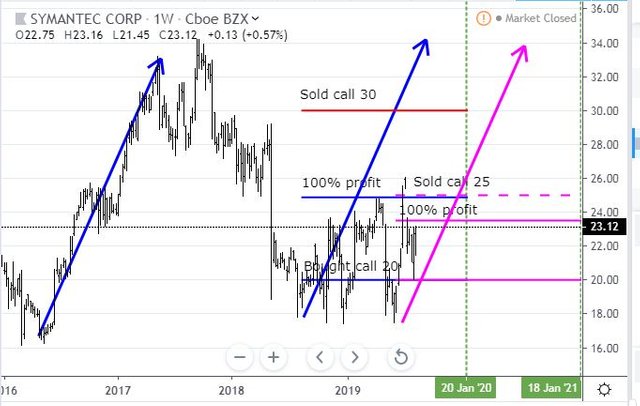 I had cloned in the pink arrow price scenario not knowing when it would start but basing it on the quadruple bottom formed. I got that right - that was the base. Price did start on a steeper trajectory and pulled back in the last selloff. The sale of a core part of the business does change the earnings dynamic and I would not be confident calling what comes next.
Western Digital Corporation (WDC). US Technology. Closed out January 2021 47.5/62.5 bull call spread for 39% profit since March 2019. This close was part of a process of taking some profits following the big selloff last week. Quick update on the chart.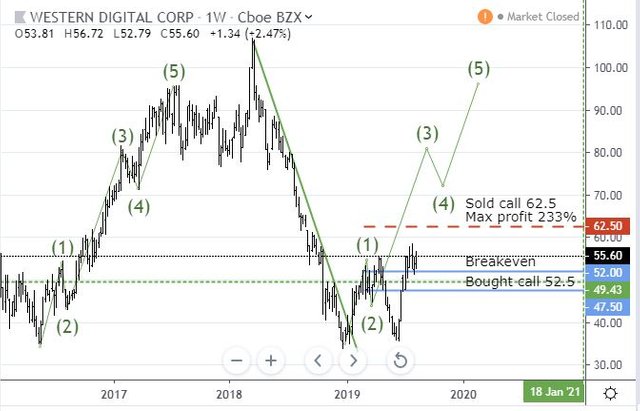 In TIB377, I left in a price scenario using an Elliot Wave from a prior trade. Price was following that just fine until the end of April and then fell right back on trade fears to form a double bottom. There would still be time for the trade to make the maximum if the Elliot Wave does follow from the new base - it has started out right.
NYSE Pickens Oil Response ETF (BOON): US Energy. Reduced part of my holding for a 27% blended loss since May/June 2018. This ETF was relatively new when I invested in it - the idea was to reduce the Sharpe ratio for oil investments. In TIB234, I presented a chart comparing BOON to its sectors (oil (XOP - blue line) and oil services (OIH - orange line)) - here is the updated chart. At the time BOON (black bars) was 17% and 10% behind respectively.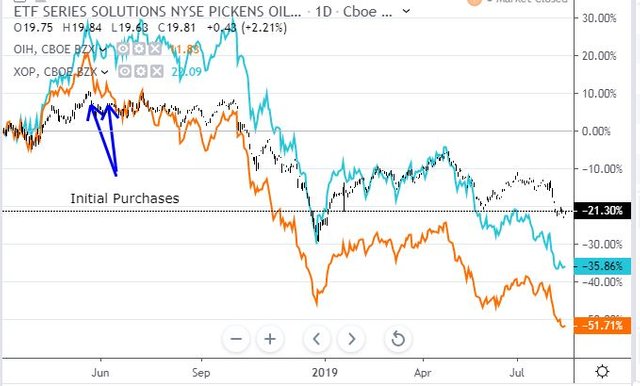 The chart shows that the concept did work with BOON outperfoming the oil sector by 30 percentage points and oil services sector by 14 percentage points. Too bad the whole sector has been on the decline. After the trade event, I find out that the ETF is being changed to switch away from oil to become a renewables ETF, including a name and ticker change (RENW). No dates are given. I remain exposed.
https://finance.yahoo.com/news/down-energy-etf-113507856.html
iShares U.S. Insurance ETF (IAK): US Insurance. Have been holding positions in two US Insurance ETFs. I decided to take profits in this one as it does not offer the opportunity to write covered calls (no options market). 7% profit since March 2018.
In TIB205, I compared this ETF to the Financial sector (XLF - red line) and the equal weighted insurance ETF (KIE - orange line). At purchase time, the respective Insurance ETFs were 15 and 25 percentage points behind the financial sector with IAK the worst.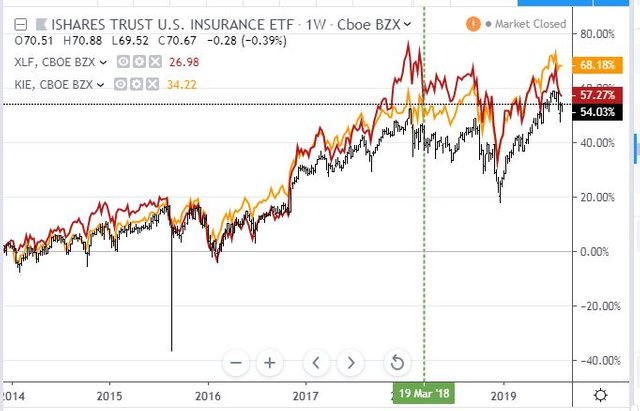 The updated chart shows that the Insurance sector has overtaken the Financial sector, principally as the banks have lagged with lower interest rates. IAK is still lagging but it did close to within 3 percentage points of the Financial sector but has lagged even further behind the other Insurance ETF (gap is now 14 points from 10 points in March 2018)
Cryptocurency
Crypto news is Bitcoin-related
Bitcoin (BTCUSD): Price range for the day was $708 (6% of the high). Steady drop in price today following news that SEC has delayed the ETF decisions until the maximum delay point. This price move is somewhat contra to what commentators were expecting with the Hong Kong protests unfolding the way they are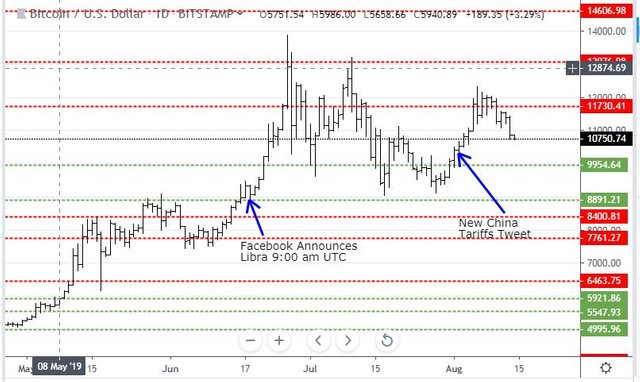 Ethereum (ETHUSD): Price range for the day was $9 (4% of the high). Price did not respond as strongly to the Bitcoin move testing down to support around $201 again but closing above half way on the day.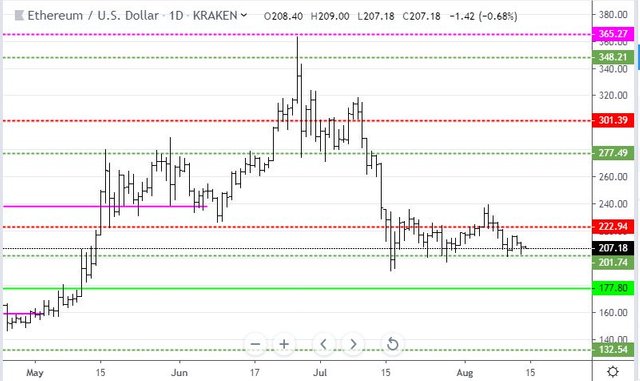 Ripple (XRPUSD): Price range for the day was $0.00303 (1% of the high). Price did break away from the successive inside bars but only modestly lower to test toward the lows from last Friday - but no more.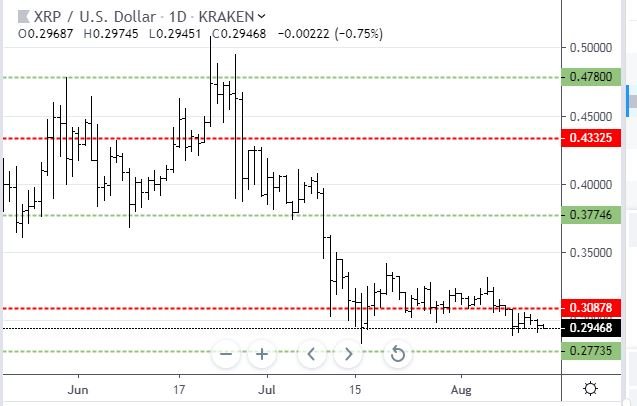 CryptoBots
Profit Trailer Bot No closed trades
New Trading Bot Trading out using Crypto Prophecy. No closed trades
Currency Trades
Outsourced MAM account Actions to Wealth closed out 4 trades on AUDNZD for 1.8% profits for the day. No trades open
Cautions: This is not financial advice. You need to consider your own financial position and take your own advice before you follow any of my ideas
Images: I own the rights to use and edit the Buy Sell image. News headlines come from Google Search. All other images are created using my various trading and charting platforms. They are all my own work
Tickers: I monitor my portfolios using Yahoo Finance. The ticker symbols used are Yahoo Finance tickers
Charts: http://mymark.mx/TradingView - this is a free charting package. I have a Pro subscription to get access to real time forex prices
August 13, 2019