Don't Get Played: Cryptocurrency FUD is Robbing You of a Lifetime Opportunity!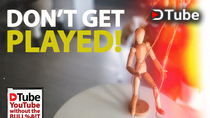 ---
I know it's easier said than done, but seriously...don't panic!
Even if you're regretting that you "could have gotten out" of Bitcoin at $20,000 or Litecoin at $350 or whatever it is...relax! Getting out at this juncture simply makes no sense.
Rather, wait for the cryptocurrency market to make a bounce-back, because they will. Consider that public interest in cryptocurrency related news is at an all-time high. That sentiment has driven companies like Robin Hood to open up their own cryptocurrency trading platform.
Do you think major blockchain platforms and digital investing exchanges are going to sit back and let that happen? Of course not! They're going to respond, and respond fiercely.
The volatility that we're experiencing in Bitcoin and other altcoin assets is simply government and banker generated FUD, or fear, uncertainty, and doubt.
Don't get played by these bastards!
---
▶️ DTube
▶️ IPFS