HURRY UP! INVESTA ICO PHASE 4 ENDS IN 14 DAYS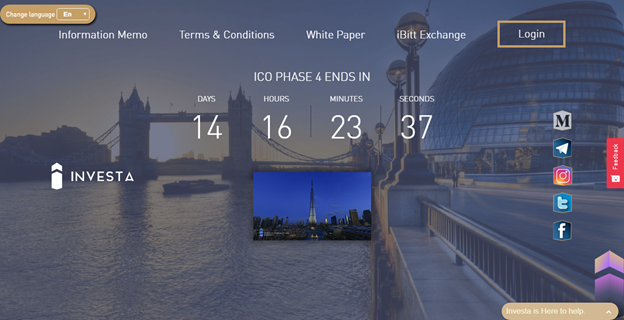 Watch this short video on what Investa is all about:
Watch the interview of the CEO with Block.News:

The Investa is a UK registered company born to fine-tune the financial system with a super combination of the best of FinTechs, blockchain, banking, and crypto to create an efficient platform useful for all.
The present ICO price of Investa is 1 INV = $1. And with the team ready to hit major exchange platforms by the end of August, 2018, the Investa Company has successfully launched its three amazing products even ahead of the end of the ICO. The three products which include the Mobile App Wallet, Debit Cards and ATMs are all set to go live in two weeks. This positive turn of events offers crypto enthusiasts an amazing opportunity to participate in the soon-to-end ICO.

Also, watch the following Videos on;
Investa Mobile Wallet:

Why You Should Consider Investing in INVESTA
Transparency and Commitment:
The INVESTA platform stands for transparency and commitment, dedicated to its core mission, which is to create a globally accessible financial platform readily available for the use of all. So far, the company has thoroughly followed through its laid out roadmap to the slightest step. The strong commitment is evident in products' readiness right ahead of the end of ICO. This is an ICO with difference!
The Team and Partners behind Investa:
A crucial factor to consider before supporting an ICO is the team behind the project. Investa boasts of highly successful individuals that share similar vision and are focused to deliver. The management team are all experts with golden track record that speaks for them. The team of advisors also consist of pure professionals in their various fields of discipline. To form a formidable partnership, Investa collaborated with reputable companies that will aid in building a lasting platform. The full list of team members and partners is available on Investa's official website.
Token Sale Timeline;
Token sale began with the presale for a 60% discount on May 1 - 15, 2018. Main sale was scheduled for May 16 – June 15, 2018 with a 25% discount. If you are yet to purchase INV token or you'd prefer to stack up some more, the main sale is still open for another 14 days before it ends. Visit the website to know how you can purchase INV token are chat with the admins and ask questions on their telegram chat room.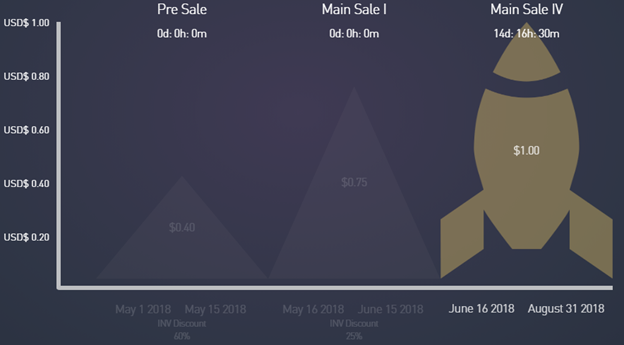 For more information please contact Investa at:
Official Website: https://www.investaco.in
Whitepaper: https://investaco.in/assets/pdf/White_Paper_Ver_1-6.pdf
Telegram: https://t.me/investaco
Email: [email protected]
Twitter: twitter.com/investaco_uk
Facebook: https://www.facebook.com/InvestaUK
LinkedIn: https://www.linkedin.com/company/27157756/
About the Author;
Name: Petrosnoah
BitcoinTalk Username: https://bitcointalk.org/index.php?action=profile;u=1340785
Disclaimer: Petrosnoah, the writer of this article is not a member or directly related to the above mentioned company and product. However, the writer took the time to write his honest opinion based on the information gathered from the internet and the company's website and whitepaper. This is not a financial advice; please always do your own research properly before taking part in any token sale.