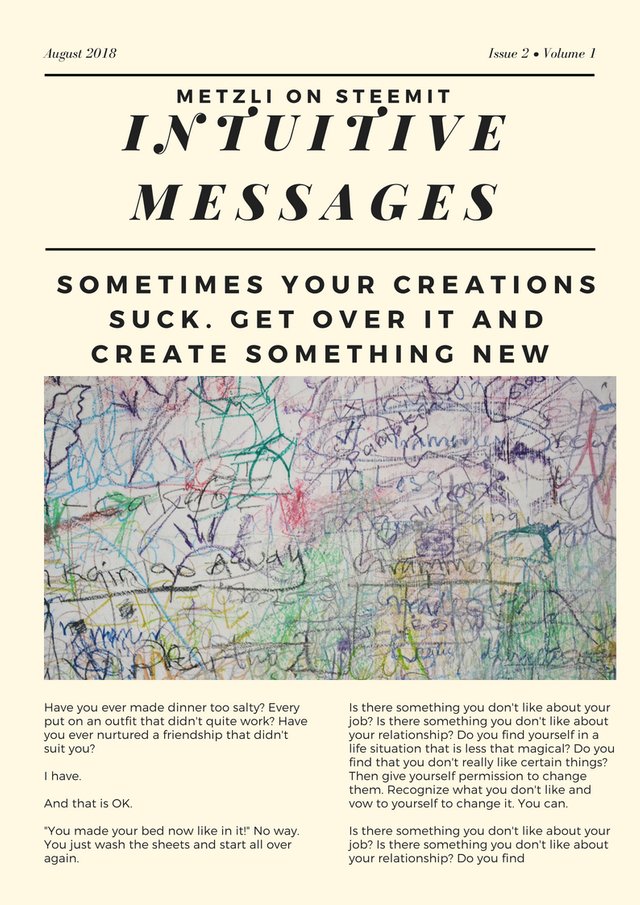 It is OK to NOT Like What You Created
Have you ever made dinner too salty? Every put on an outfit that didn't quite work? Have you ever nurtured a friendship that didn't suit you?
I have.
And that is OK.
It is OK to create something and not like it. It is ok to put a lot of time and energy into something that isn't going to "go anywhere." It is ok to leave a project that you don't love and have no use for unfinished. It's ok to leave a friendship that doesn't feel good even if you've been friends since you were kids.
Is there something you don't like about your job? Is there something you don't like about your relationship? Do you find yourself in a life situation that is less that magical? Do you find that you don't really like certain things? Then give yourself permission to change them. Recognize what you don't like and vow to yourself to change it. You can.
"You made your bed now like in it!" No way. You just wash the sheets and start all over again.
You are a creator being in a body.
Sometimes your creations suck.
Get over it and create something new.

graphics compiled together using Canva or simply uploaded from my phone.*
These messages were not written for the Steemit Community. They were written for followers of my newsletter. I have since disbanded my newsletter, and now my messages have no home. Thank you Steemit for a place to give my messages a home