EXPRESSING MY HAPPINESS TO JOIN AMAZING AND INSPIRING STEEMIT COMMUNITY!!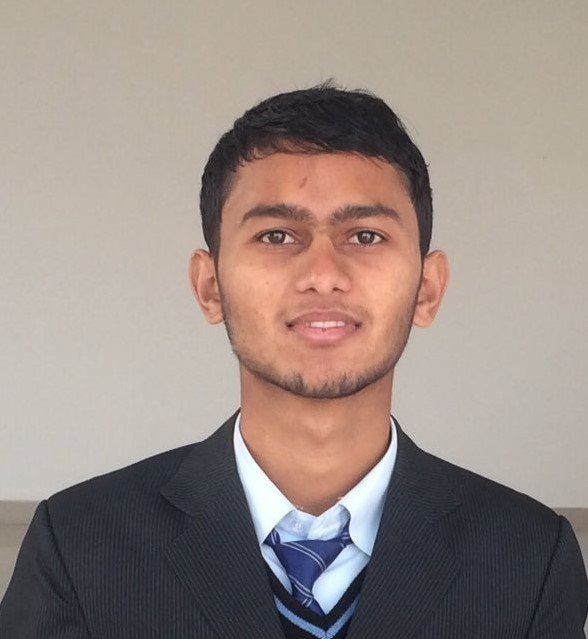 It's feel so delightful and exciting to finally join this wonderful community. I am extremely grateful to my nearest friend @leoumesh for introducing me to this steemit community and assisting me to write and share my first introductory post. Actually he is my closest friend, say like Brothers from Different Mothers. We are college mates since past 4 years and we already have developed strong friendship bond within 4 years. Now we are like a family. I was so fascinated when he tells me about the steem cryptocurrency and peculiarity of this social networking site. I was so amazed to hear that you can actually get paid for creating good and quality contents here. I thought if I can actually get paid for sharing my knowledge, ideas and opinions on different subject matters, why waste hours of time posting and chatting in facebook, instagram and other social medias. They don't even pay you but these sites generate revenue from us. We are the source of their income. So without no doubt, I have stepped on the right place at the right time.
I will tell my reasons behind joining this community below but let me first make introduction about myself to you Steemers. My full name is Sundar Acharya, an honest, caring, hardworking, ambitious and open minded boy. If you all want to know the meaning behind my name - Sundar means Very beautiful and Acharya is my surname. Actually, it is a surname for most of the people belonging to Hinduism religion. From what I have known from my father and my grandfather about the real history behind my surname, I got to know that this surname was given as a formal title for teacher whom we called as Guru in Sanskrit language (one of the oldest language of Nepal) who has obtained a degree in Veda or Vedanga. Veda and Vedanga are the holy religious book of Hinduism religion as Bible is of Christian and Quran is of Muslim. My grandfather tells me that we are the descendants of our ancestors who were Acharya. So we inherit their surname as generation passes. Our ancestors used to do rituals task being a priest in religious ceremony. Some used to work in astrology sectors like determining future and past of a person, determining time in which to perform religious ceremony. Though there are many peoples with different religions, castes, race and different backgrounds, we share love and piece. We all live in harmony. That's why Nepal was declared a secular state in or constitution. We share each other cultures and beliefs. This is what typical Acharyas people in the past looks like: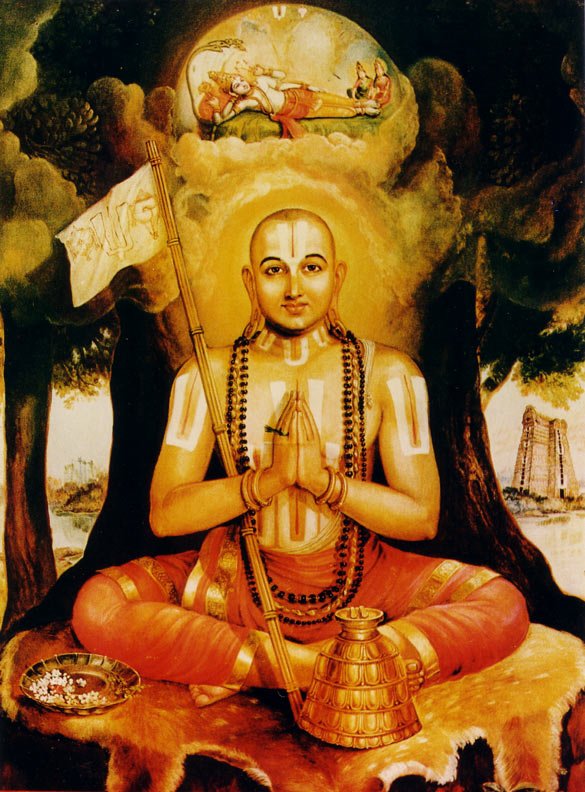 Source
But with the modernization and development of science and technology, people have been aware of the positive contributions they are bringing to us and they have been shifting their occupation to animal husbandry and rearing, agriculture, industry and trade, business. This is how our ancestors adopted with the pace of time but still some people are following their old generation path's for continuity of their works.
I was borned in remote village of Baglung-04, situated in state number 4 of Nepal. It is located in Dhaulagiri zone. The zone was named behind Dhaulagiri mountain. Dhaulagiri is ranked 7th in world highest mountain. I was born and grew up in the countryside where peoples are helpful, honest and lovely. Long time ago, my village had no any access to transportation and communication to capital of Nepal, Kathmandu. People have to walk 2-3 days to reach capital. But now, thanks to this technology that is bringing not only citizens together but the world. I had already learnt to struggle from the days of my childhood because that was a tradition for every children of the village to learn from their father about life. We used to graze cattles, goats, buffalows and cows at an early age of 6. We used to go to nearby jungle for fodder and grass to our domestic animals and also for woods. We used to prepare food from the fire of wood in Chulo. While going to graze, I used to enjoy swimming in Kali Gandaki River. Here is this river in the lap of Dhaulagiri Mountain. Isn't it beautiful guys? Now it has been a major attraction for tourist due to easy access to transportation and technology.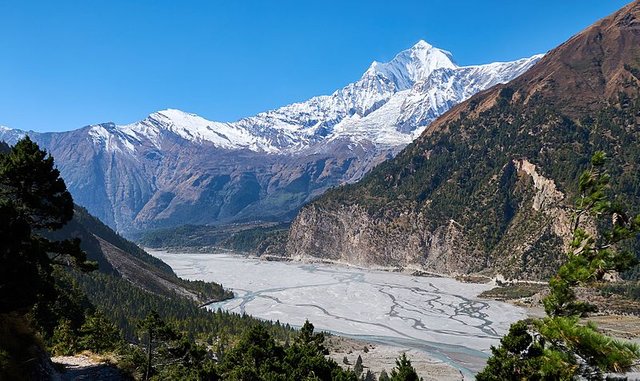 Source
I learned how to get happiness from the very age of my childhood because I used to struggle too much. I got a new bicycle during my 6th grade by which I used to go for school and take vegetables to the bazar for helping my parents . It was our source of income. Thanks I don't have to walk on foot. It was such a happy moment to me because it was hard to get bicycle in remote village like ours. This is a picture of Cucumber farming in my own home. I also used to sell this cucumber to market apart from other foods like tomato. cauliflower, babbage and so on.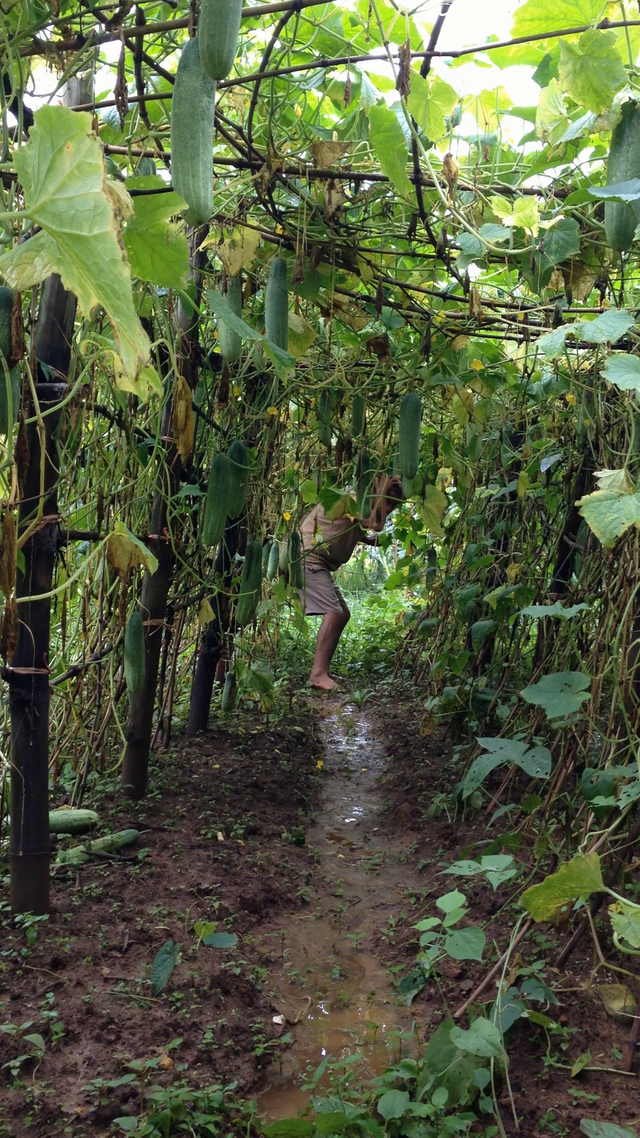 In spite of my hard time I used to enjoy a lot with my friends. On holidays, I used to take goats to the jungle with my friends and learned swimming in the rivers. Those was amazing days of my life. I used to fly kites, play marvels, carrom board and many more. I was in the first ranking to play carrom in my village. If you want to know about my hobbies, there are lot of hobbies that I love to do and I am happy with my those hobbies. Playing carrom is one of them. Apart from this I love to do adventurous activities like bungee jumping, rafting, cannoying, paragliding. I go to adventurous ride with nature during my holidays. Nature nevers pleased me enough. I want to find more about hidden treasure of nature and our mother Earth. I always want to spend my leisure time in the lap of nature because that's where I spent my childhood days. It had let me grown adult and gave me all source of education I need. Thats like imposssible that I will never stop from making this hobby my unfavourite.
I have studied my school level education up to grade 8 in Future Brighter Boarding School. It was boring as to reach the school I have to travel for about an hour by foot. So I was walking for hours daily. And later on I joined Corona Academy (near to my home) to complete my school level education. After achieving first division I was welcomed by my brother to the capital city of Nepal i.e Kathmandu and joined Kathmandu Barsha College. Getting education in capital was like a dream come true. I feel like my days for struggle were decreasing. I had to struggle for few days when I joined college here in the capital. Days were moving ahead and I was making new friends who were so socialble and slowly I got acquainted with them, adapt to the changing environment of the capital. In no time, I used to feel the capital as my second home. It has given me an environment for inspiartion and education, to be a part of myself in succeeding in life and career.
I was staying with my big brother and later on my brother went to United States for his education after getting full scholarship and I used to live alone here in Kathmandu. I used to go to home twice a year. I am very grateful to my parents that they never hesitate to spend the money earned from agriculture for our education( agriculture is the occupation of about 60 percentage Nepalese peoples). After successfully completing my science post-graduate course, I finally decided to learn Computer Science and Information Technology and I successfully joined this course after completing my entrance examination and interviews. I want to share some of my own photos about our occupation which is agriculture: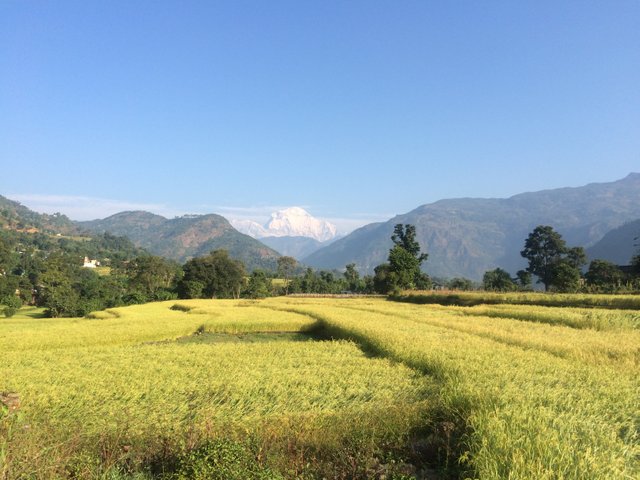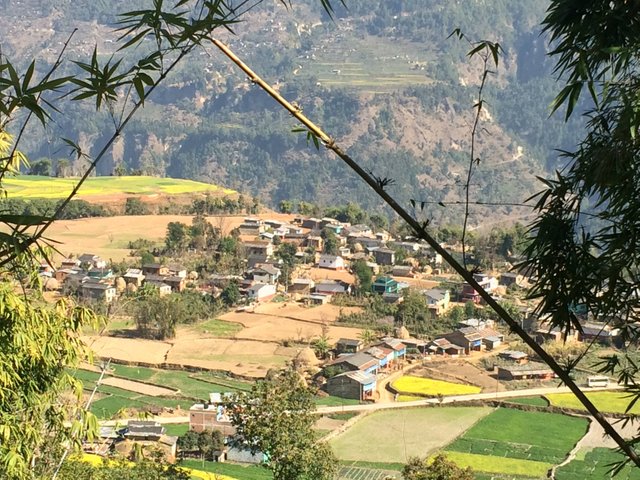 I love to know new things about the upgrowing technology. Now I'm in the final year of my bachelor program. Till now I'm staying alone here and everything's going well. I love to enjoy with technology and the nature. Internet of things(IOT) are not applied to our agriculture system so all the works are to be done by human interaction which is hard as compared to western countries agriculture system. So I had already planned to develop agriculture sector in my village and to others remote parts of Nepal as a part of being IT student. Doing this, I hope to get satisfaction by giving continuity to my family occupation. Agriculture was the reason which I got food to eat, fee to get admitted in school and college, money to pay rent in Kathmandu and so on. It has given me a life and I want to give it something in return. So, I want to positively contribute to this occupation from technological point of view.
With Internet of Things (IOT), I hope to modernize our traditional agriculture farming system. Through wireless IOT applications, I want every farmers to generate a better source of income from agriculture and farming. It will let farmers grow quality crops by monitoring different conditions required to do agriculture like soil quality and pH value, temperature, amount of rainfall, soil mosture and humidity, amount of fertilizers and insecticides to put into the land and so on. There are more than this about applications of IOT in agriculture. I will be sharing article on this one somedays.
I want to share a little poem that I wrote with you guys. It goes like this:
From the trees, the leaves fall
It's their art of nature
In life learn to struggle
And avoid failure.
Apart from my introduction, from today I will be sharing my article on other topics like science, technology, mathematics and programming language. I would also like to share photography and videos of my adventurous activities to you. I will be sharing it in upcoming days. As I am new to this, I hope to learn a lot about this community from you guys. I hope to bring a lot positive contribution to this community by sharing the knowledge and skills within me. So if you guys any ideas or opinions to share with me, please feel free to comment. I will be interacting with each and everyone of you. Thank for stopping by and keep Steeming guys and have a great days ahead.