Introducing Mcschoolboy to steemit community
About Mcschoolboy
Hello steemit community!!!. My name is Marvelous. I am a University student in Nigeria studying Accounting. I live in western part of Africa, I'm a proud Nigerian and a believer. I basically speak English and Bini and I can be very creative and motivating.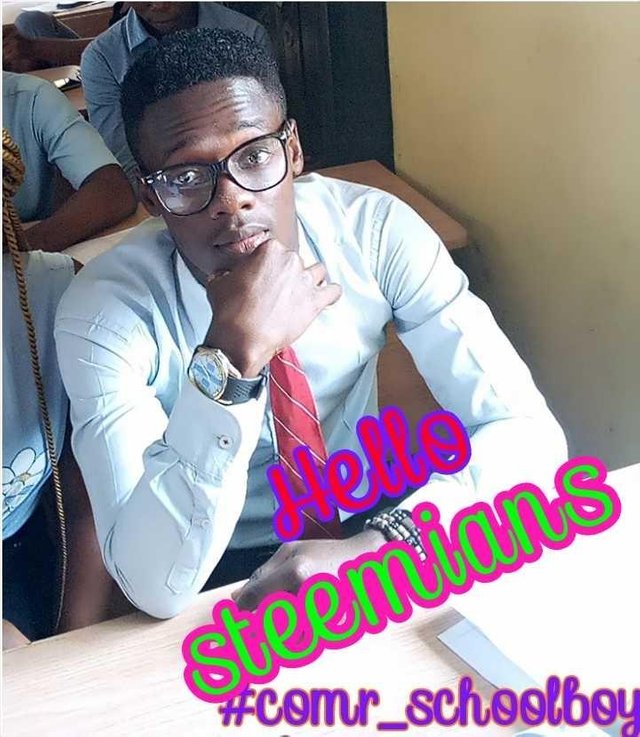 My Likes
God gave me lots of talents, which is swimming, singing, reading (lol), playing football and making friends.
I also like watching cartoons ( my favourite one currently is the boss baby " still waiting for the part 2 sha lol ).
My favourite kind of songs are rap music, R&B and most especially Christian music.
Am one of those guys who were luckily thought how to cook...#yummy, so shout out to all the ladies who thinks guys can not cook.
what ladies can do guys can do better, just kidding " can guys give birth"...lol
My role models
Albert Einstein, Dr Cletus Akenbor and Nelson Mandela
How I know about steemit
Joining this community is one of the great things that has happened to me, I really appreciate this community for creating this platform, to enable me share my ideas, steemit was introduced to me by my brothers @fredoski, @omonosa and @hboi. I call them niggas full of creative mind and also as a guidian. I Promise Never To Let Them Down And Never To Let Steemit Down. "Together we will achieve more".