"introduce yourself"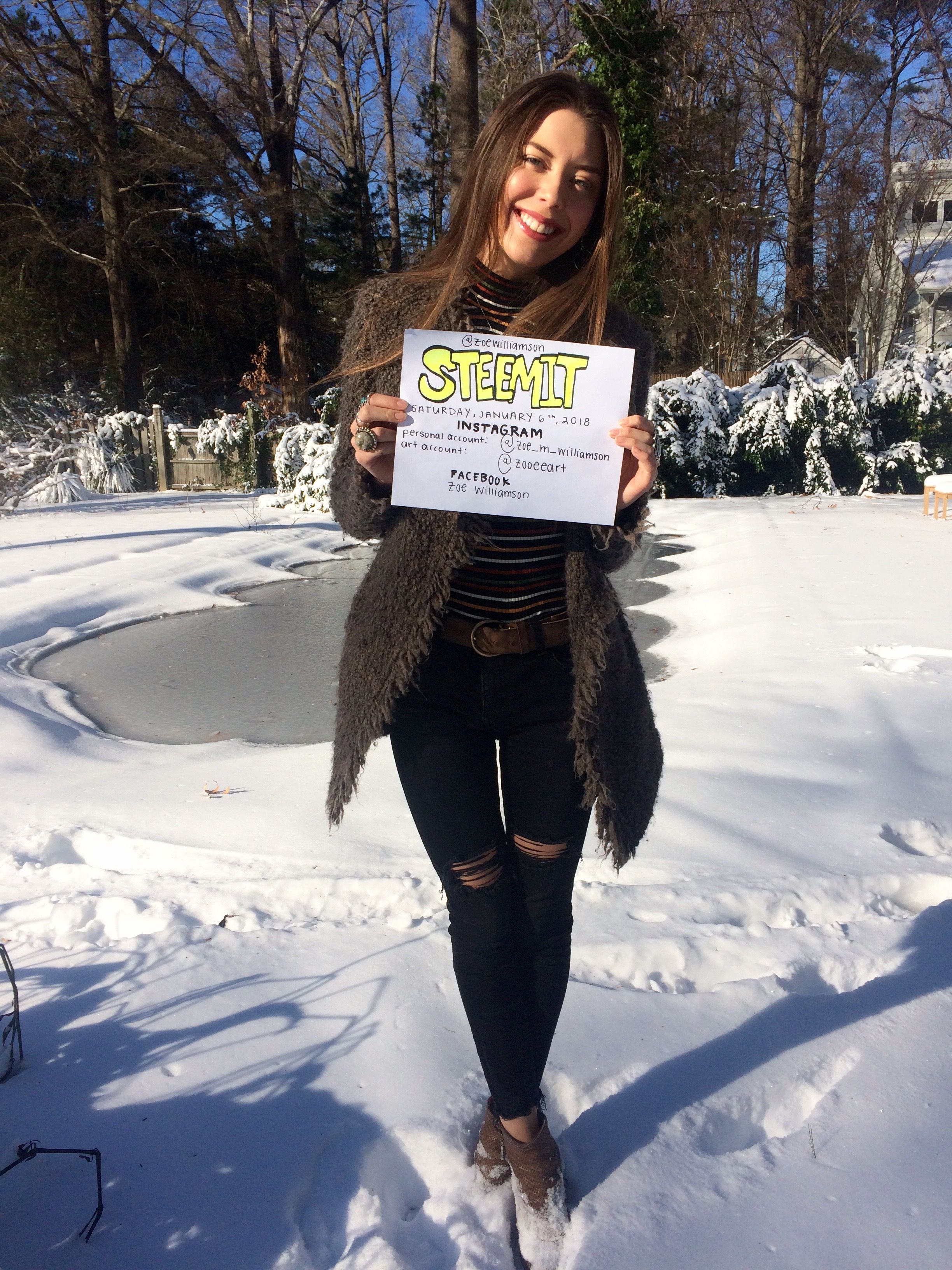 Aloha Steemit! My name is Zoe Williamson. I'm 18 years old and an old soul, quirky artist who loves models. I'm thrilled to newly be apart of the Steemit Community. I will primarily be posting about my art, but I will throw in some modeling and life experiences in my blog. I feel like I have a lot to offer through my posts. My goal is to inspire others.
Here's a little bit about me:
I was born in Pensacola, Florida and grew up in Virginia Beach, Virginia. At a very young age, I fell in love with art. I've been attending gifted art schools since 4th grade and I'm about to graduate from Cox High School and Governor's School for the Arts this June (2018). I'm proud to say that I'll be attending VCU Arts this August.
With art, there must be a trigger or inspiration to create, and for me that's my family. My family ignites my life. Our tight-knight relationship is what drives me to pursue my passion.
Besides art, I enjoy modeling. I am currently "Miss WRV" for the international company "Wave Riding Vehicles." It's a pleasure to have the opportunity to model and be passionate about both modeling and art at the same time!
I feel as if it's my duty to help out others in need. I'm fortunate for my creative, visual, gift, because in the long run, I feel as if I can use art for good and to inspire others.
When audiences observe my art, they can typically pick up on my quirky, sense of humor. Not only do I pour my wacky ideas into my pieces, but I also incorporate loads of symbolism. This symbolism may be personal, or easy to point out to the public, but at the end of the day this symbolism is what makes each piece unique and special to me.
It's been a wild, creative journey and as time progressed, I realized I couldn't live life without creating. My heart sparks to create and I'm grateful to also be passionate about modeling. I'm happy to say that I have a taste for both worlds.
There you have it- a little blurb about Zoe Williamson!
Don't be shy- follow, vote, comment, request, ask questions and subscribe below. This is only the beginning to something great, and I'm pumped to post and share with the world who I am.
Follow and checkout my accounts below!
INSTAGRAM
personal account- @zoe_m_williamson
art account- @zooeeart
FACEBOOK
Zoe Williamson
WEBSITE
https://zoewilliamson1.wixsite.com/mysite-2
YOUTUBE
coming soon!