A Muslim politician woman from Singapore, took office in this country in September 2017, and is the first woman to reach this honorary position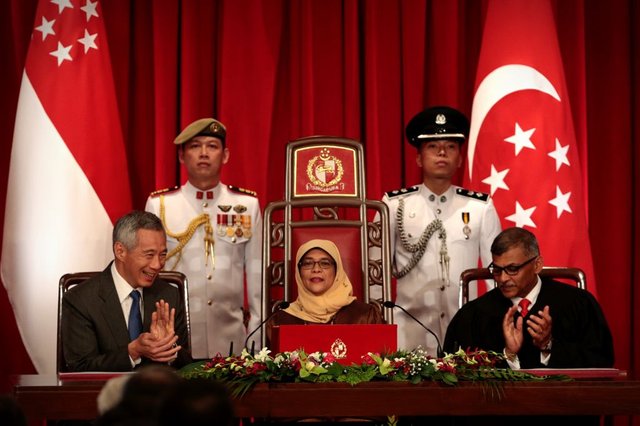 source image!
---
Birth and the beginning of life
Halima Yacoub was born on 23 August 1954 in Singapore, her father was a guard, a Muslim of Indian origin, and her mother belonged to the Malay minority, an ethnic group located in several neighboring countries of Singapore
She married in 1980 from her colleague at the university Muhammad Abdallah al-Habshi, an Arab, and they have
Five sons.
Halima suffered from poverty in her childhood, where her father died at the age of eight, and was forced at the age of 10 to help her working mother in a grocery store, cleaning and washing, and distributing food to customers.
Despite her difficult circumstances, this lady continued her study, and she says on her Facebook page that her dream was to finish the study and get a job to help her mother.
---
Study
Graduated in 1978 at the National University of Singapore, with a bachelor's degree in law , and in 2001 she received a Masters degree in law, and in 2016 she was awarded an honorary doctorate degree in law from the same university.
---
The beginning of the dream
Halima stormed the political world in 2001 at the request of the Prime Minister, Goh Chok Tong, who told her that she could play a major role in the country's political life, before the general elections.
She was then elected as a deputy to the "Jiurong" collective representation constituency, and was placed in positions after the general Elections 2011
Minister of State at the Ministry of Community Development, youth and sports,
and following a ministerial reshuffle in November November 2012 became Minister of state at the ministry Social and family Development.
On 14 January 2013, Halima was appointed spokesperson for the parliament, the first woman to hold the post in the country's history to serve as speaker of parliament between 2013 and 2017.
---
Finish line
on Sept. 13, 2017, he was declared elected as President of the State of Singapore, the first woman president of the country in the history of Sangvoora.
"I am the president of all," said Halima in a speech at the Election administration office, and thanked her supporters describing her election as "a moment of pride for Singapore and for multiculturalism."