BCEK 2018 — BLOCKCHAIN EXPO KOREA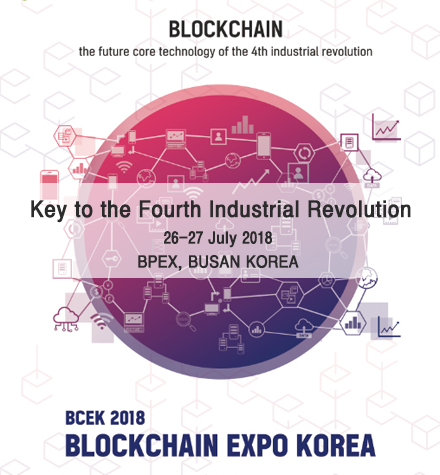 The XPC team proudly announces that XPChain and WEbrick will join the Blockchain Expo 2018 to present the future of blockchain. The Blockchain Expo showcases blockchain technology, the essence of the 4TH Industrial Revolution and its relevant fields of application. In this event, participants from various industries will gather together to hold conferences, seminars, and exhibitions to provide you with all of the latest information about blockchain. It will be a great opportunity for XPChain and WEbrick to promote the XPC-Project and also the progressive direction of the WEbrick business at this event.
EXPO Timeline:
July 26th: XPChain and WEbrick will be joined by renowned industry experts to discuss the current and future trends of blockchain.
July 27th: There will be conference presentations by the participating firms to promote their projects and plans for future blockchain technology.
Main Participants:
■WEbrick:Sharing Economy with Blockchain and XPC, Community Cryptocurrency — WonKyu Cho (Arnold), CEO of Webrick and Jason Brink (Bitbender), advisor for XPC
■BLOCEY:Blockchain Platform for P2P Contract Cultivation — Yong Kim, CTO of Easyfarm
■VectorX:Cryptocurrency Trading Ecosystem Enabled by Blockchain Technology — Chulee Lee, CEO of BITOR GROUP
■Quiztok:Quiz Contents Platform Enabled by Blockchain Technology — ChangSub Jun, CEO of Quiztok
■12SHIPS:High Efficiency, Low Power Consumption Crypto Miner; Eco Friendly Smart Mining Solution Using PANOKSUN2 — YoungHun Min, CSO of 12SHIPS
■QUiNT Realm B.V. (New Zealand):Development of Platform for South East Asian Real Estate Trading.
■E-commerce Solution:President of ETA Thai
■HASHBX (Thailand):Smart Mining
■ZMine (Thailand):Hardware Mining — Kasamapat Vithanwattana, CEO of ZMine
Admission: FREE admission by registering early on BCEK's homepage. http://www.bcek.org/
Venue: International Convention Centre, Port of Busan
Date: July 26th ~ 27th, 2018