My name is Stelyan, 27, from Bulgaria. I first heard of steemit on the crypto podcast of @anialexander and was immediately hooked on the idea of a social media, that is structured to reward great content, above of anything else. Great podcast Ani!
Now, this post should be about myself, so I will take the opportunity to write of just that, starting with this picture: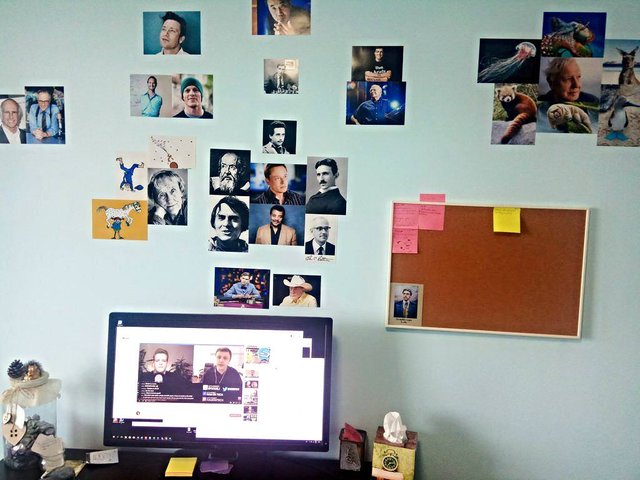 Now, I will share with you pictures of my physical self as well, but I feel that who I am is better captured in this photo, which is of my work-space. I initially took it yesterday, during the live interview of @dan with @ivanli. Today i found out that the picture sucked big time, so i did retake it :).
Anyway, those are the beings I admire, who make me think that "impossible" should not exist as a word, who make me believe that the world is a good place after all.
Larry David – For making so many people laugh at their own imperfections.
Larry King – For being always in the here and now 100%.
Jamie Olivier – For his fight to make the world healthier place for everyone through food.
Nick Vujicic – For inspiring people to make the impossible.
Tim Ferris – For giving himself to others and being authentic.
Astrid Lindgren – For inspiring me through my childhood with her wonderful books.
Haruki Murakami – For being the super-crazy mind, which I do not get at all, but I keep trying.
Robert J. Fischer – For his incredible mind, and just because I love chess.
The amazing group of people in the center – For being the visionaries, the incredible inventors, the inspiration of so many, the thinkers of the unthinkable, and frankly for being better at what they do than you and I will ever be in anything.
Fedor Holz – For being the tournament poker beast he is.
Doyle Brunson – For being the person he is.
Dan Ariely – For inspiring me on the field of behavioral psychology. Be irrational.
Daniel Kahneman – For being the smartest behavioral psychologist ever (no offense, Amos Tversky).
Vasil Levski – For doing.
Sr. David Attenborough – For doing so much for the animal kingdom, and the environment in general that my head can`t comprehend it.
Mr. Octopus – For being the most color-changing, form-changing, ink-splashing, many-armed, multi-sucking, scary, sweet, mysterious, mythological ass-kicking animal out there.
The Tardigrade – For being better evolutionally evolved than we humans will ever be.
The rest of the natural world - I still can`t wrap my head around the incredible biodiversity that inhabits our planet. We humans destroy it, but I truly believe that it is not intentional for the most part. And that we can turn this around.
I love reading. In the next picture I share with you some of my favorite books: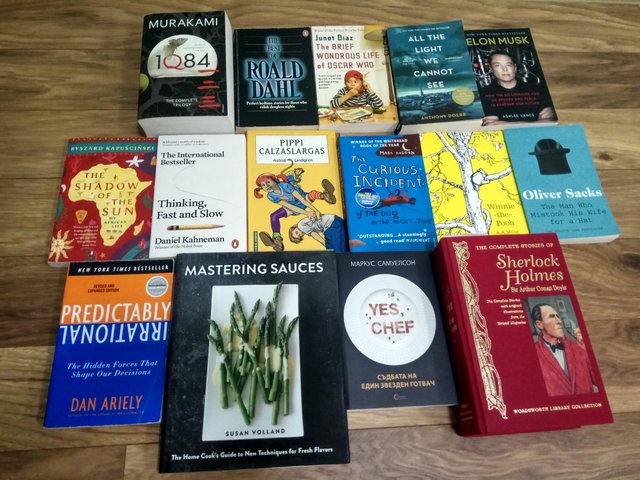 I used to read more fiction, but recently I am mostly the non-fiction type. Just started reading Homo Deus: A Brief History of Tomorrow by Yuval Noah Harari. I think that considering what the future will look like can be very helpful in many areas, but especially in the crypto space.
Used to play chess in school, from there got to poker, which I did for 10 years and recently got into crypto. Shout out to all the poker-crypto transitioners out there!
I love travelling, but this is probably not very useful information, like 90% of the people I know do.
Cooking became my hobby almost 2 years ago, and this is how I unwind and stop thinking.
I speak English and Bulgarian, some Spanish, and currently study Chinese every day, which I really like.
Found Yoga one year ago. I went to some courses, but i do it at home now, because I feel that it is not my thing to do it with 20 other strangers. I just started indoors climbing and I am like 90% to book a course(I have a history of being a bit too spontaneous, so i learn from it and think twice before committing).
I will be posting about anything I think may be useful in some way to the community. I would like to spark discussions about the hidden and no-so hidden connections between different areas of expertise. For example it may be not so hard to find correlation between poker and crypto, but how is poker like cooking? Chess and climbing? A language and the culture of the native speakers? Astronomy and biology?
This is me: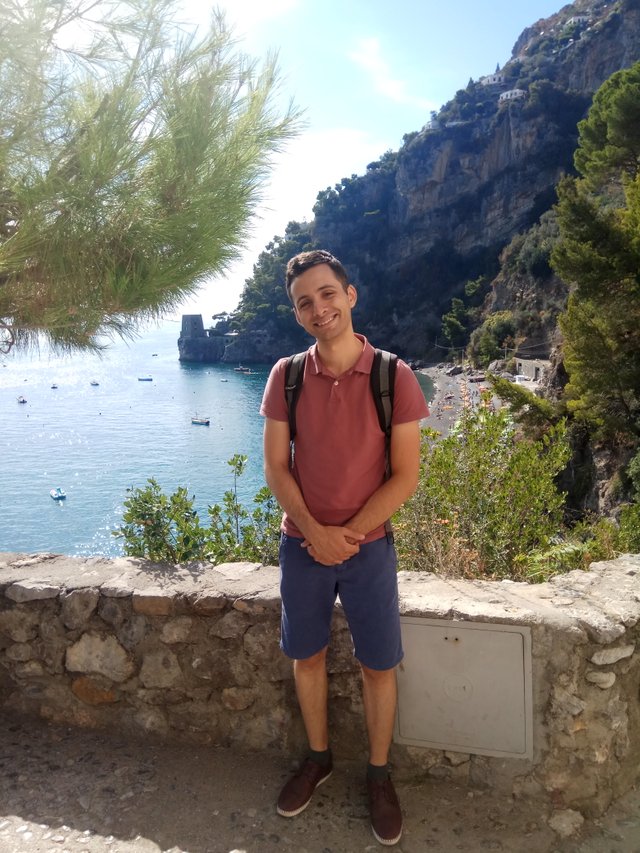 And me with the love of my life: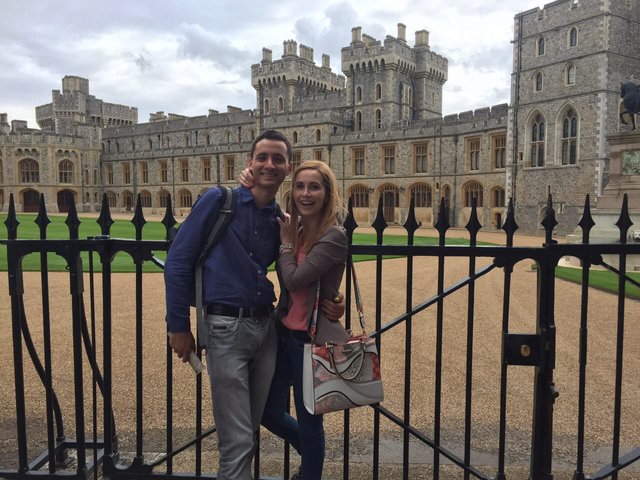 Thank you so much for reading my first post in steemit! I am thrilled to be here and to be able to share myself with you!
Exciting journey, everyone