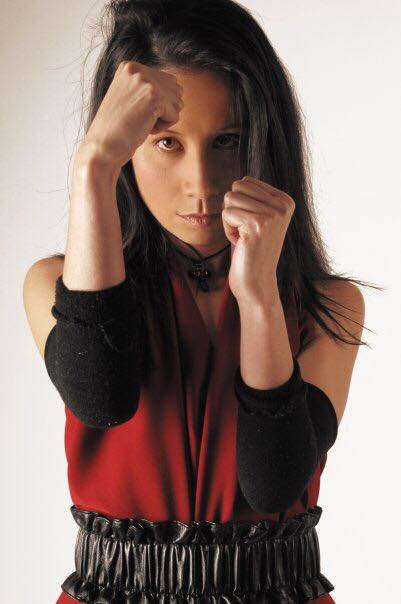 I'm Draconian from Vega
Hey Steemians!
This is my first post after finally receiving clearance from the powers that be, though I've had an account here from the beginning.
My name is Phoenix. Actually my real name is Fung-Ling which means Phoenix Rising in English, so I just find it easier to go by Phoenix.
I believe I'm the first non-human on the Steemit site, that admits to it openly. I'm really excited to be here and share my life and journey with all of you.
I hope that I will be given a warm welcome here and treated with respect. I'm going to be called all the other non-humans here as well and hope that this becomes a safe space for all of us, one in which we can fully participate in disclosure and assist you all in the process.
Let me clarify what I mean by non-human, a better way to describe who I am is to call myself fully human. I'm aware of my ancestry, which is Vegan Draconion. Essentially though my outer appearance is human, my inner make-up is from a Draconion colony on Vega. As such I experience all the human emotions and am immersed in having the full human experience. Being aware of my pre-earth existence I also have full access to my mutli-dimensional capabilities. These include time travel, shapeshifting, ability to heal and I'm highly precognative, which is essentially a very advanced form of pattern recognition. Basically I'm one of the good lizard people. In the bible we're referred to at the Nephilim.
This is the first time I've been given clearance to share all of this publicly. I'm not expecting to be believed at this point, but I herald the beginning of the official disclosure and ascension process. As I said, I'm fully human, so I experience all emotions, but perhaps have less of an attachment to them.
I lived with Nick Pope for three years who held the position of manning the UFO desk at the British Ministry Of Defence, so I've been lucky to have had an enormous amount of support from different military and intelligence agencies. Disclosure from government and intelligence sources will never happen officially, as it would risk potential panic. Thus it's being done gently, and i hope with some wry humour from individuals coming forward, such as myself. Nick Pope won't ever be able to comment directly as he is bound by the Official Secrets Act. I'm certainly going to be bringing him over here for an exclusive interview for you all though!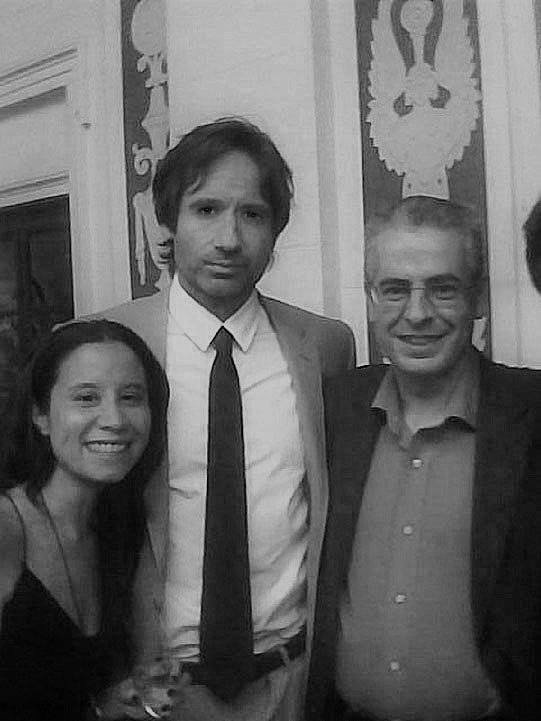 Me, Nick Pope and David Duchovny!
I was the only non Ministry Of Defence person with access to the report on Psychic Ability shortly before it was released, and i have all of the UFO files including sensitive personal correspondence in my home. I will be sharing all of this with you in the next few months.
I am going to be completely exclusive to Steemit. There is something very beautiful about the energy of the people here that I'm drawn to and I believe there are already non-humans in your community. For me Steemit is a sacred space.
YOUR INNER-SEARCH CALLS IN YOUR CHURCH! ( The orinial meaning of church just means an assembly of people.)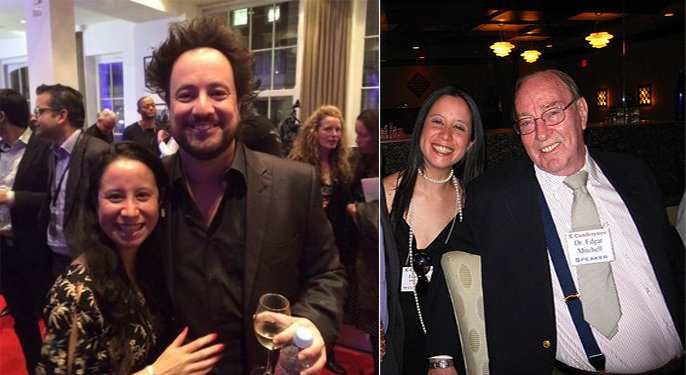 Left: Me with Giorgio A. Tsoukalos (the Ancient Aliens guy); Right: Me with the late Dr. Edgar Mitchell. They're both fully aware of what's going on.
My main focus here is going to be assisting you all with accessing your multi- dimensional capabilities. I'll be showing you how to manifest abundant lives and draw your desires toward you, for those of you that are more advanced I'm going to be showing you how to overcome the programming and conditioning you've had, which prevents you from living the life you dream of. I hope that this platform becomes the one that is most known for helping humanity.
I will also be sharing how the teachings of Jesus are actually an energetic map for gaining access to higher levels of existence, that is about quantum physics, left here for people to access as a guide through this energy matrix we currently inhabit. It's not the Christian religion, so I hope this doesn't trigger too many people as this isn't my intention.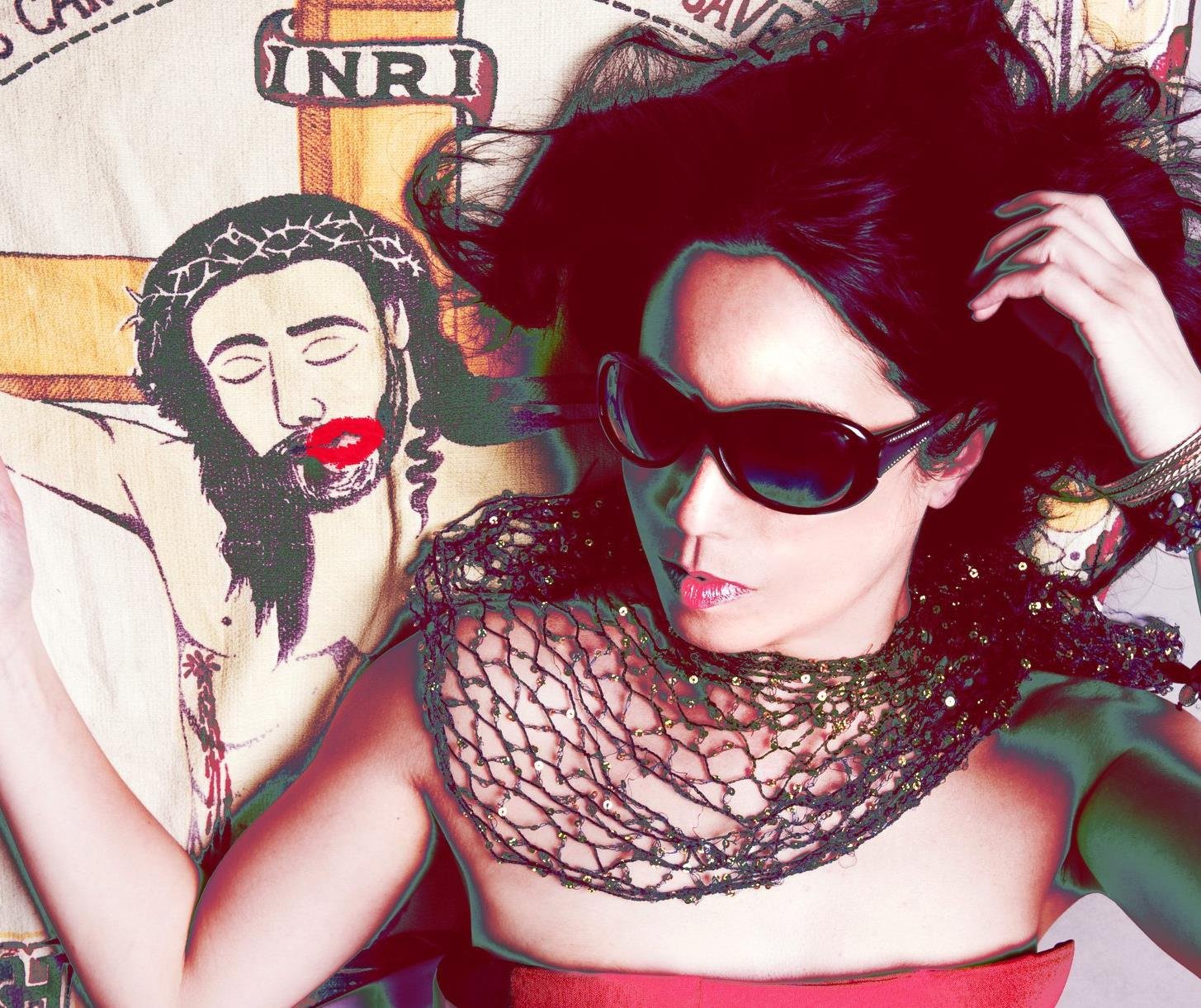 Here's me with our lord, Draconian black transgender Jesus
It's my deepest wish to get you all in tune. In doing so the quality of your lives will be much better, and you'll also be able to access your superpowers, which I'm confident that everyone on this platform will be using for the highest good of all.
That's all for now, but once again I'm so excited to be here! Much love to you all.
Phoenix Rising