Why gray hair is a life lesson, and a metaphor for the best to come. Nice to meet you on my birthday, Steemit!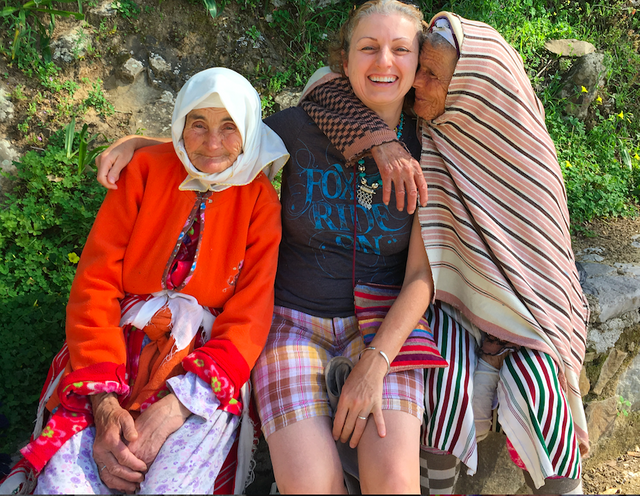 A proper presentation, finally. Nice to meet you, with my favorite picture of my travels.
Hanging out with street beggars in Turkey, also known as two beautiful and sweet women. These ladies were, respectively, 80-something and 90-something years old (they did not know their exact age).
The photo above represents all that I want to be when I grow up: adventurous, free, kind, mismatched, fearless.
I have been hanging out steemit for a couple of weeks now, but have not been properly introduced, so here it goes.
If you want a more flattering photo of me, maybe even one that can entertain a foot fetishist, you'll have to go a few months back, when I looked like this: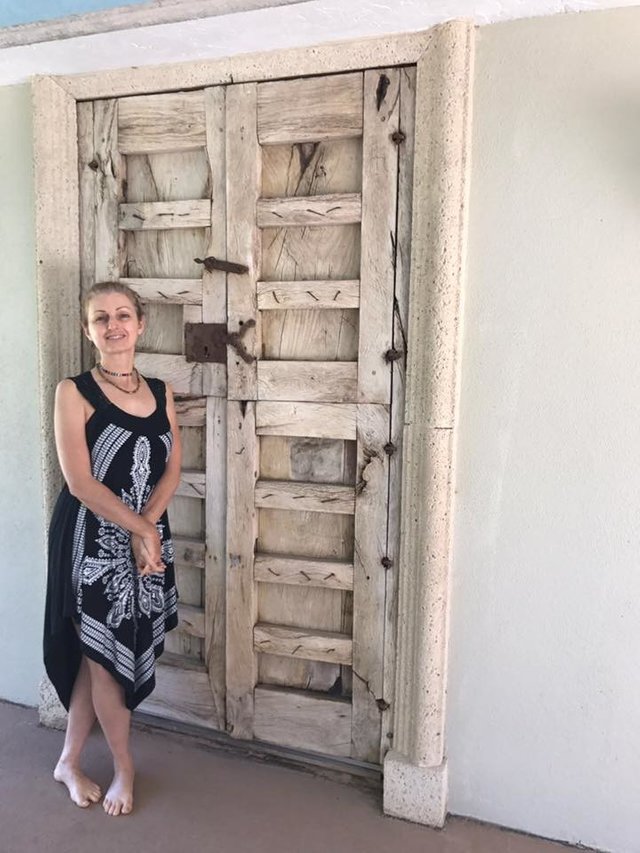 This photo was taken somewhere in Mexico, towards the beginning of a 7 month trip I started in January 2017.  While I traveled, I started cutting my hair one inch at a time.  With gray hair comes great responsibility.  Oh wait, I meant: with gray hair comes a loss of gray matter.  Therefore,  I can't remember exactly the city this photo was taken in.
Today, a few months after the above picture was taken, I look exactly like this: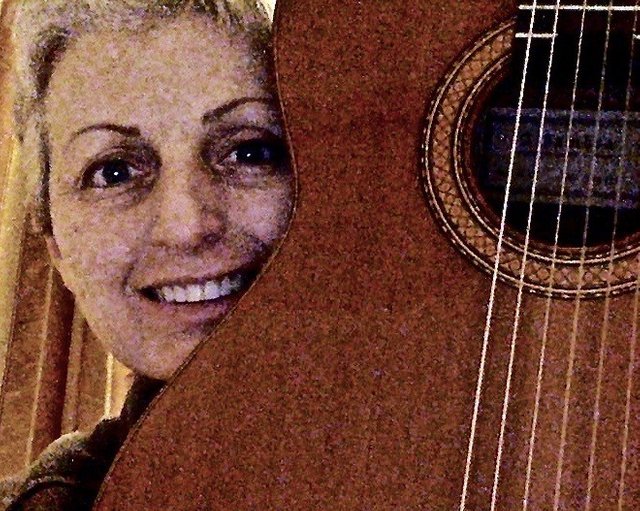 Inseparable from my best friend: me! And attached to my tool, a guitar.
I love this grainy photo of me, because it represents who I am today: the good, the bad and the ugly.  Here I am: a woman who is shedding my hair, and with it the roles and expectations that I carried for so long about career, femininity, and aging.  I am stronger than ever, I am getting my priorities in order, and I decided to focus on what truly matters. 
I am 53 years old today (yes, it's my birthday).  My mother died at 49.  I am done waiting for the right time!  I want to live today, and do what is important to me now. Not "whenever I'll get to it."
Through my travels I learned to be more flexible, but also more intolerant of what is not good for me.
Today I focus on, in this order:
1. the people I love - 
It should go without saying that the people you love really are the nectar of our life.  Oops, I just said that.
2. music -
Learning to play a very difficult instrument like classical guitar after 50 years old is like planting a tree: it represents hope for the future
3. humanitarian causes - 
Although humans, including and especially myself, can be a real pain in the ***, they are still worth living and dying for
4. nature - 
Try living without it!
5. travel - 
Only through travel I feel almost at home. I am constantly looking for the feeling of being at home.  I have never found it ever since I left my native country of.....Italy. 
Hopefully I don't get a toothache when I travel.  That can be a very bad thing, but a great thing if you are sticking in a #freewrite exercise like @mariannewest suggests.  After all, she introduced me to steemit, so it is only fair that I render tribute to this amazing woman.
6. writing - 
My pen has been my friend for decades. Trying to make peace with a keyboard now.  At least my hands have no ink on it.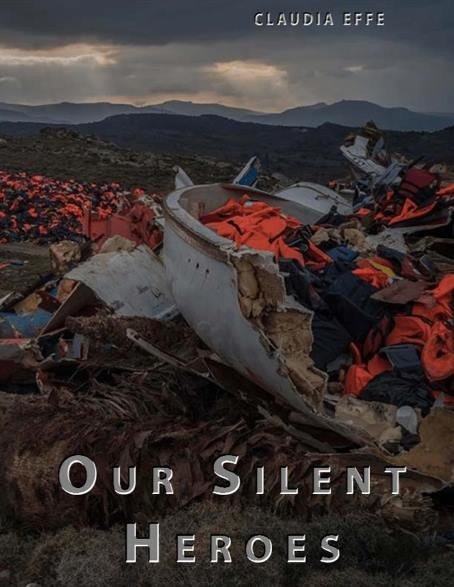 (Insomnia and Jet-Lag are wondrous things.  These two nagging friends made me write a book about my experience in Greece helping refugees.  The e-book made a bit of money, and I donated 100% of it to humanitarian causes. hanks Insomnia and Jet-Lag!)
For those that believe that success is working a stable job, making money, and having a prestigious career: I have never been more successful that now, living my dream, every day an adventure. I am making basically no money and having no career. I joyfully scrape other people's toilets, tend to others' gardens, do construction work, play out-of-tune songs, and cook meals for my new families of vagabonds from the world over. 
On those nights that I still can't sleep out of sheer exhaustion, it is because I am too happy and have too many songs in my head.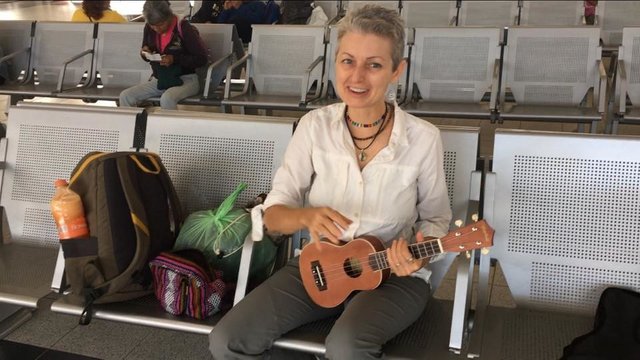 (Me learning to play the ukulele, the instrument formerly known as "toy," while waiting around at Mexican bus stations.)
But, enough about me.  Let's talk about you.  
Let's have a grandmotherly talk. 
Are you doing what truly calls you?  What are you waiting for?  You know, you won't live forever, dear.  Sometimes there is no more time. You or your loved one may die tomorrow.  For as much as you (and I) hate the idea, that is an absolute possibility.
Make every minute count, don't wait around.  My mother did not get a chance to do a lot of things and live a full life. 
When I turned 50, I picked up where she left off. I am not wasting more time.  I am making it matter!
Come along if you feel that happiness is the truth.
claudia