Namaste Steemit! Humanitarian Hacker, Burning Man Employee,TEdx'r, Pastor's Kid Here
Namaste from Kathmandu, Nepal!! 
 I am so stoked to make my first post on Steemit and to see what crazy things will come from such an amazing community of free thinkers. May Steemit continue to be drive by a spirit of collaboration.
First, I want to give mad props to @geniusloci for convincing me to join Steemit! So lucky to have met you and your ideas. Look forward to changing the world together!
Pleasure to meet you fellow Steemers! My friends call me Matt, Wild Card, and/or The Polyester Cowboy.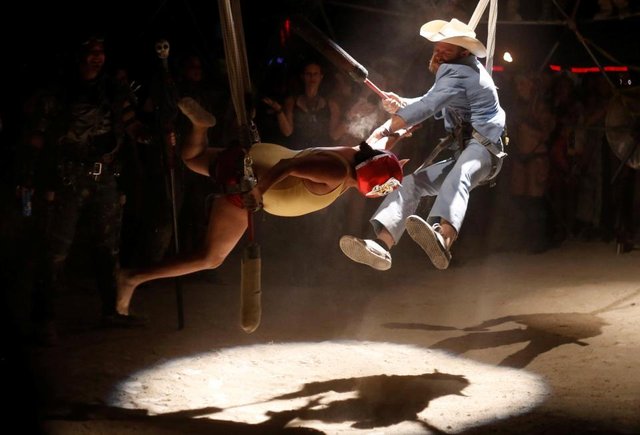 It's been almost two years since I founded Disaster Hack, a non-profit organization that utilizes art and technology to make an impact in impoverished disaster zones. We setup innovation labs, 3d print prosthesis, train hospitals, teach rural villagers to code, incubate businesses, and install big art installations. We are also developing collaborative businesses such as an online education and employment platform  to serve disaster zones and war torn countries, DIY recycling businesses, and a digital rural economic development model. 
Every summer, I spend a couple of months living under the alias "Wild Card." Working in the Black Rock Desert as Burning Man's Airport Technology Manager I help ensure sure that airplanes aren't added to the list of things that get set ablaze. My dad is a pastor and my mom the church's pianist. It wasn't until the age of 28 when I stopped hearing my parents suffering at the thought of their son burning in hell while they floated around in clouds of pure bliss. Luckily, they have lost all hope for their sons redemption, leaving me free to live my life without the constant reminder of the hell that awaits me when my cells stop respiring.  
Sometimes Life Has Other Plans 
 It was Saturday April 25th, 2015 at 11:56 a.m. when I finally made it into the shower in my hotel in Kathmandu in hopes of recovering from previous night spent filling my gut with alcoholic incantations of social lubrication. I had started an international art organization the year before; with the mission to promote art and artists in impoverished countries. At the time, I  was funding street art, giving artists free websites, and exhibiting artists in the US. It was a life I dreamed up and reached out to create. One, I was totally happy with. I was only two weeks away from heading to D.R.C., the next stop on my world art tour when everything went haywire.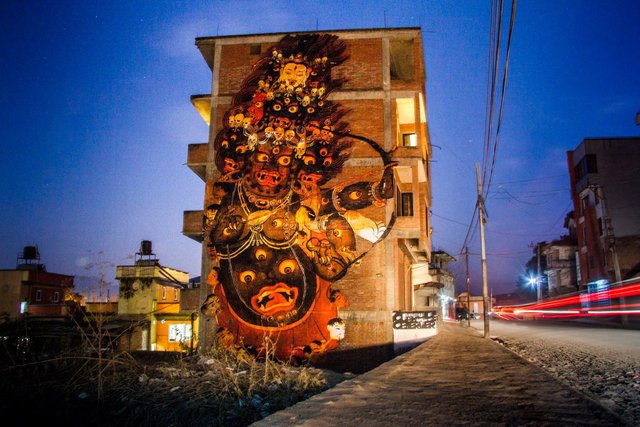 While enjoying the baptism of the saintly shower hoping for a quick hangover recovery. a  spell of dizziness descended. Perhaps the shower was too hot, perhaps I had too many cups of coffee, or perhaps it was the excessive number of cigarettes I choked down the night before. But no, I was totally wrong. The dizziness accelerated into vibration and the vibration into an upheaval that was beyond brutal entering the realm of the cataclysmic. It was an earthquake that struck the country measuring 7.8 that extinguished the flames of over 9,000 people and destroyed over 1.5 million homes.
The moments that followed were of absurd terror. I will never forget the desperation to escape the hotel I was sure would turn into rubble. I was totally naked, dripping wet, slipping and sliding, falling on my face every half meter as I made my way to the nearest exit. Behind me was a wide open spiral staircase that ascended five stories. It was depositing flower pots, bricks, and all sorts of other objects onto the floor that seemed desperate to take the life from my feeble little water based body. I would have loved to see a video of my lanky, pasty cracker ass body struggling to escape the exit door.
The world was shaking so much, that I couldn't open the door. The exit, being mostly unused, was tethered to it's frame by three slide latches that seemed to be composed of angry gods taunting my survival. It was like trying to grab a can of paint that was being shaken by mixing machine at Home Depot. It was electrified with a sense of doom. After thirty seconds of  struggling with the locks of life to no avail, I succumbed to death and moved to a door way where I watched the ground crack beneath my feet. The irony I felt at the thought of leaving the world the same way I came into it, naked and afraid, eventually gave way to peace and gratefulness for having been blessed with the experience of life. Luckily the building remained in tact, along with my life.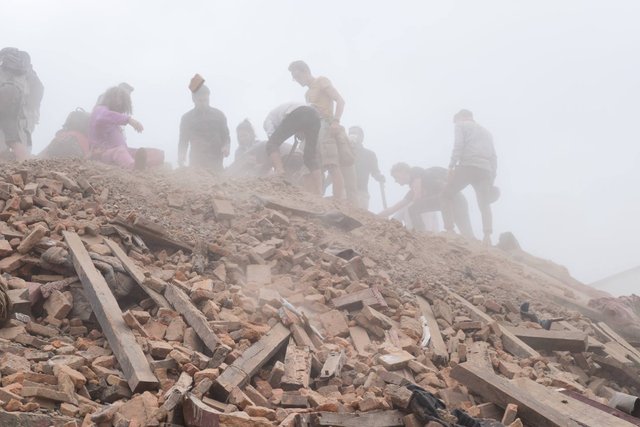 Twenty minutes after escaping the building, I found myself digging through a collapsed building to pull, what ended up being, lifeless bodies from the rubble.  Which was the beginning of my relief work. And two days later, before the internet, electricity or phone communications had been restored, I joined a candle lit meeting of 60 people who wanted to organize to provide emergency aid and relief. I didn't know that it would be a defining moment in my life, but it altered my path forever.

Becoming a Leader  
There are defining moments in one's life, where an opportunity shows itself. You either man up or let it pass. That night at the meeting, everyone was sharing their ideas in an open discussion, debating solutions and proposing action plans. Up until this point, I never really was the kind of guy that would speak out and share my opinion, but for some reason that fateful night I did. I am not sure exactly what made me speak up, whether it was ego or fate, but I seized the moment by sharing my thoughts to the group. The consequences of my social boldness caused me to be elected leader of the relief campaign; Nepal Grassroots Recovery. 
  <iframe width="560" height="315" src="
" frameborder="0" allow="autoplay; encrypted-media" allowfullscreen></iframe>  

In the following two months we saw 250 volunteers that distributed aid to over 10,000 people in the rural Himalayan districts of Dolhaka, Sindhupalchowk, Gorka, and Nuwakot. For the first time, I felt like I had purpose. So, after returning to the States, flying directly to Burning Man, a radical transition if there is such a thing, I began planning my new life. A life serving impoverished victims of natural disasters with my passions of art, technology, and innovation.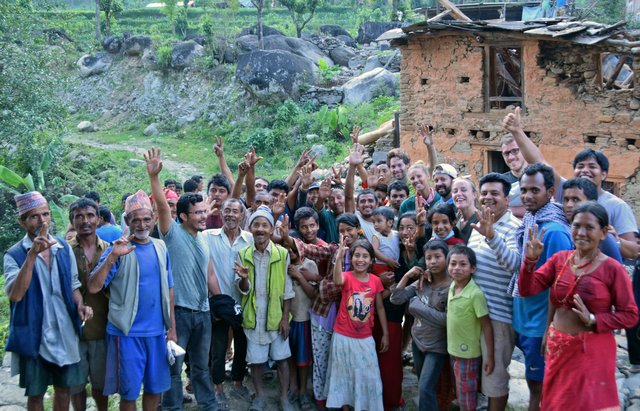 The Founding of Disaster Hack. 
I wanted and still do, with great veracity I might add, to make an impact in the lives of people devastated by disasters, but I wanted to do it my way, to incorporate my passion for art, technology, and disaster relief. So, I founded Disaster Hack.    
Now, I had no idea whatsoever as to what fuck I was doing. I just believed that technology is that which empowers humanity to do everything and anything, that art has the power to inspire and provide emotional healing, and that together they would be my ace of spades So, I decided to started exploring ways to to incorporate these things. Shorty after Disaster Hack's launch , some folks believed in my beliefs so much they asked me to give my first public talk. It was in front of 400 people. Luckily, you can't see the nervousness that plagues me the month before my talk.  
TedxPatan Talk
<iframe width="560" height="315" src="
" frameborder="0" allow="autoplay; encrypted-media" allowfullscreen></iframe>
That Brings Me To Why I Am Here. I Need Your Help!
In my pursuits in life, I have always been disgusted by the idea of living for the pursuit of money. Unfortunately, this has led me to place of being broke as shit. I would much rather print a prosthesis than write a grant or teach someone to code that get a job making someone else rich. I may be good at getting things done and following crazy ideas to hack humanitarian challenges, but I am terrible at prioritizing generating revenue to support my own life. This post is the first attempt economic self-sufficiency in a few years. (I don't use donations for my food.)    
With the help of @geniusloci we are crafting a plan to use Steemit in Nepal to provide another way to help people rise out of poverty. We know that it is community that makes change, not an individual. That's why If you would like to contribute your ideas and be part of our efforts please follow me for updates and send me an email if you like to [email protected]    

Much Love! And Thanks For The Welcome!    
 
Yours Truly,