SteemKnights - For Steem we fight!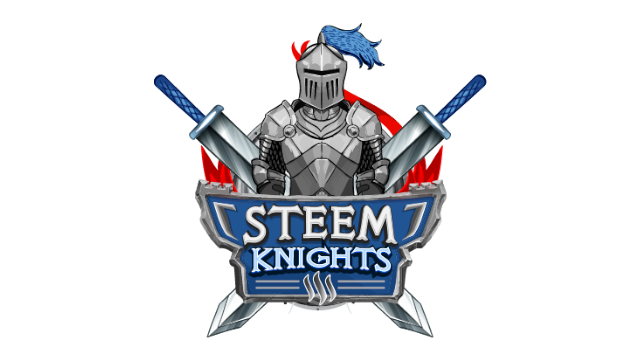 What is SteemKnights?
SteemKnights will be the first ever 3D mobile multiplayer game on the Steem blockchain, developed by @fivefingergames! (Available on Web and Android, with iOS coming later this year).
When will it start?
The gates to the kingdom will open on the 28. September 12:00 UTC. So sharpen your weapons and be ready to fight!
And don't forget to bring your comrades! So you can fight and earn together!
How to play?
Prepare for action packed battles on a chess like battlefield. Position your king and trap. But choose wisely, as you will command forth your pawns to slay the opponent's king and win the battle in the name of your kingdom!
Battle Rules
Each encounter on battlefield will play out according to the Rock, Paper, Scissors principle. It's just sword, bow & arrow and magic wand on our battlefield.
| Sword | Bow & Arrow | Magic Wand |
| --- | --- | --- |
| | | |
| Wield your Sword and Shield against all attackers and come forth victorious against Bow & Arrow! | Be quick and decisive, dodge magical attacks and slay the unholy Wand carriers! | Use your powers to shield yourself from physical blows and wield your Magic Wand to burn down the knights! |
How to Earn?
Learn more on our Website or in the Steem Posts yet to come!
Referrer System
Let friends join to fight for their kingdom! But be careful you might find yourselfs opponents on the battlefield. Upon successfull referral the companion will claim his 20% Knight Emblems booster for his first three days and for every referred companion you'll receive 10% of his or her Knight Emblems. Login to claim your referrer link!
Why Blockchain?
| Verifiable Results | Replays & Statistics |
| --- | --- |
| Thanks to the full transparency of the blockchain's distributed ledger every action taken by the players can be recorded and the games result can be completely traced and verified. | As a result of the blockchain's transparency it is possible for everyone to completely recreate a game. This means you can analyze and create statistics of your game history. |
Roadmap
| | | |
| --- | --- | --- |
| v0.9 | Open beta, for Steem we fight | Playable base mode. Grab your phone and start fighting! |
| v1.0 | Release the kraken! | Official release of the base game. |
| v1.1 | User Defined Games | Challenge each other individually and choose the wagered amount yourself! |
| v1.2 | Tournaments | Developer and player defined tournaments, fight your way to the top! |
| v1.3 | New Game Mode(s) | Additional game mode(s), ranging from more then two players to completely new strategic mechanics |
| v2.x | Lots to come... | We'll keep working on it! |
---
Come to our Discord, read our introduceyourself and have fun!
For Steem we fight!
Yours truly @fivefingergames