Steem Holidays have arrived! Now you can pay for your holidays with Steem
@steemholidays is a brand new account created with a two-fold intention:
To attract holiday related companies (big or small) to Steemit where they can advertise their services

To attract Steemit users to a single account where they can find holidays or related services... and pay in Steem!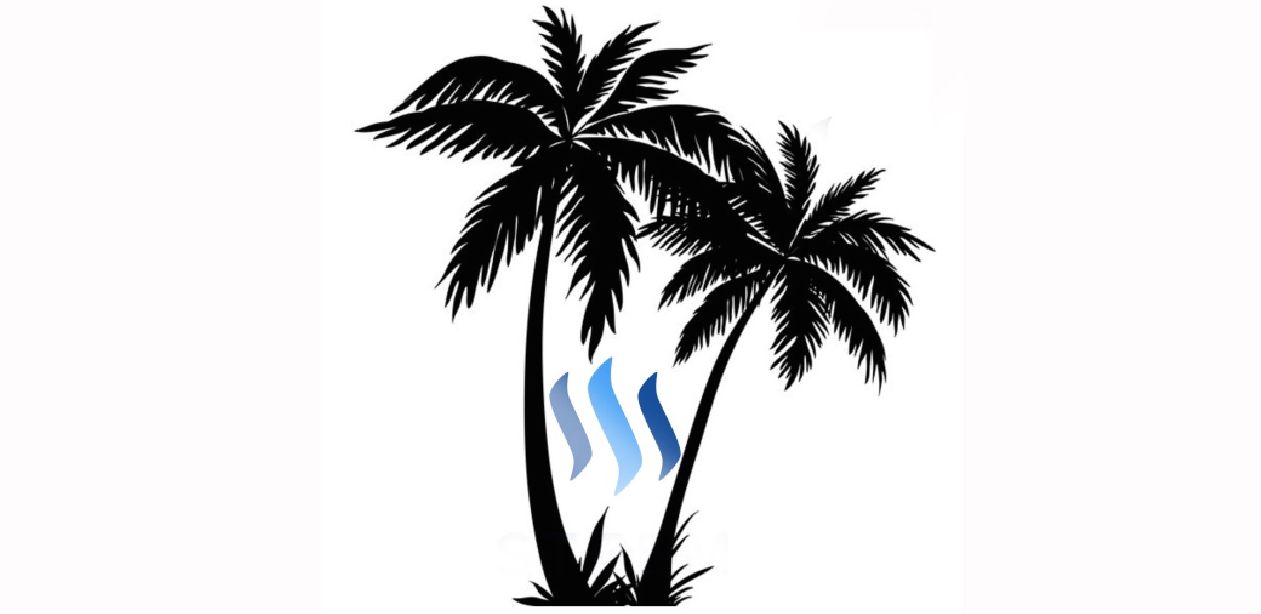 Everyone loves simplicity
Everyone love holidays
Every Steemit user loves Steem!

I watched 'The Founder' a few days ago and learned about the interesting story behind the birth of McDonalds.
What did this film teach me?
The thing that made McDonalds different from every other restaurant at that time was the speed of the transaction between buyer and seller.
And to quote the film itself, they recognised the power in promoting the idea that 'McDonalds is family'.
So, as a firmly established community/family of Steemit users, wouldn't it be lovely if we could buy holiday packages here on Steemit using the Steem in our wallets without having to go through the stress of exchanging the Steem for Bitcoin before exchanging the Bitcoin for fiat currency, before doing the online transaction.
With the help of this initiative, the process of buying holiday related pleasures using your hard earned Steem is about to get a whole lot easier!
Sounds good doesn't it?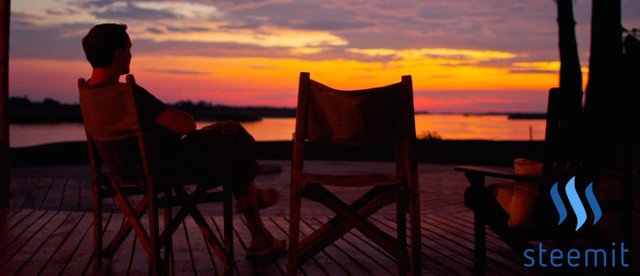 Just imagine the possibilities...
The @steemholidays account will be dedicated to listing international holiday packages, including accommodation, restaurants, spas, diving courses, canyoning, sailing, mountain climbing, hot air balloon flying... and anything you can imagine which relates to holidays, fun & relaxation.
All of which you will be able to pay for in Steem. Without even having to leave the Steemit platform.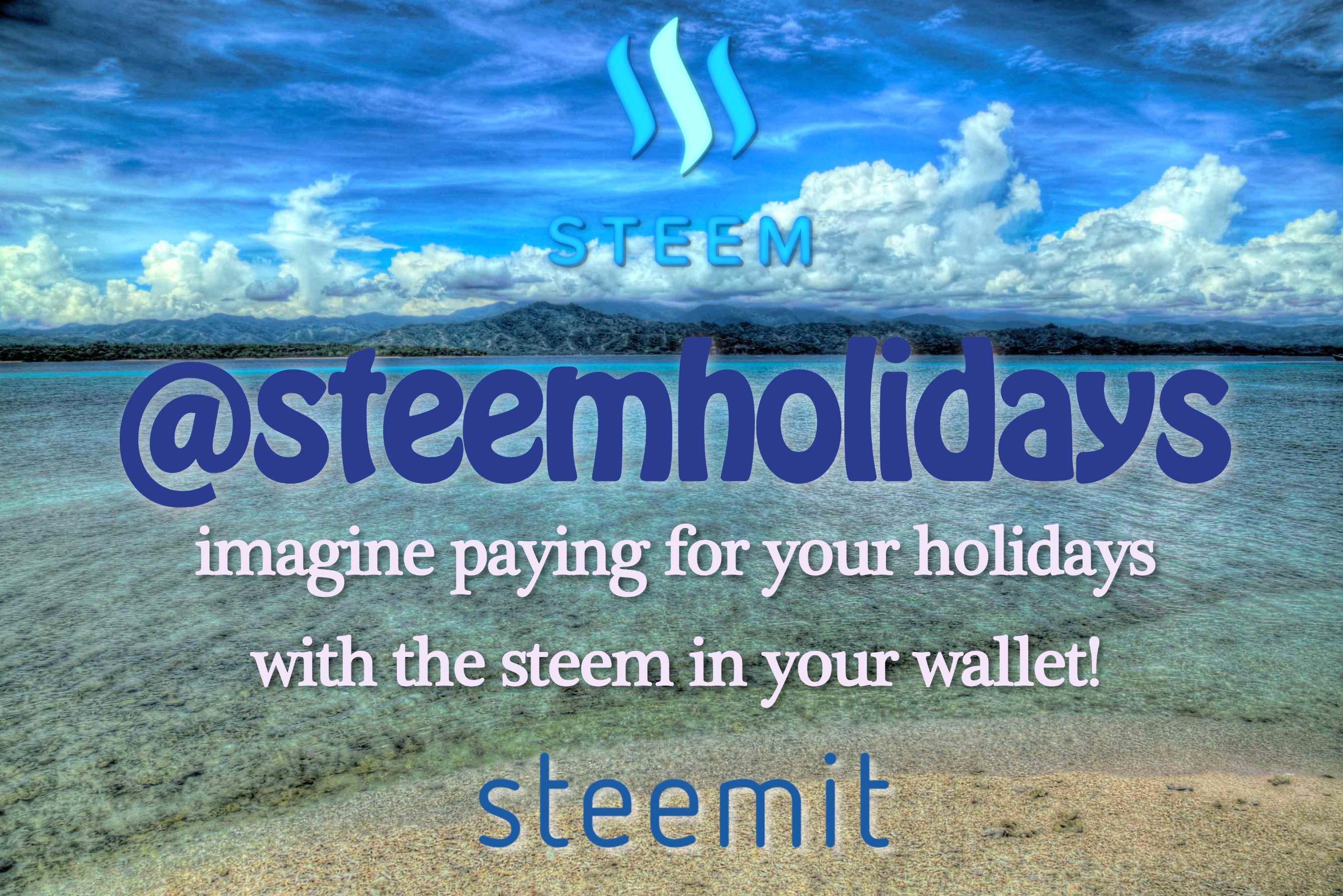 How will this work?
The team behind this idea are the same team behind the @steemshop account and are already busy locating relevant companies around the world who are willing to do business in Steem.
Ultimately, if companies are willing to do business in Bitcoin it is logical that they would take the next step into the future of cryptocurrency and start using Steem, which is as we all know, a superior method of crypto exchange. With almost instant transaction times, simple username keycodes and minimal transaction fees Steem is the logical choice for any company looking to move ahead of their competition.
Companies we are able to recruit will be required to open steemit accounts and promote their hotel/resort/restaurant/spa/package... (whatever it is!) as a post using #steemholidays as one of their five tags.
We will then resteem them into the @steemholidays account and there you will find what you seek:
Holidays & Steem powered simplicity.

We will keep you informed as the list of companies grows...
It is our promise to help each and every company who is willing to accept Steem as payment by assisting them with the creation of their Steemit account, their branding and their posts.
In this way we can ensure that Steem or Steem Dollar prices are clearly listed with adequate information too, so that all users of the @steemholidays account will enjoy a consistent level of article quality, detailing accurately what is on offer.
Just as with the @steemshop account there will be an escrow payment system, to be explained in detail for you soon.

Who have we found already?
We are currently speaking to a number of Bali based establishments who already accept Bitcoin, all of whom are interested, though still a little confused about Steemit, as one would expect. But we will not give up on them! And we will be sure to see them through to the finish line of having an active Steemit account detailing their holiday related offerings. To be resteemed into the @steemholidays account.
The first official listing as a holiday destination available for Steem will be....
Taman Petanu Eco Neighbourhood
Located just south of Ubud in Bali, you can enjoy stunning views next to a jungle valley and sacred river... and more importantly learn about sustainable living through rainwater collection, solar power and permaculture. They even have a bio pool with fish, as you can see here.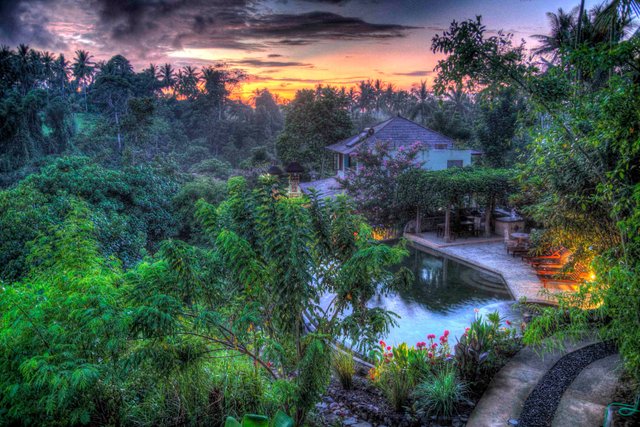 The Steemshop Connection
The idea of selling holidays for Steem ties in nicely with the Steem Shop concept and could in fact be run entirely from the @steemshopsell account. But we feel as if holidays are such an important part of life that the category needs an account of its own!
And so.... @steemholidays is born.
We appreciate all suggestions at this early stage of development and look forward to hearing the thoughts of the community.

Palm tree source