Stop lurking at me!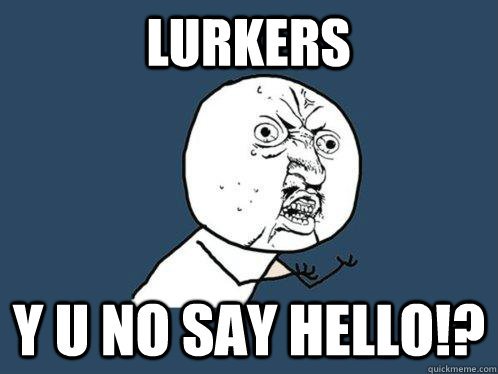 Hi Steemians,
After lurking for a few days and reading all of the great content that's springing up on Steem, I decided to quickly write an introduction before trying to make some contributions of my own.
Actually, that's already kind of a lie. I didn't write this quickly. I looked at lots of other peoples introductions, I installed Atom editor with Markdown preview so i could see how this would look. I started writing this introduction several times only to delete it. Should i write my name? age? country? Is that good... is that interesting?
I'm sure there are many people on this site and others like it who want to contribute. But hold back because they're worried that they might say something wrong or be rejected. It's funny in a way, i spend most of my time online these days, but rarely engage in the community aspect of the internet. So i guess this is an effort to see what I've been 'missing out on'.
I'm not a writer/blogger (as i'm sure you can tell by now). But i love learning. It's what keeps me alive really. I think this site and community is becoming such a great place to learn and discuss new ideas or just share information, stories etc. So why not actually engage and share.
So in that spirit. I just wanted to say Hello, and maybe share a few things about myself. I'm around 30 years old now. Living in Australia. I used to be a Market Research consultant (fancy term for data-geek). Not long ago I switched lanes over to programming as it's always been a passion of mine, after doing some development work for around a year. I started a business with a past work-colleague creating an analytics platform.
I'm really looking forward to reading about and contributing to areas such as:
General Programming (probably will be my next post).
Cryptography / Netsec / Dev Ops / Sys admin
Data Analytics, Visualisation,
Physics (particularly Astrophysics).
Books (vague i know).
Personal stories and achievements.
Thank you for reading my post and for sharing so much already on Steemit. I look forward to contributing and have really high hopes for where this train is heading,
PS - If you're in a similar position, having signed up and wanting to contribute but you haven't posted yet. I think the #introduceyourself thread is a brilliant way to do this. Or just say Hi in a comment below if you like.