Hiii Stemians!!!!!
I have an amazing trick for all of you guys who are sick of this belly fat like me and also tried all the diets exercises and many other things but still can't get over this saggy belly. This easy trick will definitely work.Since,its works for me as well.I my self loose 14 kg with lots of exercises and diets but this saggy belly is still there So, one of my friend told me about this thing than i started doing it and i am shocked to see that it actually works.So, I though to share it with you guys who also want to get rid of saggy belly.
Take Vaseline and massage it over your loosing part of the belly and the cover it with belt or if you don't have belt then you can use polythene wrapper or any cloth as well leave it for 3 to 4 hours or you can leave it overnight.
Do it for 1 week you will see great results :)
You can also use this remedy on other saggy parts of your body as well and please don't forget to share your experience with me.Do it works for you too?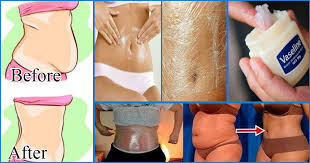 P.S: Photo Courtesy are from internet