Hello Steemit community! How are you guys?! Well, nice to meet you! I'm Victor, a.k.a Reco, I'm 26 and I live in Rio de Janeiro, Brazil.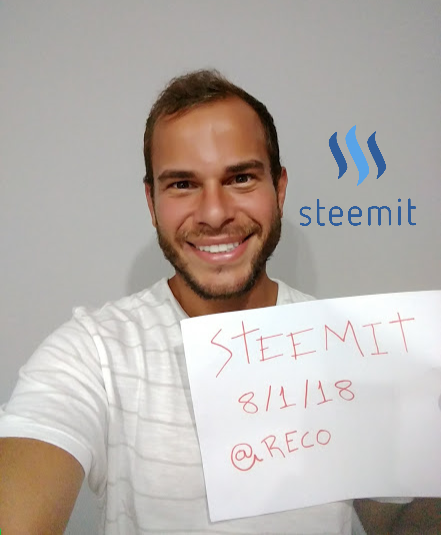 I first heard about steemit a couple of days ago by my cousin @MrPliven, the same who showed me Bitcoin for the first time in 2016. Since there I'm learning more about cryptocoins and this amazing universe.
I'm a Cadet from the Braziliam Army and my hobbies are: Learning new things, surfing, hikking, meeting people, traveling, drinking and dinning :p
I'll post here for you guys some things about what to do in my wonderfull city: Rio de Janeiro. Sharing prices, locations, when to go and etc... Also I will do my best to talk about cryptocoins. Besides that I'll share some of my favorites hobbies as well.
I hope you enjoy my profile and let's shake it steemians !!!
 **PORTUGÊS** 

E ai comunidade Steemit!! Tudo bom?? Muito prazer meu nome é Victor, a.k.a Reco, tenho 26 anos e sou do Rio de Janeiro, Brasil!
Eu conheci essa plataforma através do meu primo @MrPliven que foi o mesmo que me apresentou o Bitcoin em 2016. De lá para cá vim aprendendo um pouco mais sobre criptomoedas e descobrindo esse novo mundo.
Eu sou Cadete do Exército Brasileiro, e tenho como hobbies: aprender coisas novas, surfar, fazer trilhas, conhecer novos lugares e pessoas, beber e comer rsrs :p
Vou utilizar meu perfil para mostrar a vcs um pouco dos lugares maravilhosos que o Rio de Janeiro tem para oferecer, dando dica de preços, como chegar, horários de funcionamento e etc... Tentarei fazer um paralelo com o mercado das criptomoedas, além de postar alguns dos meus hobbies.
Espero que gostem amigos steemians !!