Peace Steemit! I'm the RapOet Self Suffice, pictured here with 2 iconic HipHop artists I performed with recently at the Kennedy Center in Washington D. C.  (The coolest person to ever rock a mic, MC Lyte, and the greatest HipHop entertainer ever, Doug E. Fresh). As you probably guessed I'm an MC, Rapper, Poet, Freestyler, and Creativity Coach. I lead workshops on breaking writer's block, handling stage fright, and overcoming boredom in general Haaaaa! 
While you're here I might as well tell you some things you might not know about me...
 I've been featured in the NY Times and NPR, lectured at Yale, rocked the International Hip-Hop Fest, hit #2 on the Indie Hip-Hop Top 40 radio chart while collaborating with Dreamville's Mez (J. Cole's engineer is the best kept secret in HipHop), and am a 2017 State Slam Poetry finalist. I'm also a freestyle rap champion, event host, inspirational keynote speaker, and socially conscious business advertiser (My latest commission raised awareness of a new way to upgrade solar power sourcing, resulting in praise from 50 Cent, XXL, Essence, and others.)... But I'm not a pop artist - so I'm indebted to the patronage and VIP membership of real people like YOU to keep this Positive RapOetry movement growing! 
Oh yeah, I was also recognized by President Obama's Champions of Change and many others for using HipHop culture to break down stereotypes and effect youth in a positive way.
If you want to know more about my shows, workshops, or hear some of my music, here are some websites you can check. None of my music has curses, so you can play it around anyone you want.
http://rapoet.bandcamp.com
http://www.patreon.com/rapoet
http://www.rapoet.com/spotify
http://www.rapoet.com/scitunes
http://www.rapoet.com/scazon
http://www.instagram.com/rapoet
http://www.facebook.com/theRapoet
http://www.twitter.com/rapoet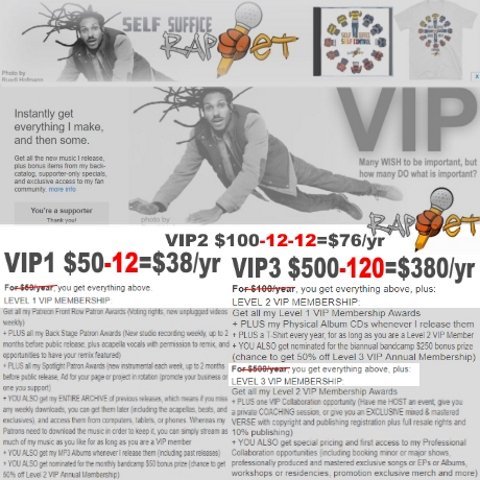 Since you're on steemit, you're probably interested in bitcoin and how I've been getting about 1% daily (NOT YEARLY, DAILY LOL) with bitconnect. If so here's my links:
Coinbase
BitConnect

Feel free to ask me about how I got an extra 30% on my first day with bitcoin and bitconnect
See you soon!
The RapOet (Self Suffice)