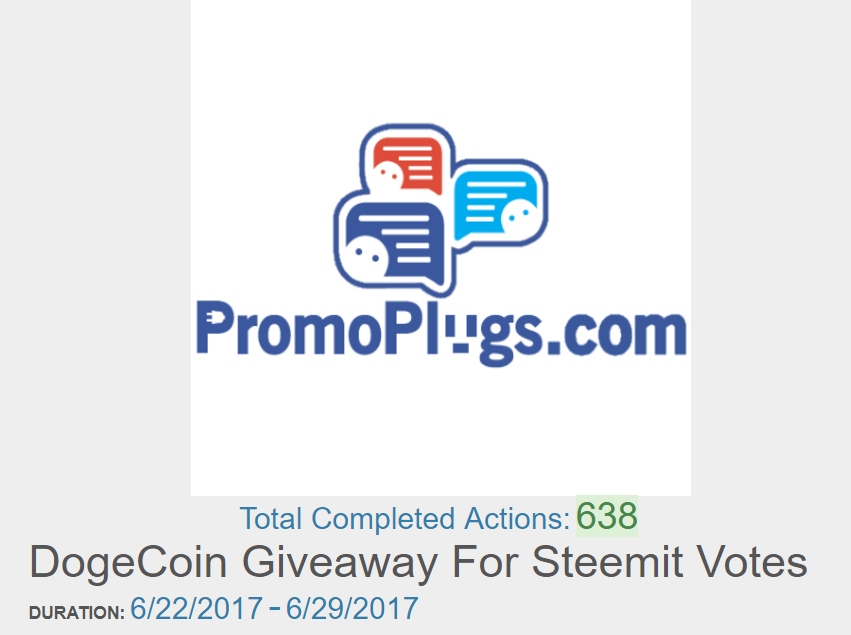 Around a week ago I created my first post. Today I have 131 Followers, and have made around $50 with my blog posts! I launched my Steemit Blog alongside a PromoPlugs giveaway giving away small amounts of DogeCoin in exchange for a follower and Upvote. The campaign is over now, but you can check it out at: http://promoplugs.com/SelectedCampaign.aspx?CID=270
The giveaway works by setting up actions, such as "Upvote my Story". Each time an action is completed, PromoPlugs records the action and sends them a small amount of crypto as a bounty reward. In this case, the reward was set as 10 Doge per completed action. That comes out to be ~$.02 per upvote. I came up with this number based on how much my vote was worth on a new account (~$.02), figuring most other user's won't have much more steem power than I had. I had expected to end the week breaking even in rewards vs. costs, but I got lucky and attracted a few heavier hitters resulting in a net $40 earned! More importantly, I now have 131 followers, a great start for one week worth of blogging!
1 Week Statistics:
Cost: 1750 Doge (.0017 BTC or $4.12 as of this writing).
Steemit Reward $48.56 as of this writing (Steemit's estimated rewards)
Net Reward: $44.44
Upvotes: 357
Comments on my Stories: 197
Strategy: The goal of the campaign wasn't to earn money for doing nothing. The goal was to get my posts enoughupvotes and attention that they could then grow legs of their own and flourish. For this to happen my posts have to be both meaningful and well written. To achieve this I started a new News series, titled Pump Worthy News. Check out the latest entry here: https://steemit.com/crypto-news/@promoplugs/pump-worthy-news-a-dozen-coins-with-impending-news-to-invest-in-6-30-edition
NOTES: My costs do not mach how many upvotes and follows I got because I also received upvotes outside of my campaign. Because of my campaign's Ppvotes, my stories were trending higher resulting in more view by non-followers and non-campaign participants.