Im new to the steemit community, I am new to blogging so bare with me!
I live in victoria Australia. I love to laugh and I love being creative.
Thats me down there looking tired.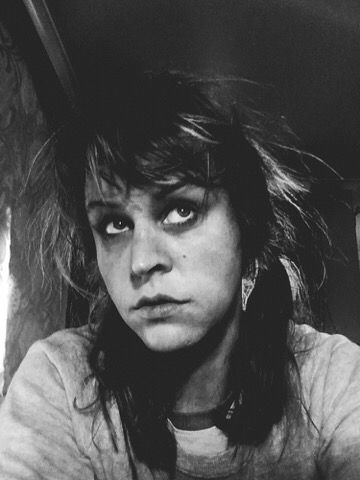 I have alot of creativity and many interests. To keep it brief as this is just intended to be a quick introduction I'll break myself up into three pieces.
LIVING WITH TRAUMA
From the age of 17-30 I was trapped in an extremely violent and mentally abusive relationship. Although many of my emotional wounds have healed I am scarred mentally. I suffer from PTSD symptoms of which are extreme anxiety and bouts of depression. I consider myself a survivor and try to move forward as much as possible but sometimes I try to go a little too fast and I have a small setback. I'm sharing this because it heavily influences a lot of my art work and I think by putting it out there I might make others who have experienced or are experiencing violence to feel less isolated. This issue will be a recurring theme in some of my future posts.
ART
I've always love expressing myself through all kinds of art, my sister is a great graphic artist and taught me to draw and encouraged me from a very young age. I love it all, painting, drawing, photography, sculpture, textiles and recently spent a lot of time creating digital artworks. I'm a bit of a mixed bag as far as styles and genres I like a bit of everything I guess one of my main staples is figure drawing, which I have spent countless hours developing my own style. Photography is a great love of mine and I will be posting about the huge role it has played in my recovery process. I really love drawing with organic materials like bamboo, grasses, sticks and feathers of which I have a growing collection. I'm a messy artist working frantically throwing materials around leaving a trail of creative destruction in my wake.
This is my desk when it's tidy!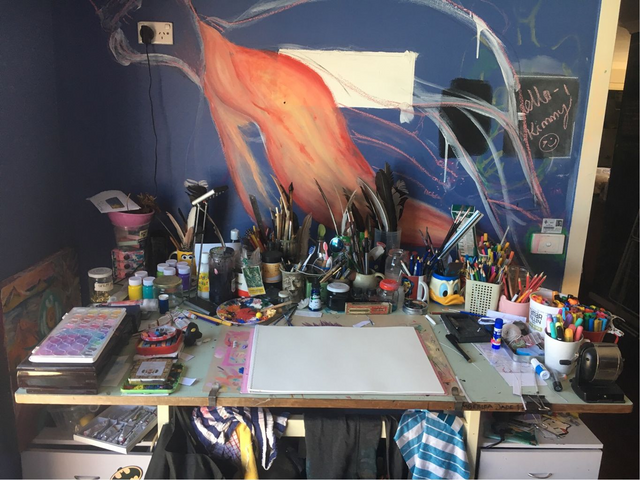 I spent time studying fine art at university when I was younger but found it challenging as my home life was so unstable and dangerous. Even through very tough times I found ways to express myself creatively and develop as an artist, even if my paintings were smashed up later I still enjoyed making them and for the time I spent creating them I was free. I have a saying which sums it up for me :
"Art sets me free when nothing else can"
NATURE/HORTICULTURE
One year after my liberation as I like to call it. I began volunteering at a local nursery which grew native and indigenous plants. Within the first few days it was like a spark went off inside me and I knew this was something I wanted to do. Watching things grow and being a part of the process of nurturing a tiny seed into a tree ready to go in the ground was just an incredible feeling. It made my mid calm. It made the screaming in my brain melt in to silence. This drove me to start my own gardening business. I could not drive a car yet so I called my business The walking weeder. Within weeks I had at least 2 customers a week and I was full of confidence. I soon after completed an apprenticeship in Horticulture at Melbourne Zoo. During my time there I was able to learn so much about plants and animals. My creativity was encouraged and put to use. It was one of the best experiences in my life, I feel privileged to have been able to train there. I am about to start volunteering in conservation tomorrow and I am excited about what new things I will learn and where my journey will go next.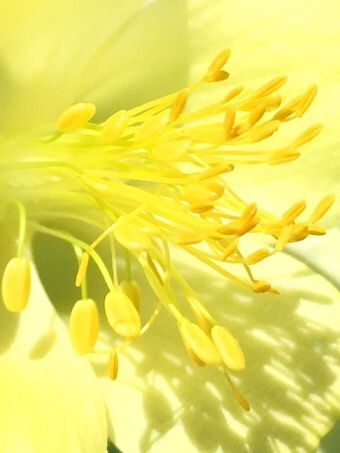 FINAL NOTE
So there you have it my first post on steemit and my first blog post ever! I intend revisit these themes and more in future posts. I would LOVE any feedback as I am totally new to this so any advice would be really appreciated! Feel free to ask me any questions. I hope this was interesting and I'm sure I'll get better at it as I go. I cant wait to meet you