Chapter 1: How #bitcoin is changing my life and how it can change yours as well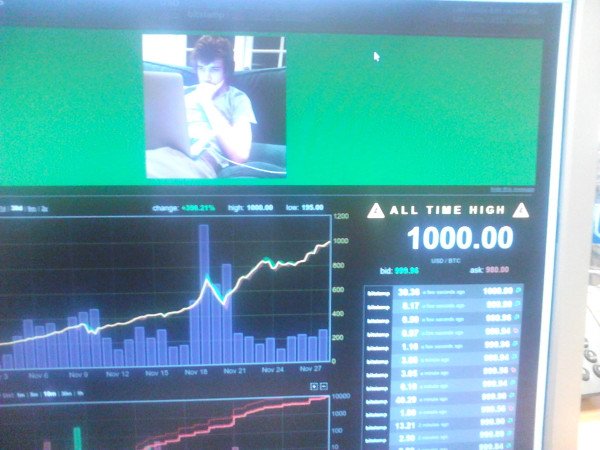 All time High!! Do you remember? Bitcoinity.org screencap when BTC reached 1000$
Hi Steeminautics!
My name is Paumiau and I'm from Barcelona. I work as a SysAdmin for the Educational Board in one of the Spanish' regional governments.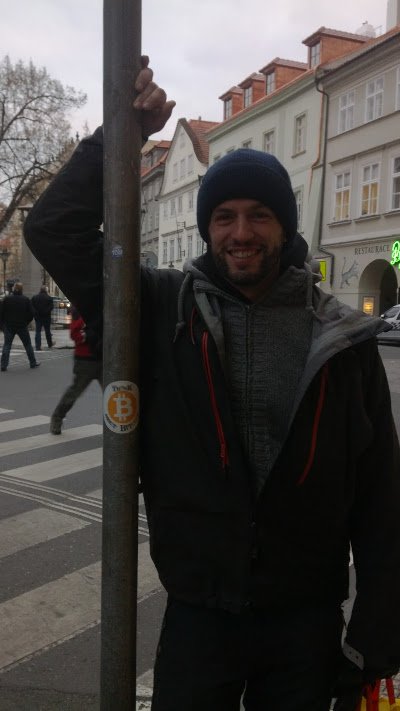 This is me in Prague, so happy to find a Bitcoin sticker 
Everything started in March 2013, during lunchtime. A colleague from work told me about something called #Bitcoin. At first, I didn't understand anything:  
What are you talking about? You're telling me a piece of code magically turns into money?  
Where does this money come from?   
How much does these so-called coins cost?  
What? 60$ !!?? Is the world crazy? (1 Bitcoin was 60$ and it seemed so expensive at the time)
I had not realized yet, but that day I was infected by a powerful virus. That night I could not sleep. I could not stop thinking about this new #cryptocoin world as I was tossing and turning in bed.
 I didn't understand why anyone would pay to own a digital #currency. 
Everything seemed a very big nonsense. "Anyone who spends his #money or his time on Bitcoin must be a fool", I thought. 
But as I told you, the virus was already inside me, and I began to feel the symptoms right away. 
The next (tired) morning I tried to find an answer to all my questions and doubts. At first, just about #Bitcoin. Soon, I was reading about:
Few days later I saw it clear. #Bitcoin and #Blockchain technology were going to be the biggest technological revolution since the #Internet. And I wanted to be part of this revolution. 
After 24 hours I was already buying 60$ Bitcoins (Hooray!). 
One week later, I was building my first mining rig.
In a Month I opened my first mining pool. It was just a pool for a small #AltCoin which I wrongly thought was going to succeed. (It did not, but anyway, I was so proud of it.)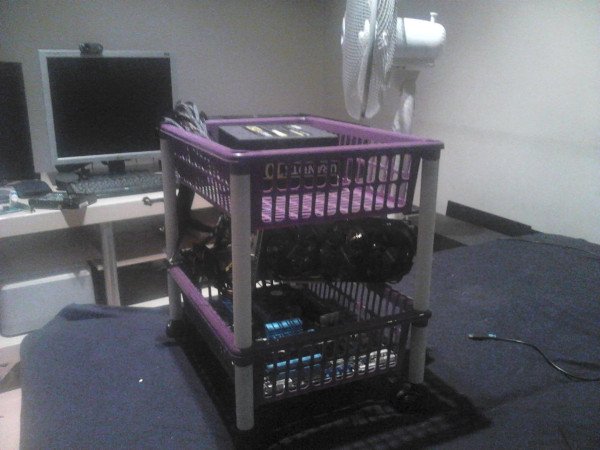 My humble first mining rig, using some cheap plastic shelves
In just a few months (probably just days) I had become one of those fools I despised some time ago. One of those deluded people who spent #money and time on some geeky virtual thing. 
My colleague and me started to create a lot of big and small #AltCoin Pools. It was a crazy year. It was fun to discover new bizarre cryptocurrencies (SexCoin Anyone?), to speak with the developers, to create the pool, advertising it… and discussing everything with my girlfriend, who clearly thought I spent too much time in front of the computer. Sadly, she is no longer my girlfriend. 
It was a lot of work and it didn't give a lot of #money, but it was my hobby and my revolution, so I kept trying to make a living out of this exciting new virtual world.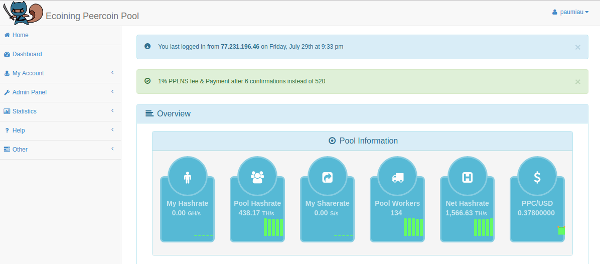 Once the #AltCoin bubble popped and that year's madness stopped, I decided to close all the pools and keep the one I truly believed in: the Peercoin one. I like this coin since it's one of the few innovative ones (creating the Proof-of-Stake vs BTC's Proof-of-Work), has a great community and to some, It's one of the real alternatives to #Bitcoin.
Nowadays I still have not achieved my goal, I still have to work for others and can't live only from mining cryptocurrencies, creating mining pools or trading Bitcoins, but my goal is closer than ever. Never thought a hobby would make me closer to my dreams, but here we are, keeping the good work and still amazed by the blockchain technologies.
Dear Steemit friends, we are still looking at the first steps of a great technology that will change the world to a better and fairer one. This revolution is only starting, but you have to be aware of the opportunities and businesses that can be created around it (Hello #Steem!) be attentive, and don't miss the opportunity to participate and make a difference.
See you soon.