(II and III here https://steemit.com/introduceyourself/@ooxide/an-unrealistic-recovery-part-ii-the-monster-in-the-sky
https://steemit.com/introduceyourself/@ooxide/an-unrealistic-recovery-part-iii-i-m-all-sorts-of-screwed-up)
I've spoken already about drugs and my propensity for doing them, followed by incredibly impulsive acts. I've briefly discussed how I moved into a strangers house to get sober, and I've danced around some of the anecdotes of my time there.
It's time to recall the whole gory affair, starting with first meeting my future sponsor and ending with me leaving his house for good. This is part I, and I've tentatively decided to tell the whole tale in 3.
I was a month off of 20 and had been hallucinating for approximately 2 days or so. I had procured some 2-CE and went to town on it; whereas most people would carefully measure and schedule their doses, I repeatedly took knife hits whenever I felt like it in addition to mixing it with MDMA and amphetamines. I was in quite a state.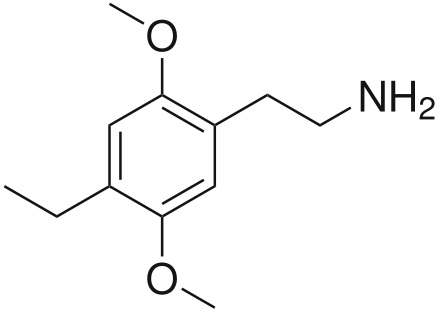 The drug in question.
Nearing the end of my 4th peak or so, I phoned my old acquaintance to see if he could come get me and take me home. He obliged, on the condition that we stopped by his friend Fred's house; it transpired that Taylor would soon move in with him and he needed to discuss something. What that something was, I don't recall, because I got into a drug fueled argument over several topics with Fred, and that took up all the powers of memory I had that night (at one point, in order to seem like I knew something he didn't, I fraudulently made the claim that 300000 children die a night in Texas alone. Yeah.) I think Fred enjoyed it, because he could tell I was intoxicated heavily and he really enjoyed messing with addicts.
He asked me if I'd like to stay the night and talk more. I said yes. I had been hoping to get away from my mothers house for over a year, so I jumped at the opportunity; part of me knew, even in my drug haze, that I wasn't going to leave his house for a while.
The next couple of days are actually a fog to me. It wasn't the drugs, it's just that nothing consequential happened in that time. The third day was when the bomb was dropped; Fred asked me if I really wanted to be sober, and I said yes. He offered me his couch indefinitely. I took it.
A month goes by, Taylor and his girlfriend move in with us, and I assume everything is going well; I had gone to AA, chosen Fred as my sponsor, and done my step work. I also had a little rivalry with Katie, Taylor's girlfriend, and this set the stage for the next big bombshell; me and her had had some stupid argument which had left me feeling quite low. I talk to Fred, expecting some words of comfort. What I got was:
"You're very childish, you're very attention seeking; you act like you're 16 most of the time. Everything is a competition to you, and you constantly have to make sure you sound like the smartest person in the room. It's the reason I don't like talking to you very much; you could be doing rather well and probably have a lot of friends but your personality is so grating that nobody want's to be around you. Grow up. Stop it."
Boy.
Completely deflated, I just sat there, long after he left, thinking about what he said. My initial thoughts leaned towards denial and defenses: "He's just intimidated" or "No I just am smarter than everyone" or "Maybe I do act like that, but so what? I've got every right to with how the world has treated me!" Typical self-obsessed denial, nothing special.
As much as I hated it, I had to admit he was right. The problem with growing up isolated from your peers is that you have no real reference for how normal people act; the closest thing I had to a reference was T.V. and movies. I was a walking fictional character, with exaggerated affect, interactions, and mannerisms. Part of me had always known this, I think, but hearing it from another person made me realize just how bad I had become.
I could probably have kept on justifying that behavior to myself, but being at least slightly clever I knew that the world wouldn't care why I was such a cunt, but rather just that I was a cunt. I had finally started to come to terms with the fact that sobriety and recovery weren't just about abstaining from substances, but about completely shifting your character from selfish to selfless.
Time goes on and I try and watch my attitude and behavior; I remember how whenever I would get into an argument with someone, I would think to myself "they wont relapse and ruin their life over an argument. I might." This would usually help me swallow my pride, apologize, and move on. Part II coming soon.