My Steemit introduce myself post!
Hi Steemit people!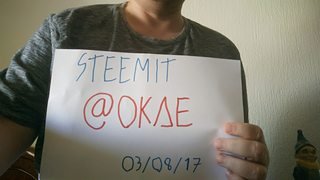 Could not be in another way, my first text should be my #introduceyourself post :)
I am male 41 years old and I live in the south of Spain, i'm native spanish, English is my second language which I learned by being self-taught, i'm still learning it, so please, excuse me if my english is sometimes ... rare? Uhh
After a good friend of mine @kromtar talk to me about Steemit, i decide to open an account, just minutes later i was checking my email every 5 min waiting for the confirmation. xD
My passion was always about things related to the technology, computers, philosophy, nature and much more topics of which I will write on next posts...
Now, I am really interested in cryptocurrency, that's one of the reasons about i'm here on Steemit, the concept attract me since the beginning.
But i don't like everything, there are many things that i dislike, like vain people, injustice, lies or power abuse, but since i dont want to extend this introduction a lot, i will talk about it soon... on next posts! Yes, all of you will suffer me from now !! ;)
At the moment I have the lucky to have an online job of which I have some income, not enough to live, so I need the help from my family every month to "survive", even so, i am happy because at least i can go on , and who knows?, maybe steemit could give me a break, even if this is not why i'm here; My main purpose is to share experiences, ideas and opinions with all of you while i have some fun under this new technology, i think it's an very original idea.
That's all folks, i hope you like my #introduceyourself post!


P.S. Do you like my gnome? :P
P.P.S. Thanks to @mayordomo, now i know that i should include the tags in spanish too, also thank you for your translations.


---
Traducción al Español
Hola gente Steemit!


No podía ser de otra manera, mi primer texto debiera de ser mi post de #introduceyourself :)
Soy un hombre de 41 años de edad que vive en el sur de España, soy español nativo y el inglés es mi segundo idioma el cual he ido aprendiendo como autodidacta con el tiempo y del que aún estoy
aprendiendo, así que espero que me disculpen mis amigos ingleses si meto la pata de vez en cuando con la gramática :)
Después de que un buen amigo mío @kromtar me hablara sobre Steemit, decidí abrirme una cuenta, a los pocos minutos ya estaba revisando mi correo cada 5 minutos esperando la confirmación.
Mi pasión fue siempre sobre temas relacionados con la tecnología, computadoras, filosofía, naturaleza y muchos otros más de los que iré escribiendo poco a poco en los próximos posts.
Ahora, estoy realmente interesado en las criptomonedas, esa es una de las razones por las cuales estoy aquí en Steemit, el concepto me atrajo desde el principio.
Pero no me gusta todo en este mundo, hay muchas cosas que me disgustan, como la gente vanidosa, las injusticias, las mentiras o el abuso de poder, pero como no quiero extenderme mucho en mi introducción, hablaré de ello pronto... en los próximos posts!, si, a partir de ahora me sufriréis :)
Actualmente tengo la suerte de tener un trabajo a través de internet, con el que tengo algo de ingresos, no son suficientes para vivir, así que necesito la ayuda de mi familia para poder "sobrevivir", aun así, estoy bastante contento porque al menos puedo tirar para adelante, y ¿quien sabe?, quizás Steemit pueda darme un respiro, aunque esta no sea la razón por la cual
estoy aquí; El principal motivo es compartir experiencias, ideas y opiniones con todos vosotros mientras me divierto usando esta tecnología, pienso que es una idea muy original.
Y eso es todo amigos, espero que os haya gustado mi #introduceyourself post.
P.S. ¿Os gusta mi gnomo? :P
P.P.S. Gracias a @mayordomo, ahora sé que debo poner los tags en español también, y muchas gracias por tus traducciones.