ULOG 1: INTRODUCING ME - MEETING THE FUTURE MOTHER-IN-LAW?
Heyy there fam!
My name is Nma Nazzy Agada and I am bursting with excitement at the thought of what could be a mind-blowing journey of sharing pieces of my interaction with life through my writings with amazing people here on Steemit.
EXHALES
In my culture, the first time a person meets their future mother-in-law is a huge deal especially if he/she hails from a different ethnic group from the family being married into. No matter how liberal-minded and enlightened the said family is, you never really know what to expect. One of my sisters is about to get married and a few days before she met her fiancé's mum, she called me, a bit anxious about how she should introduce herself, what she should wear, what kind of questions to ask. It would have been funny if she wasn't so genuinely worried.
For some reason, working up to coming up with this #INTRODUCEYOURSELF post has felt like prepping for a first time visit to my mother-in-law's. I've chewed on the perfect introductory lines, flipped them with the tip of my tongue, run them through my fingers and then started from the top again. Maybe, it's the flutter in the heart that awakens the craving for perfection when you know something really worthwhile is about to happen.
Anyway, I'll take the same advice I gave my sister: "Just be you! Do not knowingly paint an image of yourself that you won't be able to sustain. Be the best and most authentic self that you can be in that moment." So, let's get to it!!!
DRUM ROLL
I am Nma Agada
I am a woman
I am African...and Pan-African
I am an advocate for the equality of all humans and validity of progressive aspirations.
I am currently building a double-winged career in consulting and literary arts. While, I started actively writing at the age of 8 and blogging in 2013, for the past three years, I have worked in Research and Policy Making as well as in Risk Consulting at one of the "Big Four" in Nigeria. Right now, I am currently in the middle of a career transition into Development Consulting and Policy Advisory. Hence, I'll be sharing posts exploring some of my fields of interest spanning from social enterprise in emerging economies especially Africa, career acceleration strategies, personal development and consciousness engineering to applied primary research and capacity building in education etc. I shall also be sharing insights into some of the social impact initiatives and volunteer work that I do.
I am an avid reader and writer who believes in the power of literature in molding and redefining narratives and the trajectory of a people's evolution. More so, I am on a journey of not just exploring African literature but also creating works that interrogate the essence of our identities, motivations, inspirations and aspirations as a continent and then people. I do this through poetry, creative non-fiction usually in form of memoirs and essays and some prose. I am fascinated by Afrofuturism and how it leverages our history and the possibilities that the internet of things could afford in creating a future that is beyond our current limitations as a people. I am also enthusiastic about memoirs, fantasy and again, poetry in all its glory. My writings would usually reflect themes around persoal and collective identity, heritage, feminism, relationships and growth. I also let simple beauties of life find their way into the letters that I write because what is life without them anyway?
I am the biggest Grey's Anatomy fan you'll ever find and can give up a lot of what you might consider necessities for yogurt. My hair is natural and amazing and is always worn in a manner that speaks to my journey and character at every point in time. For the first time in about two years, I'm eating bread but it's never without peanut butter. Nobody is allowed to trim my eyebrows but "me" and you'll learn that family is everything to me and I do not mean family in the purely biological sense. I am scared of heights and depths but somehow love the window seats in airplanes. I officially started my one country per year mission so expect some travel journals as well. I do not understand how people cannot deal with living alone unless of course there's nothing to read, watch or write on. I am currently on a journey of mastering the art of finishing things and the end of this post will be another milestone in regards to that.
I will do my best to create the most authentic content that I hope will speak to things that matter to you. I am present and pledge that even though writer's block is real, I will do my very best to "STEEM IT".
Let's do this!!!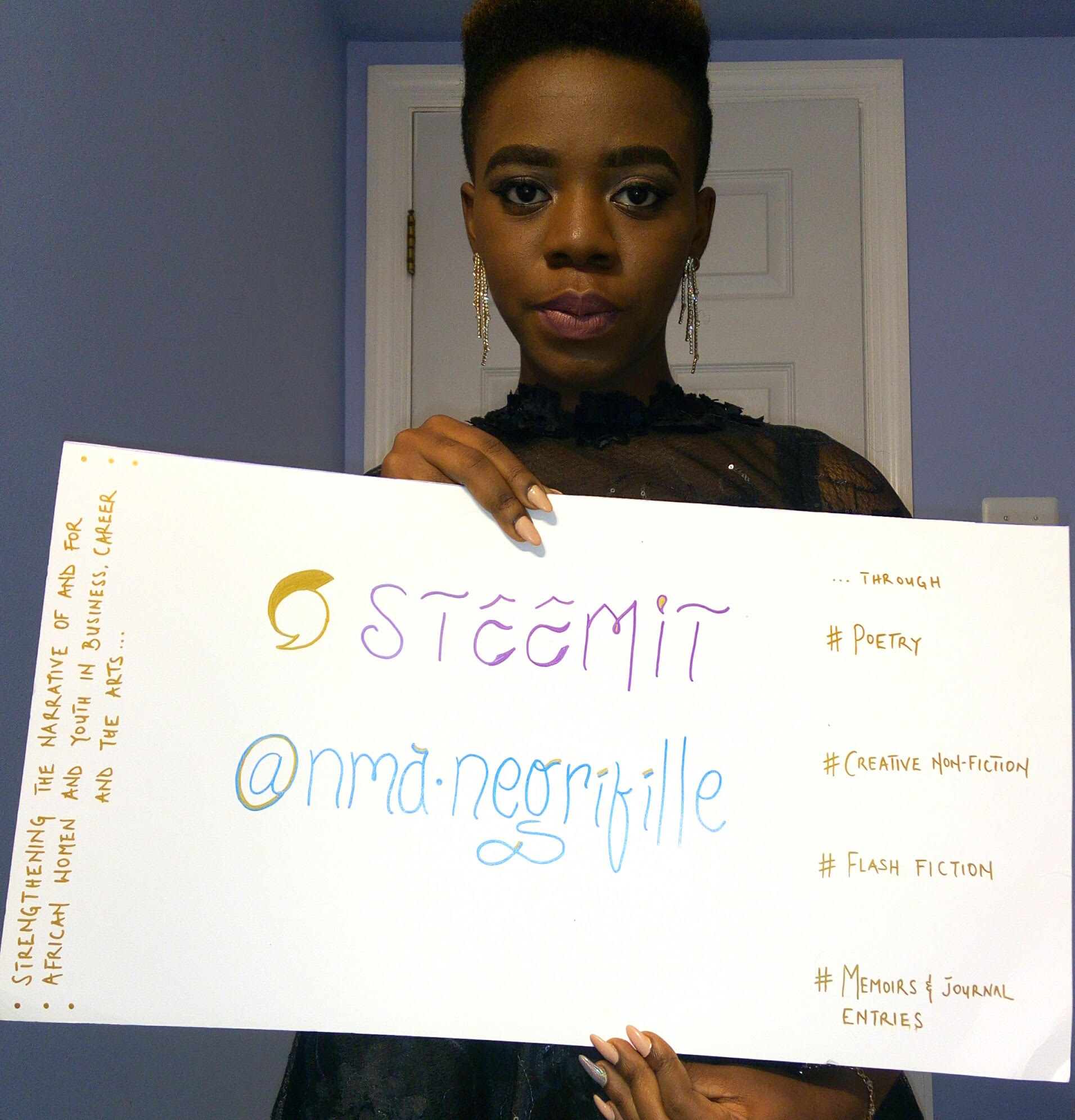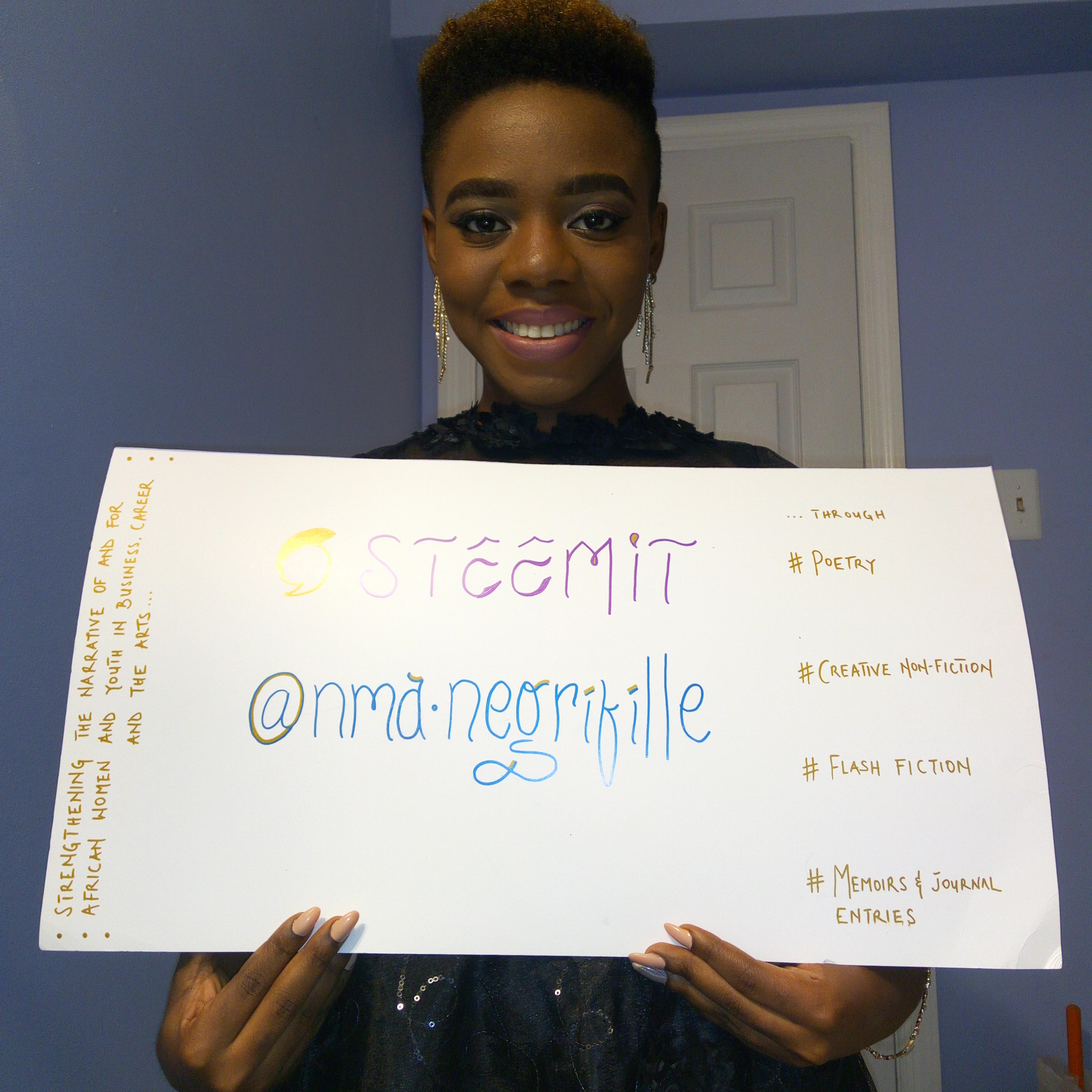 Cheers!!!!!!!!!