Hello, Steemit!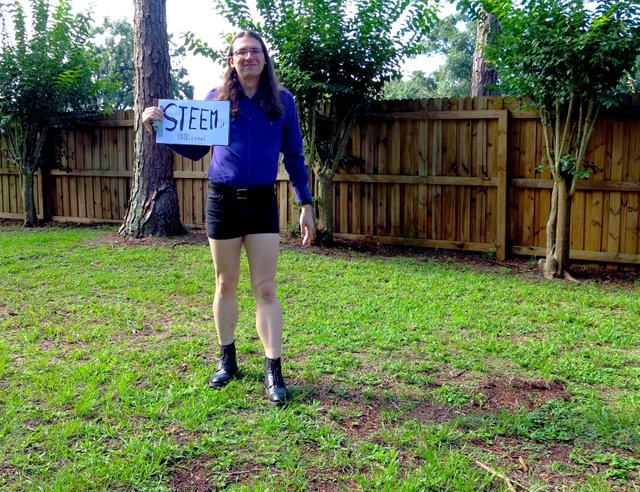 I've just been using my social media presence for video game recordings so far, so I thought this would be a nice place to start doing some writing and other stuff on top of that.
The STEEM economy got my interest via @scottsantens, an advocate for the basic income guarantee. My impression thus far is that STEEM as an approach to currency generation is far closer to implementing a basic income model than, say, Bitcoin; I've always been under the impression that Bitcoin is just as grounded in artificial scarcity as fiat/gold currencies. So, I suppose I'll try poking at the system through Steemit for a while and seeing how well it works in practice. If nothing else, it will help inspire me to actually getting some writing done, which I've been putting off for far too long.
Boxes I put myself in
English-speaking upper-middle class Caucasian-American
Left-leaning anarchist
Feminist, with some asterisks
Asexual—specifically, autochorissexual, more or less
Genderqueer. Male-bodied, and masculine pronouns are as good as anything English offers.
Programmer, mostly focused on UI development.
Other stuff I do
I also happen to play a professional game developer in real life, but I'm going to avoid saying too much about that to keep that role generally separate from my social media identity.
I think that's about it at the time of this writing.
Stuff I care about
Video games, as long as they contain more pixels than polygons. This whole silly fad for 3D polygonal graphics in gaming is never going to last.
Gender roles and the transcendence thereof.
Speaking of transcendence... transhumanism, and human life extension. None of that silly "uploading" stuff, though; I've done too much programming to trust a buggy program to run my consciousness. Let's just fix the lovely bodies we already have, please.
Interesting outfits to put the aforementioned lovely human bodies in, without covering very much of them. Legs are generally involved.
Anthropology—roughly speaking, why humans do the things they do and feel the things they feel. This also tends to overlap quite a bit with human spirituality.
Alongside that, understanding people and not judging them. I don't believe that "because they're stupid" or "because they're bad" is ever a valid explanation for someone else's actions, and it's important to look deeper than that.
Languages and how they're structured. I've been trying (again) to learn Japanese recently, so I can read and translate important cultural texts in their original context.
I like music. I've been trying for a long time to figure out how to make it. Maybe someday?
I think that's all I can think to say at this time. Hopefully more content will be forthcoming! Thank you for reading.