We are Officially On Steemit!
Today we are pleased to announce that the official Armageddon (AGDN) swap is now fully live so everyone can easily transition their holdings and become apart of the Millennium Club.
About the Millennium Club
If you have been looking around the MasterNode-type Coin market (POS), you will have noticed that there are many great project ideas proposed. Some of them succeed, others have problems starting and are greatly undervalued. Sometimes, developers become silent for unknown reasons.
The Millennium Club was built for the purpose of reviving those projects with great potential. Projects that have gained interest from the investing and supporting community are listed on our platform. Here is what the club is all about…

How to Swap Your AGDN to MILL
We are conducting a 1:1 ratio swap, this way every AGDN you swap will be converted complete and exact to MILL for ease. This swap will be open to the public until February 15, 2019.
In order to participate in our swap, please complete the following swap form located at:
Ensure you follow ALL instructions (yes the screenshots are REQUIRED).
Not completing the form with all required information will result in a delay in receiving your MILL coins
All AGDN to be sent to: Aem6ruKertKxVaEfDfjJ8FcXDY3sBeBAcD
DO NOT SEND FROM AN EXCHANGE ADDRESS. YOU WILL NOT BE ABLE TO COMPLETE VERIFICATION STEPS
ONLY 1 SUBMISSION ALLOWED PER USER. PLEASE ENSURE YOU SEND ALL AGDN IN 1 TRANSACTION
If you experience issues or problems please use the # swap-issues channel on our discord (https://discord.gg/umdJ6Gq)
We Sincerely Welcome Everyone To Our Community
We know a lot of users had some ups and downs in the crypto community over the past year. This is one of the main reasons we have launched the Millennium Club project, to ensure a strong supporting Masternode setup process and to rejuvenate hope for the projects falling behind within our cryptocurrency family.
We have a lot of work ahead but determined to reach all our goals every step of the way. Your support is greatly appreciated, here's a quick look at the future of Millennium Club that we hope you become apart of…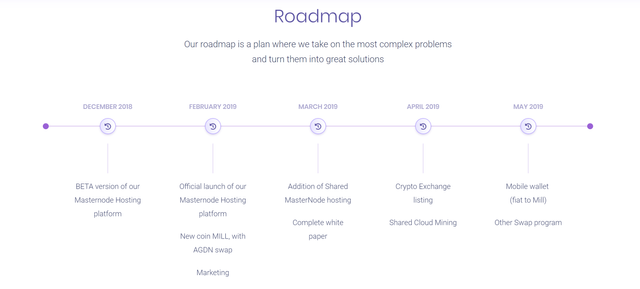 You can find Millennium Club at the following sites:
Website: https://millenniumclub.ca
Discord: https://discord.gg/mGjJAAc
Twitter: https://twitter.com/MillenniumClub3
Be sure to follow us on Steemit @millenniumclub
~Millennium Club Team