I Tweet. I FB. I Insta. I Scope. But now it's time to Steem!
Hello fellow Steemians, and thanks for dropping by! I'm excited about this platform because of the community. Our social media world is rife with choices and I'm happy to be among this group of happy interactive members.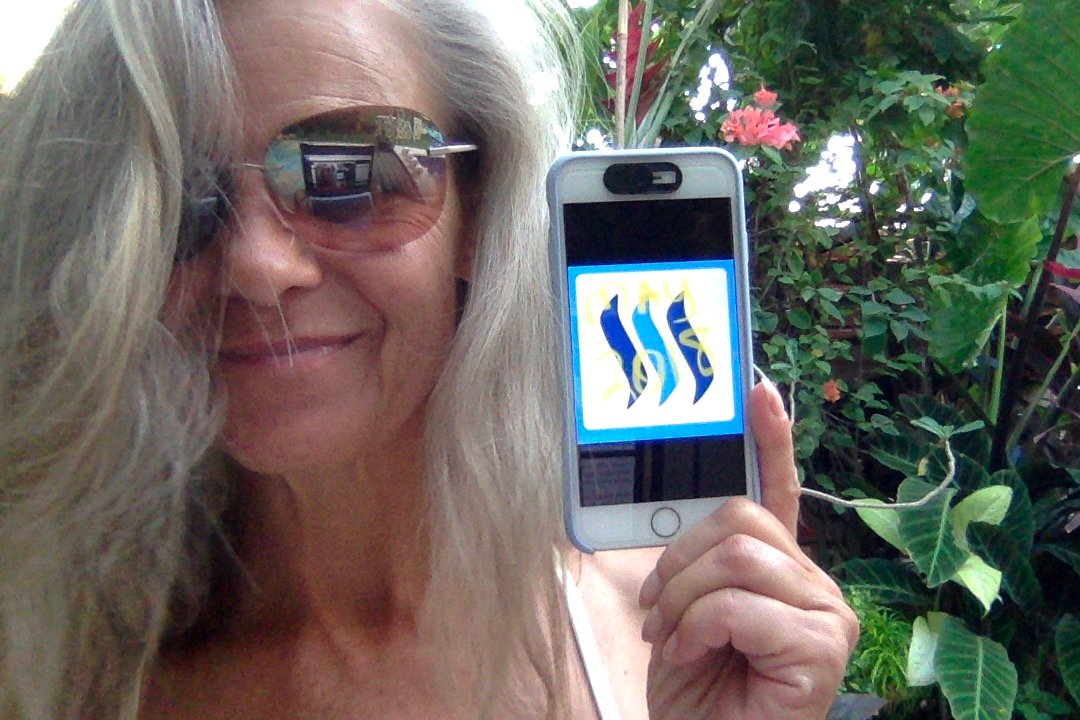 Verify myself? I'm out there, little ole me, all over the place! My own website a decade ago has recently become redundant. YouTube was great until my children took over. Vine was excellent for my raccoon, cat, dog and chicken playdates.
Facebook https://www.facebook.com/kelly.mcrae has been fun for a handful of pages:
electric carts https://www.facebook.com/CraeCar/
peanut butter and honey sandwiches https://www.facebook.com/Peanutbutter-and-Honey-Sandwiches-114541548585790/
But my favourite...Ogoh Ogoh!!! https://www.facebook.com/Ogoh-Ogoh-224960264372969/
My busy life stalks space stuff (and my kids) on Instagram https://www.instagram.com/kellymcrae/
Cryptocurrencies, AI and the blockchain on Twitter https://twitter.com/KellyMcRae55?lang=en
And for the last year and a half I've shared on Periscope
CryptoCarnage https://www.pscp.tv/w/bdpkfTFXTEtSZWdBZHJuUWJ8MWdxeHZZb2dyT0JKQmmKc81mW0UO7W44zuSjmePoR_StGxHXiamM0B88b8f_?t=1s
Bali is Real
https://www.pscp.tv/w/bdpktzFXTEtSZWdBZHJuUWJ8MWRqR1hkRExlTFhHWof7Wyzr-OpTsLUumeU9xMTuNevj7WXbLZrnF4EPOB0e?t=1s
PSA after a hack attempt https://www.pscp.tv/w/bdpk3TFXTEtSZWdBZHJuUWJ8MU1ueG5lRU5uV1hKT2pkYOitbD7B2HIB4j8hEBWiuYoH2xNFWKp01TFI2f0n?t=1s
But for Steem? I want to serialize my latest novel, Campaka, hoping to get gritty feedback and flawless accruement for it, too!! wattpadscreenshot.png
We don't and never have had a TV (this single mama was too busy traveling and homeschooling all five children (and writing about it...Learn how to Learn was self published, and all three readers claim to have endured til the end!)
So I'll list my recent reads instead....
Cameron's A Dog's Purpose (yes I had the box of tissue at hand, and yes, I needed it, nope I didn't see the film)
Taleb's Black Swan (I'd love to read Skin in the Game but this needs a reread first)
Hayes' I am Pilgrim (excellent modern thriller, relieved to hear a sequel is in the works)
Lanza's Biocentrism (getting a rethumb-through due to convergence with my ponderings on Simulation Theory)
A daily sun salute is my secret addiction.
I scooter around Bali, because I've been riding a motorbike all my life (Yamaha 50 at 5 years old) and I expect to stay on one until I'm riding around on Mars.
Speaking of which, I entertain a rabid crush on Elon Musk, but only for the boring bits.
Although I lose a lot of time delving in Quora, I prefer to lurk around the blockchain and AI (nothing fake about it), and environmentalism, most frequently on Flipboard, barely avoiding a subscription on Medium, even with my addiction to crypto.
Back in 2012 I dabbled in political cartoons (for which I received (and promptly lost) my first three Bitcoin)
I'm also into hiking, good food, time with friends and family, and my pets.
AND now STEEM and lots of new friends!
Thanks again for stopping by and hope you've got time to say hello!