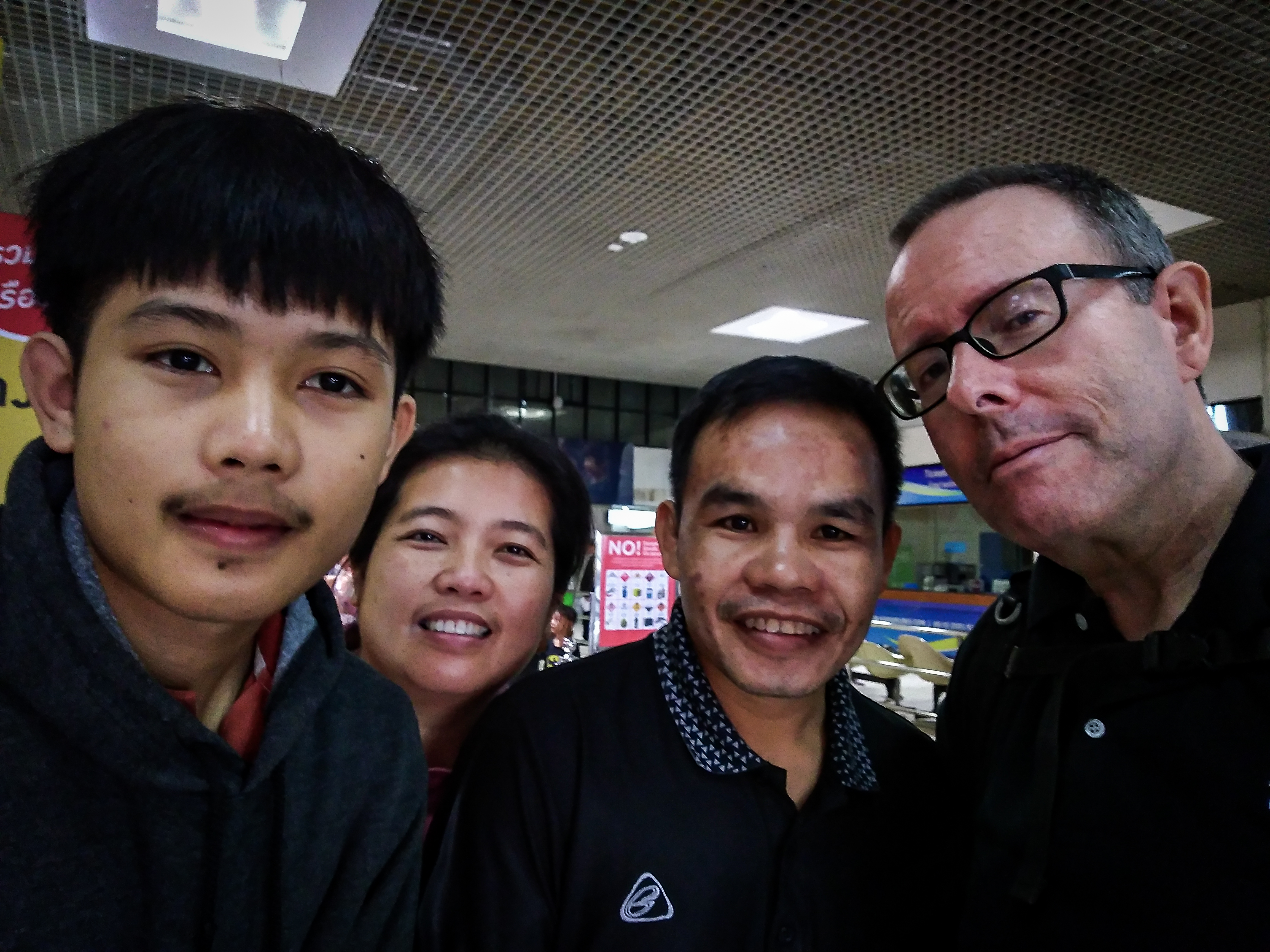 My Thai landlord, his wife and his oldest son not only gave me a lift to the airport ... snif ... they waited to see me off. I'm the one in glasses, btw ;)~
Call me Ishmael. It was a dark and stormy night.
In a thick Teutonic accent: "Thank you. I'll be here all ze week." ... crickets chirruping ... But in all seriousness, you can call me Jeff -- for real, though -- and my last name is Chappell (two p's and two l's, thank you). But then it doesn't take a rocket scientist to figure that out, given my username.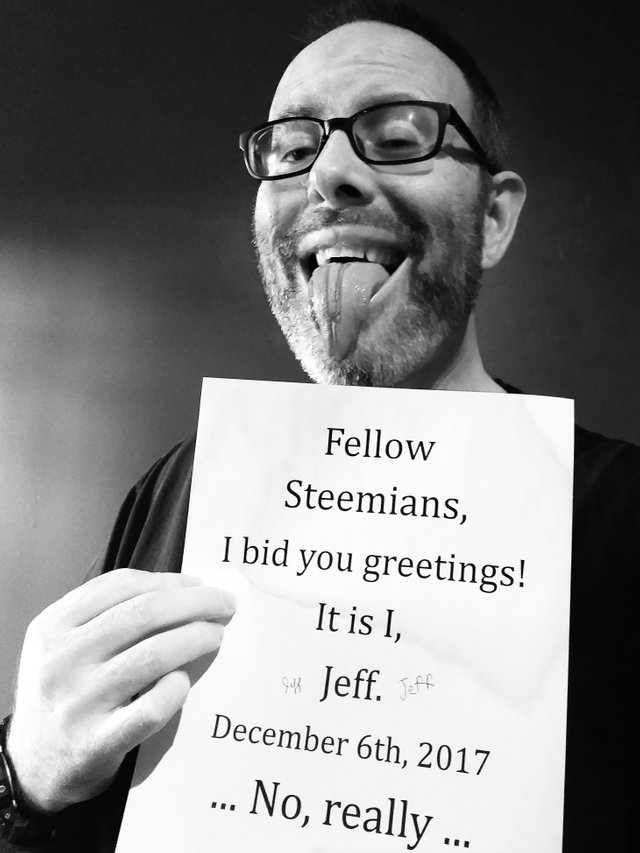 Me, in the flesh ... sort of. And my tongue is out because I don't like having my own picture taken -- ironic, I know -- and here I am twice in one post.
Now then, what to write in my inaugural post and #introduceyourself topic? To wit: greetings and felicitations, my fellow ... Steemians? Steemers? Steemonauts? Steemedores? Whatever. ... I was a journalist for a long, long time, a journalist in my case being a news reporter, op-ed writer, part-time photographer and sometimes even a part-time copy editor. An even longer time before that, I slung drinks for a living. In this current decade I gave up the ... er ... somewhat lucrative ... ahem ... journalism career and was a teacher of English in Southeast Asia. Why? Because I had to do something, since journalism no longer really interested me, I wanted to see Southeast Asia and wasn't independently wealthy (more's the pity).
Now, as I rapidly close in on 49 -- a few weeks in fact -- I just write and take photographs.
Wait ... what?
I more or less enjoyed bartending -- it was a great way to spend your boozy twenty-something years -- and eventually enjoyed journalism, too, after a few years suffering in the trenches. This was much to the relief of my parents, who had spent a lot of money on college and my corresponding journalism degree, and were beginning (!) to worry and wonder. I even somewhat enjoyed teaching, although it was just a means to an end, in the long run. Even when I took it seriously, no one else did, not the least of which was my employers (with one exception, for which I am grateful). But perhaps the less said about this, the better.
Which brings us to Steem.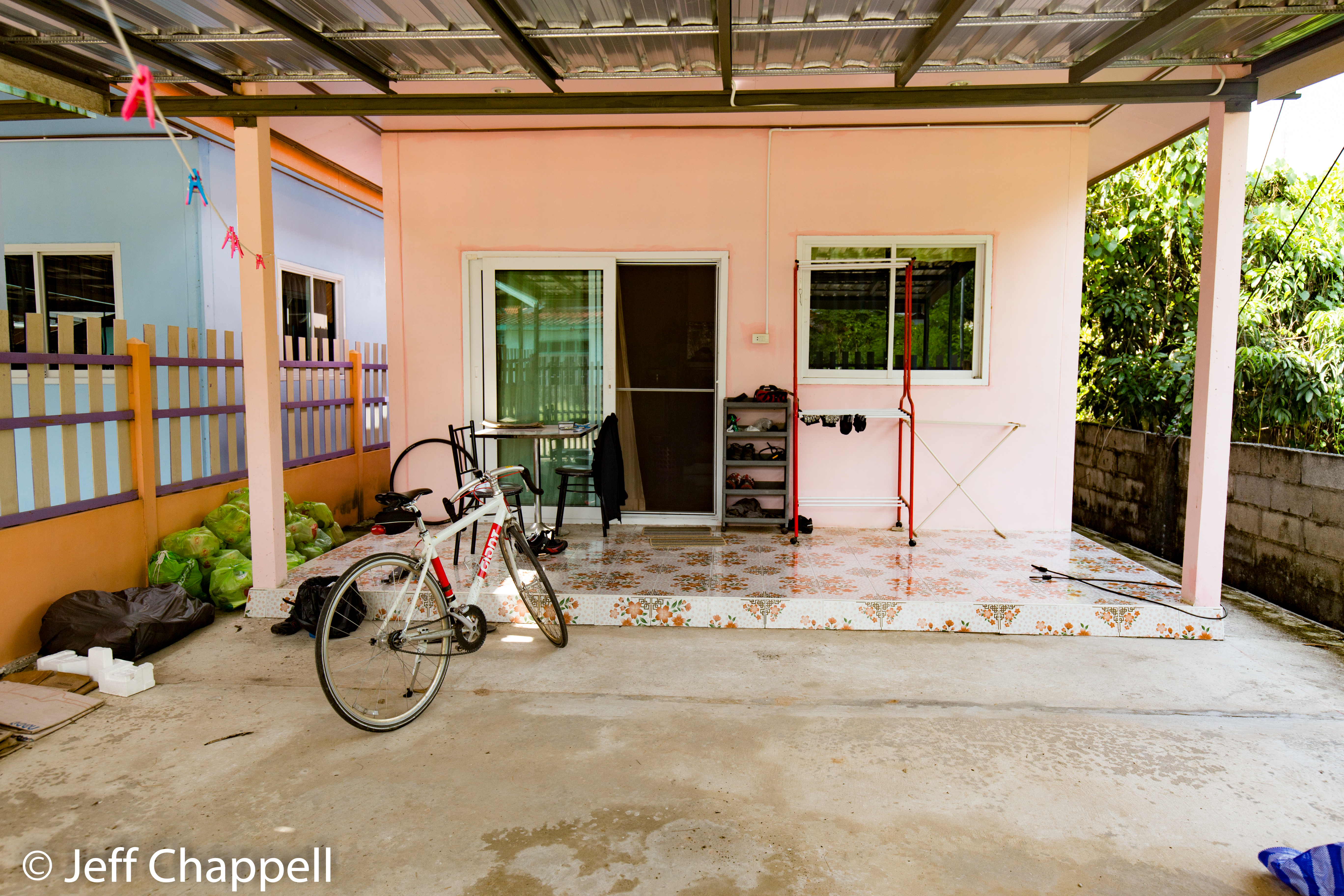 Well, Steem and my little pink house for you and me ... in, er, Thailand.
Back in July or thereabouts, I was having dinner with a South African guy in a restaurant run by a German and his Thai wife. This isn't a joke; when you live in the small-town wilds of northeast Thailand, i.e. Isan, and eat Thai food most of the time, you learn to covet well-done farang food.
Anyway, my friend and I were talking about journalism and would I ever consider going back to it? "That's easy," I said. "Not a chance."
Then he asked me what I would be doing if I wasn't doing this teaching thing -- a considerate, pertinent question as I was indifferent -- at best -- about my current situation. And let me just say here that it had nothing to do with the town I was in, Kranuan, or even the particular school itself; really it was more the whole ... mechanism, or ... concept, I guess, that got me there in the first place.
I looked at Lourens and smiled. "I dunno. No idea. I just know I'm sick and tired -- not to mention bored out of my effing skull -- of doing or writing what other people want me to do or write. Teaching is ... a default situation; a stopgap. I'd rather just do what I want."
"Which is?" he asked
I thought about it for a moment. "Write whatever I want; no one else. Short stories ... novels ... and I'd take pictures ... pictures that mean something ... at least to me, anyway."
He nodded. "Ever here of cryptocurrency?"
"Cryptowha?" I was, needless to say, a little nonplussed. I mean I had heard the term, but that was about the extent of my knowledge of that particular subject. And what did that have to do with journalism and teaching?
"You need to be on Steem!" he said, rather passionately, smiling. And he proceeded to enlighten me. ...
And that brings you up to date -- me, back home in southwest Ohio (in the USA for those of you not familiar with Ohio), enjoying my first taste of autumn in some time, taking photographs and writing what I want to write about -- all thanks to Lourens. Don't get me wrong; I had already decided more or less my current path by August (just a matter of timing, really, so thank you Teacher Rabbit for sparing me five more months or so). But thanks to him I may -- MAY, mind you -- may have found a blogging and vlogging platform that will provide an income, albeit modestly. Maybe? Eventually? We shall see. Still working out the wherefores and whatnots ...
And I need to look up Lourens and tell him that I took his advice.
-- Jeff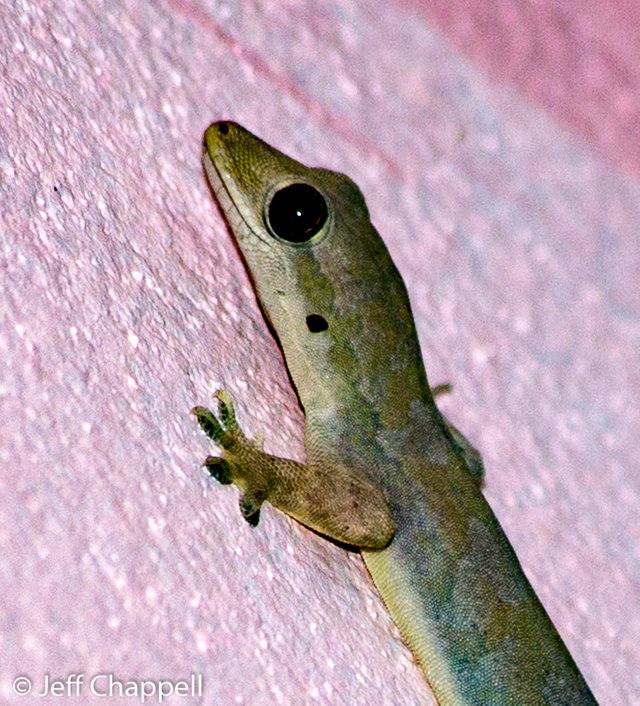 A smiling gecko. Well, smiling when he's not barking, that is. Little guys are everywhere, there, but they eat bugs, so they're tops in my book.
P.S. All words and pictures are -- and will be -- mine and mine alone, unless stated otherwise. And of course, that's me up there in the pixel, as it were, taken earlier today. You can also look me up on Instagram at jchappell68, or email me at jeffchappell.com or geckosbark.com, and I can verify me existence.
P.P.S. Next time, even more critters from around the yard -- and the little pink house -- in Thailand. Like this chicken: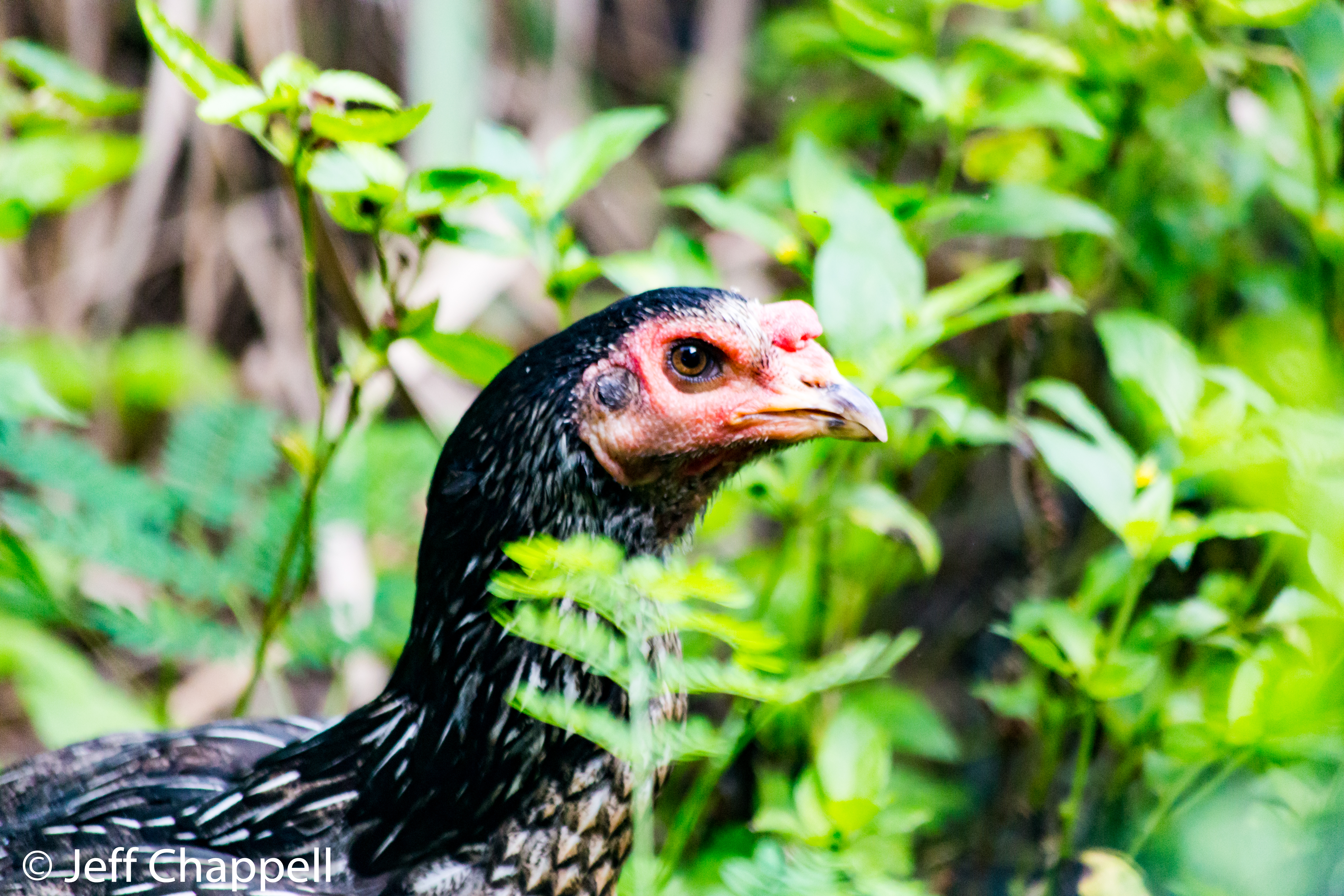 Giving you the old stink eye ...